[dropcap style="font-size:100px; color:#992211;"]B[/dropcap]erlin based trio Kadavar are one of the most active live bands around.
Tonight they team up with labelmates Blues Pills, who introduce us to their new album Lady in Gold, a cosmic blur of crackling fuzz and feelgood soul.
Kadavar didn't so much take to the stage as mount it: bare chests, leather vests and hair that would make your girlfriend jealous. Anywhere else the velour jacket and corduroy bootcut would look out of place, but here at Koko it's pretty much uniform.
Lead Christoph "Lupus" Lindemanns channels a finely tuned mix of Black Sabbath, Pentagram and a soupcon of Led Zeppelin. On Lord of the Sky the crowd are taken in with catchy riffage and a Who-like quality. In Thousand Miles Away Lupus rides a psyche-70s riff, nailed into place by Christoph "Tiger" Bartelts' throbbing drums. The whole experience is nicely smoothed over by bass man Simon "Dragon" Bouteloup as he takes sensual bass lines to Viagra level, mixing funk and groove into a stoner high-ride of of hip-pumping beauty.
The Acid Folk of London town melt over the band's closing cover: Helter Skelter. Despite the loss of a string, Lupus really pulls it together, ending knees down and jamming on his last chord, reaffirming that this is more than just your run-of-the-mill rock'n'roll band.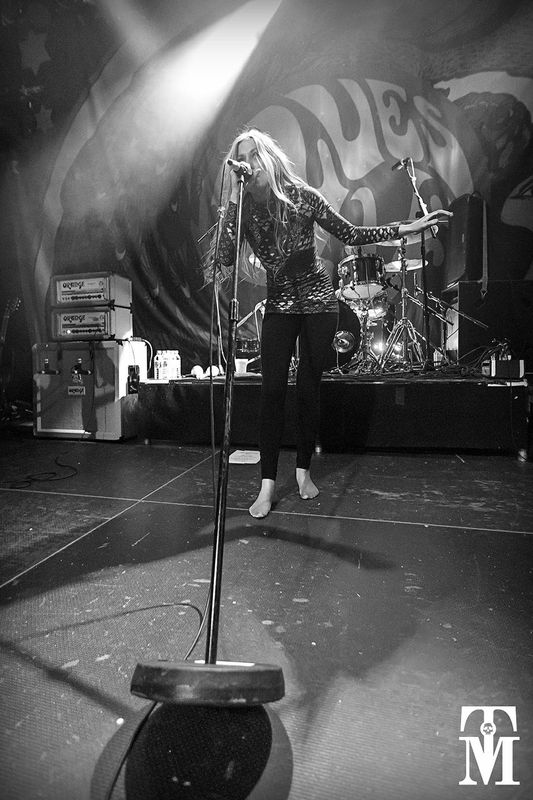 Blues rock now moving into alt-pop territory, Blues Pills take the stage. The Swedish-French-American group have already made a name for themselves in the cosmosphere as a soul heavy band steeped in 60s and 70s goodness. They probably wouldn't look out of place on the trailblazing Electric Kool-Aid Acid Test school bus.
Electric Lady, Elin Larssons, throws tones of Aretha Franklin and Grace Slick, hailing down a seance in Koko with her fiery voice and dancing, and in those small moments when she takes a breath you get a chance to hear Dorian Sorriaux's guitar. Drenched in fuzz and oozing reverb, Sorriaux is a timewarp of classic blues and space jam.
Lady in Gold and Little Boy Preacher, although less heavy than the band's previous work, still impress the crowd. We really get to hear what Larsson's got and the neat touches of electric organ fill out the soulful vibe. André Kvarnström's intuitive drumming, especially on Devil Man, knows when to give it and when to kick back.
Maybe we do prefer the old fuzzy Blues Pills, but no-one can say they don't do this pop thing well.
Venue: Koko, Camden
Date: 06.11.16
Photo (from previous Blues Pills performance) by Carl Byron Batson. Not to be reproduced without express prior permission.