[dropcap style="font-size:100px; color:#992211;"]W[/dropcap]ith a their unique mix of psychedelia, stoner-rock and pomp-rock combined with a love of vintage 70s gear, and with a charismatic frontman in the shape of Damon Fox, Bigelf seemed poised to conquer the world back in 2010.
A spot on the Progressive Nation tour supporting Opeth and Dream Theater won them a lot of new fans, and their fourth album Cheat the Gallows won much critical respect. But then, just as they seemed poised for bigger and better things, they disappeared.
Now Bigelf are back after an extended hiatus with a new album and a new lineup.
Only frontman (and keyboard player) Damon Fox and bassist Duffy Snowhill remain from the previous incarnation of Bigelf, with new recruits Luis Maldonado on guitar and the legendary Mike Portnoy on drums completing the band.
[quote]a great vocalist with a strongly
theatrical approach, with Ozzy-style
angst-ridden howls in some places and
rich harmonies in others[/quote]
If you combined the melodic ear of The Beatles, the hand of doom of early Black Sabbath, the theatricality of The Crazy World of Arthur Brown, the musical ambition of 70s King Crimson, and the lack of inhibitions of Queen, you might end up with something like this album.
It's got all the strengths of previous Bigelf albums, but with a new energy that pushes beyond anything they've done before. The band have managed to capture the same sort of intensity as their live shows in a way previous records only hinted at. Into The Maelstrom is a very appropriate title for the way this album sounds.
Like their earlier work, the production has an organic 70s feel, with Damon Fox's Hammond organ and swirling Mellotron still dominating the sound. He's also a great vocalist with a strongly theatrical approach, with Ozzy-style angst-ridden howls in some places and rich harmonies in others.
Despite his reputation from Dream Theater, Mike Portnoy doesn't spoil the songs by overplaying; his drumming here is more solid grooves than flashy fills. Likewise Luis Maldonado fuzz-toned lead guitar emphasises riffs as much as soloing, although the climactic solo on "High" is a thing to behold.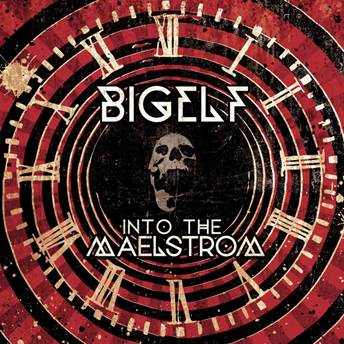 The album is a musical roller-coaster ride which feels like one continuous piece of music rather than a collection of individual songs, and the way many numbers take abrupt twists and turns underlines this. Despite this, the whole thing is filled with great tunes, with instrumental themes as well as vocal lines standing out some of the strongest melodies; the closing section of "Mr. Harry McQuhae" is a great example.
With an album like this it's difficult to pick out individual highlights, although the apocalyptic "Edge of Oblivion" towards the end of the album is one of many standouts.
It's been a long wait for this album, but the wait has been worth it. This has to be by far the best thing Bigelf have ever done.
Sidebar photo: Stan Das
[button link="http://www.bigelf.com/" newwindow="yes"] BigElf[/button]