[dropcap style="font-size:100px; color:#992211;"]W[/dropcap]hen an interviewee mentions a painting by Manet in an interview about a Picasso exhibition, there aren't many galleries in the world you could expect to have that very painting in their collection.
That London's Courtauld Gallery can do so is testament to the heft of their catalogue.
Billed as 'one of the finest small museums in the world', the usual jaded response to such hyperbole can be suspended in the Courtauld 's case. Michaelangelo and Dürer, Rembrandt, Breughel, Gaugin, Van Gogh, Degas, Monet, Matisse. An exhaustive list would take the rest of the page.
And Picasso, of course Picasso. A name cabbies shout when they see kids with spraycans, a name with the worldwide brand penetration of the Coca Cola logo, a name that conjures up jagged profiles and Sotheby 's news headlines.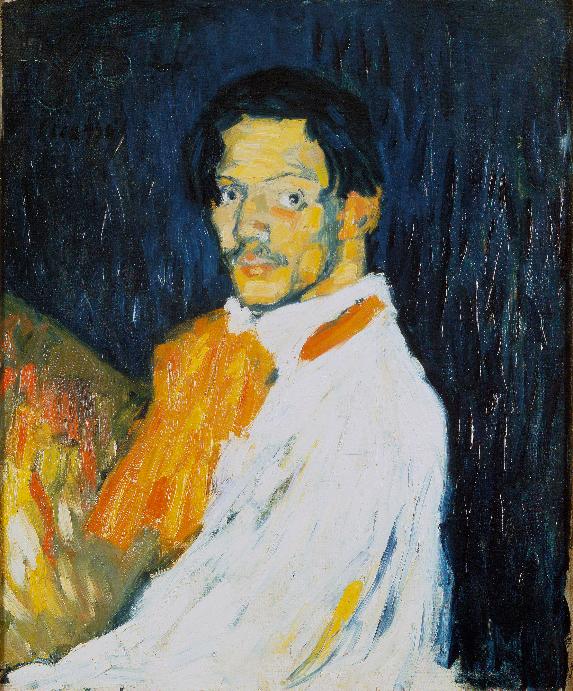 Pablo Picasso (1881-1973) Self-Portrait (Yo – Picasso), 1901 Oil on canvas, 73.5 x 60.5 cm Private collection
Under the curation of Dr Barnaby Wright (Daniel Katz Curator of 20th Century Art at The Courtauld Gallery) the small museum at Somerset House brings together a range of Picasso 's works, focusing on a transformative year in the artist's life.
1901, the year of Pablo Picasso 's first Paris exhibition, and a big-city immersion in an artistic and avant-garde community that he absorbed as religion.
Becoming Picasso opens on February 14th, Dr Barnaby Wright explains some details to Trebuchet 's Sean Keenan
---
Becoming Picasso focuses on the year 1901. An interesting year for Picasso, in which he had his first Paris show. He seems not to have decided upon a personal artistic style until his frenetic preparation for that Vollard show in 1901, but to have held a Paris exhibition, he must have already displayed an impressive talent. What should we look for in the 1901 works?
The work Picasso produced for the Vollard show in 1901 is especially interesting for the way that he took on the subjects and styles of major artists of the age – Manet, Toulouse-Lautrec, Degas – and tried to make them his own. It was his ability to switch between different approaches that began to mark him out as being a particularly interesting new talent – not a slavish imitator but rather an artist hungry for new inspiration and new ways of painting. This was an early sign of the emergence of Picasso 's life-long pursuit of artistic transformation and reinvention.
In the years immediately before World War One, the excitement of mechanisation, aviation, mass transport, was still current. That the industrialisation of mass slaughter could also take place was not yet realized. Most artists of the period reacted to the times with exuberance and optimism. Picasso seems to have sensed the alienation and dehumanisation that come with 'progress' earlier than his contemporaries. Is that fair to say?
Actually, I would say that Picasso was less of an original in this regard than one might think. Artists of the previous generation had powerfully expressed the sense of urban alienation in various major works, think of Manet 's A Bar at the Folies-Bergère (The Courtauld Gallery, London) and Degas ' In the Café (Absinthe) (Musée d'Orsay, Paris). Other influential artists such as Toulouse-Lautrec, Gauguin and Van Gogh had also dealt with these themes.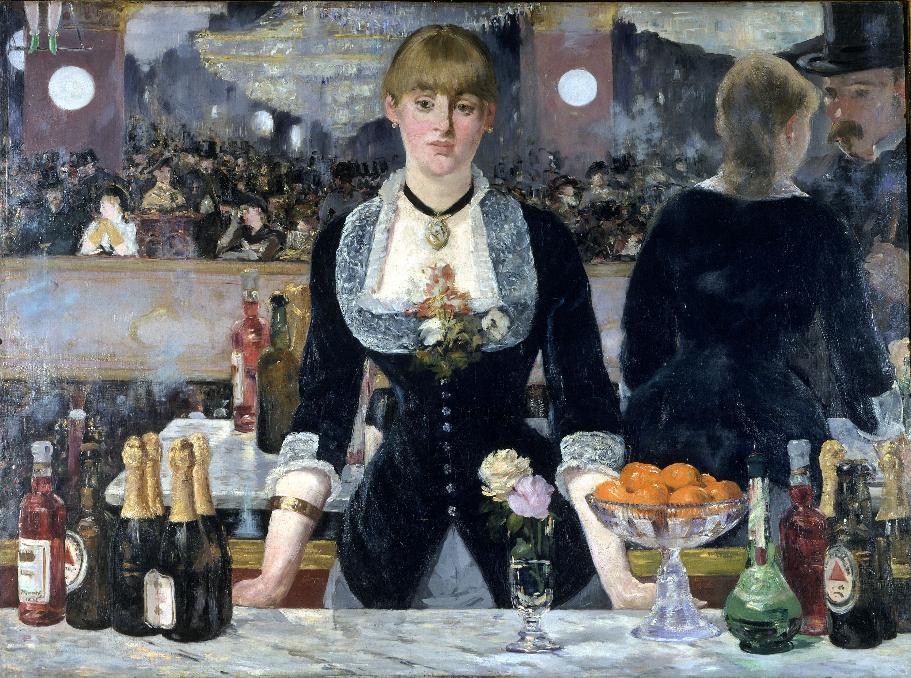 Edouard Manet (1832-83) A Bar at the Folies-Bergère, 1881-2 Oil on canvas, 96 x 130 cm © Samuel Courtauld Trust, The Courtauld Gallery, London
Picasso's engagement with melancholic modern life subjects in the second part of 1901 – which is the prelude to the Blue period – was part of this lineage, although it is fair to say that he amplified and transformed the theme in ways that were striking and original.
Picasso's early Parisian aesthetic owed more to Toulouse-Lautrec than the immediately subsequent sombre tones and subjects of his Blue period. Picasso did not move to Paris full-time until 1904. What do you think prompted the change in his artistic ambition, and was there more to it than Casagemas' suicide?
Casagemas' suicide was clearly an important source of inspiration for Picasso 's change of artistic direction toward the sombre mood that heralded the Blue period. Picasso was also affected and moved by visits he made to the Saint-Lazare women's prison in Paris where he saw former prostitutes incarcerated with their infants.
I think there is a sense in which Picasso seems to have felt that the sort of work he showed at the Vollard exhibition had nowhere meaningful to go – that it was somewhat superficial and that the subject of human suffering and melancholy offered a more profound direction. A friend who was with him in Paris in 1901 later recalled Picasso 's belief that 'great art emanates from sadness'.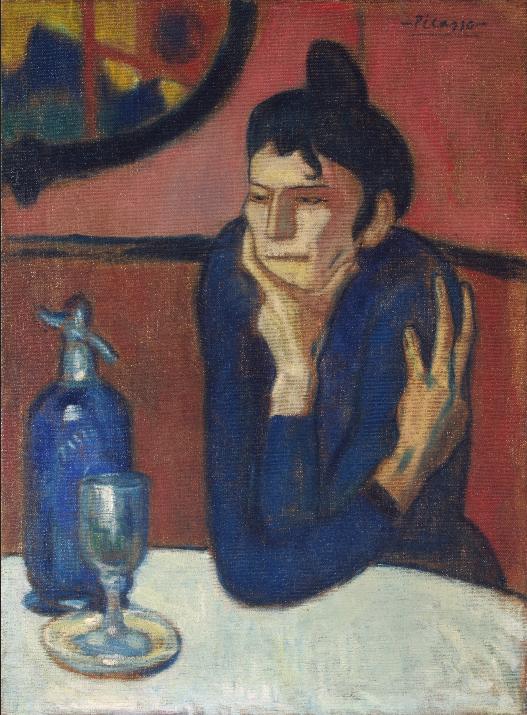 Pablo Picasso (1881-1973) Absinthe Drinker, 1901 Oil on canvas, 73 x 54 cm The State Hermitage Museum, St Petersburg
What are the particular challenges when curating an exhibition of the work of such a high-profile artist? Does it help or hinder that the audience know what they'll be seeing?
It puts particular pressure on securing loans as major Picassos are much in demand and difficult to borrow. However, we have been very pleased that almost everything we had wanted for this show from private and public collections is coming, I hope because lenders have responded warmly to the originality and sharp focus of our approach.
As for the second part of your question, I am not convinced that the importance of Picasso's 1901 work is fully appreciated and understood so I think visitors will find much to discover in the exhibition about the young Picasso.
Turn of the century Paris was an exciting place for artists, musicians and writers. The traditional narrative and descriptive functions of art were being rejected, to be replaced by more amorphous tools such as symbolism, allusion and association. How long before the young painter from Malaga, freshly arrived from Spain's art hub of the time (Barcelona), adapted to the artistic currents around the city? Was it what he had been waiting for?
[quote]It was as if Picasso was digging ever deeper into the languages of art he found in Paris[/quote]
Picasso responded immediately to the art and culture that surrounded him in Paris – in the first part of 1901 he devoured the sights and excitement of the city and its artists. In the second part of the year, he responded more deeply and profoundly to the culture of symbolism and its creative possibilities. It was as if Picasso was digging ever deeper into the languages of art he found in Paris. His development of his art was incredibly rapid – in just a few months he had travelled a great distance and transformed his approach to painting.
The artistic motives in the 1901 works seem more straightforward than Picasso 's later paintings – less controversial and more in the spirit of his early ambition 'to paint and nothing more'. Is this a less political Picasso than the man who painted Guernica?
There are few works in Picasso 's career as boldly political as Guernica (and even that painting has its ambiguities). Picasso 's great power as an artist is that his work is complex and generates multiple meanings rather than fixing a single point of view. This begins to emerge in 1901 very strongly – for example, in his series of café drinkers whose strange body language opens various narrative possibilities, or in his large secular altarpiece, Evocation, which throws open and challenges traditions of western painting.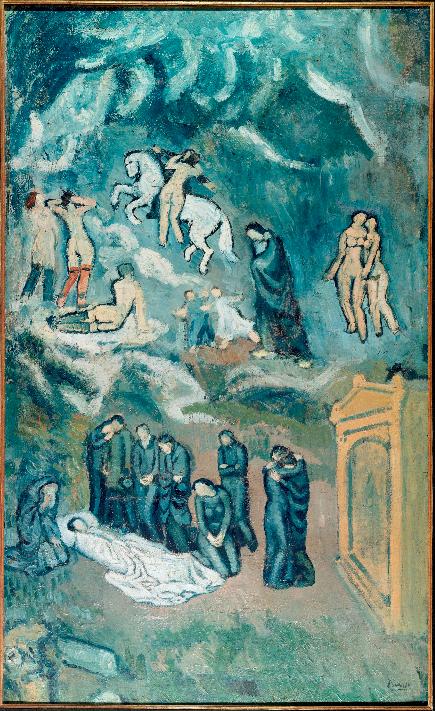 Pablo Picasso (1881-1973) Evocation (The Burial of Casagemas), 1901Oil on canvas, 150 x 90 cm Musée d'art moderne, Paris
'History is a nightmare from which I am trying to awake' – written by James Joyce, a year younger than Picasso, and who arrived slightly later in Paris (in 1902). It's a rejection of the notion that man progresses steadily towards the divine, and one which became obvious to artists with the onset of World War One. To what extent do Picasso 's 1901 works offer a similar rejection of that which precedes? Velásquez particularly.
It's never a simple rejection with Picasso. For him, artistic forebears such as the Spanish Old Masters were to be learnt from and inspired by, but also to be challenged and exceeded. A work such as Dwarf Dancer, 1901, (Museu Picasso, Barcelona) can be seen as both homage to the court dwarves of Velásquez and Goya but also a modern transformation of their example into a new language of art.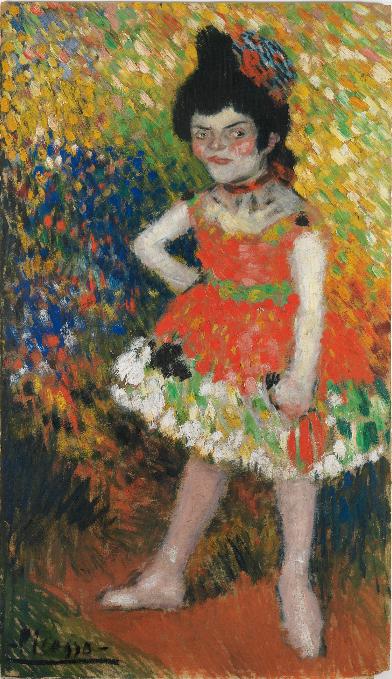 Pablo Picasso (1881-1973) Dwarf-Dancer, 1901 Oil on board, 105 x 60 cm Museu Picasso, Barcelona (gasull Fotografia)
In 1907 Picasso viewed a series of African masks which, along with pre-Iberian sculptures, influenced his vision of art and beauty. The hitherto untouchable harmonious form of the female nude gets twisted and remade in Les Demoiselles d'Avignon, and eventually becomes Cubism. What was happening to Picasso's artistic views in the period preceding the painting? Was he rejecting his contemporaries, or his predecessors?
I would say Picasso was trying to devour his contemporaries – to transform their styles and subjects for his own ends. Picasso later said "good artists borrow but great artists steal". I would say that this rings true for his work of 1901.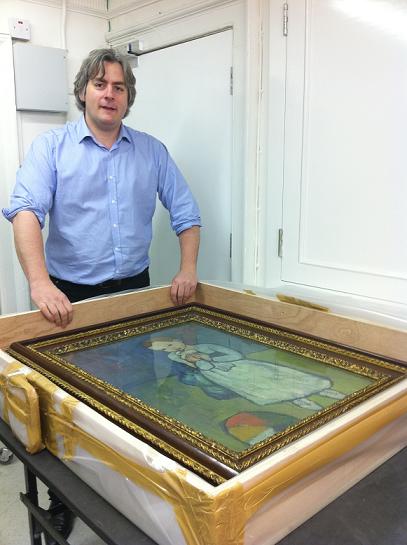 Dr Barnaby Wright with Child with a Dove in its transit crate
[button link="http://www.courtauld.ac.uk/gallery/exhibitions/2013/becoming-picasso/" newwindow="yes"] Exhibition Details[/button]

Sean Keenan used to write. Now he edits, and gets very annoyed about the word 'ethereal'. Likely to bite anyone using the form 'I'm loving….'. Don't start him on the misuse of three-dot ellipses.
Divides his time between mid-Spain and South-West France, like one of those bucktoothed, fur-clad minor-aristocracy ogresses you see in Hello magazine, only without the naff chandeliers.
Twitter: @seaninspain