[dropcap style="font-size:100px; color:#992211;"]C[/dropcap]ontemporary music and culture are heavily influenced by a naïve and simplistic fetishisation of spontaneity and improvisation.
There's a glut of conformist 'improv for improv's sake' attitudes, even in electronic music. There are few universities, venues or galleries willing to challenge or expose the dominance of improvisational reason and this tendency also affects certain labels. So it's very positive to encounter a press release clearly and unashamedly stating "every detail in System Fork was described and thought about before any work in the studio was done."
This embrace of the programmatic and pre-determined aesthetics of electronic music is refreshingly honest and already makes this a valuable release.
Another point of distinction is that Application (Martin & Richard Dust, two of the members of The Black Dog) are using custom equipment created for them. This combination of pre-planning and bespoke equipment has produced some really distinctive tracks – Application's sound is identifiably if subtly different and the tracks are fascinating hybrid forms that don't fit easily into genres, but operate along a fluid ambient/electronica/electro spectrum.
'Ambient A' steals in softly, deploying repeated filtering patterns and on/off bass that sounds like some obscure technical process. Yet even if the textures are not stereotypically 'ambient', the effect is also soothing. The purposeful but pensive 'Flange 7' combines a subdued bass kick with subtle details moving around a liquid mix that also hosts more disruptively random noisy textures that slowly come to predominate.
The gamelan-like sequences calling people to the playfully-titled 'Steve Reich's Ice Cream Van'
are as Aphexian as Reichian, mutating and twisting before dropping away to the minimal sub-structure. The track stands quite far apart stylistically from the others – it's followed by 'Front End' featuring a deeper bass and sparse but more resolute percussion. Initially minimal, its smeared tones gradually lend it a more emotional quality.
Moving onwards, 'Siren' is a punchy electroid track filled with futuristic blips. 'Swuth' is quietly propulsive, with the subtlety of its chords again bringing out the album's slightly bitter-sweet undercurrent. This is followed by the more up-tempo but still very minimal 'Theme From', in which minute details play lead roles.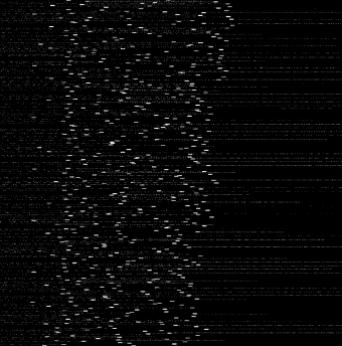 The minimalism intensifes on 'Format', a study of a very simple coiling pattern accompanied by sparse beats, which in impact is far more than the sum of its parts. In contrast, the distinctively choppy filtered bass on 'Cron Job' recalls the heavy duty bass work of Radioactive Man. There's an idyllic break, suffused with utopian tones, before the bass resumes only to hit a very clean and sudden end. This leaves 'Ambient B' which establishes itself with seeping tones and drones which are eventually overtaken by noisier rolling textures that give way to sudden silence.
On the surface, System Fork is an album of fine detail more than sweeping statements (although their mode of craft-focussed minimalism is itself a kind of statement). The more decorative/idyllic interludes in the tracks seem to highlight the distance between these futuristic sonic visions and the grim, banal realities that more and more people are having to confront in the "real world".
Yet an awareness of this doesn't preclude an appreciation of Application's sincere enjoyment of the creative possibilities of technology and a conceptual approach to music-making (or the fact that making such music doesn't have to entail a complacent, apolitical view of the world). It will be fascinating to hear how these techniques and devices develop, but if this is the "Future Sound of SoYo" (as its digital creatives now call South Yorkshire) and it can provide inspiration or even a degree of escapism, then it's no certainly no bad thing.
Artist: Application
Title: System Fork
Label: Dust Science Recordings
Cat: DUSTV041
Format: Digital, CD & Vinyl