[dropcap style="font-size:100px; color:#992211;"]F[/dropcap]rom ancient Latvian folk melodies to jaw harps, Skyforger's most recent album Senprūsija (Old Prussia) has the elements of a solid folk metal album – once you get past the filler.
Dedicated to the lost Baltic nation of Old Prussia, the pagan folk metal troupe's frontman Pēteris Kvetkovskis sings of the Great Prussian Uprising of 1260 and folk hero Herkus Monte. The album's cover boy, a chainmail-clad skeleton clutching a crumbling sword, is testament to the fact that nought remains of the Old Prussians but bones.
A brooding, earnest chant over low drones and the timorous fluttering of flutes gets the album off to a start reminiscent of Romanian black metallers Negură Bunget or Faroese songsmiths Tyr – although the track is too brisk and breezy to deliver the ambience it hints at.
Strangely, title track 'Senprūsija' is the most unremarkable song on the album. Pedestrian metal chugging and an insipid pipe solo, plus an unfortunate resemblance to Nekrogoblikon's 'Goblins are Better than Trolls', do not make for an inspiring mix. But it gets better.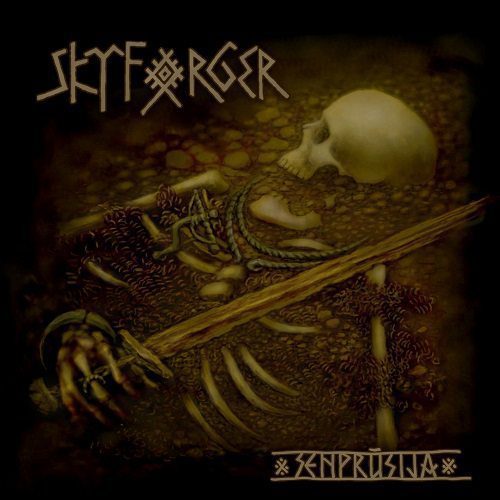 The stand-out track is 'Ramava'. Based around a traditional Latvian folk melody, tasteful distortion laid over sensitive guitar work lends the song a distinctive metallic tang, followed by deep, thunderous chords that will have pagan metal audiences right across the festival circuit headbanging in unison.
Senprūsija has plenty of inspired movements: in 'Divi Brāļi (Two Brothers)' (which starts off an angular, demonic guitar piece) a folksy bagpipe-led interlude unexpectedly sweeps in like a ray of sun. Their use of a jaw harp is perhaps unique in metal. But Skyforger focus too much on homogenous, guitar-heavy tracks – first single 'Tagad vai Nekad (Now or Never)' suffers from the same flaws as the title song.
Senprūsija raises the question of whether Skyforger will be creative enough to follow this album by forging a sound which is truly their own.