[dropcap style="font-size:100px; color:#992211;"]A[/dropcap]delaidains are so used to having a multitude of arts offerings during this time frame that they just shrug it off, but visitors will find that there's so much going on, it's difficult to chose what to embrace or reject.
For me, its always an easy choice: Womadelaide, I've not missed one since 1993. The four day Womadelaide festival, held in one of most beautiful festival venues in the world (the Botanic parklands) is just too irresistible to forgo for anything else.
Seven stages, mostly nestled alongside Morton Bay fig trees and majestic pines providing shady retreats from the heat of the day, feature a huge number of class acts. Excellent sound; multicultural food experiences that range from fine dining in the open air to cheaper takeaways; and reasonably priced drinks served in relaxed as well as more traditional settings provide a beautiful environment that places Womadelaide close to (if not at the pinnacle of ) anyone's festival experiences.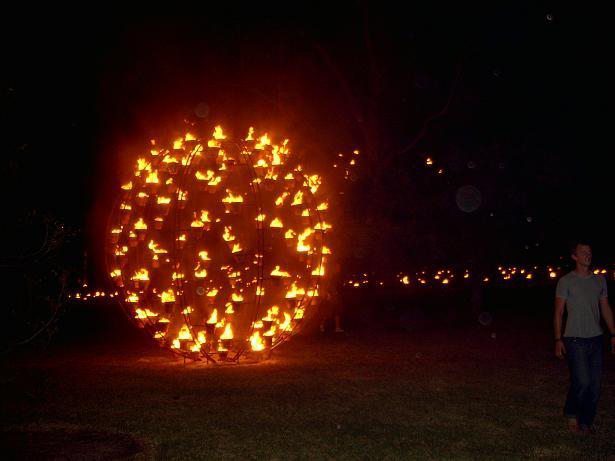 This is not a "Big open field and nothing else" festival, many of us find exploring the grounds as much fun as watching the acts.The festival village in particular is a riot of colour and sound, with vendors selling everything from hand made drums, unique t shirts and clothing to exquisitely tiled Moroccan fountains. This in addition to food from many countries.
As usual the organizers have assembled an eclectic bill, featuring some old favorites as well as a plethora of new names. It's often the unknowns that make this festival a joy. Sure, there are familiar "Big Names" such as the Waifs, Specials, Toni Childs and Oumou Sangare which will draw the crowds, and there are some special acts such as the Phillip Glass Ensemble to provide a heavyweight art experience when they present an Australian first: a performance of the soundtrack to the film KOYAANISQATSI LIVE! – Life out of Balance (playing live during the screening of the film on stage one, Sunday).
Crafty festival goers would be wise to do some exploration: visit the smaller stages, the zoo, stage 3 and the Morton Bay fig stage. There you will likely find smaller, respectful crowds who are deep into the spirit of Womad, desiring more than just the same old same old musical fodder. The beauty of this festival is that it always delivers a number of acts that delight and surprise the audience.
Last year it was the Korean band Jambinai, mixing ancient traditional instruments with elements of space rock and metal. This year it promises to be bands such as Bokante, which features members of jazz collective Snarky Puppy and a slide guitar player who virtually melts his instrument with the intensity of his playing. Eccentric Turkish psychedelic rockers BaBa ZuLa are set to provide us with some mysterious, quirky off the wall adventures in sound featuring infectious Middle Eastern beats.
On Monday night,Tangents, led by Ollie Brown of Icarus, (who operate in similar improvisational territory of, say, Can or The Necks ), will be a band most likely to explore spacey and uncharted universes. Those who like laid back drum and bass trance might also check out Kiasmos, who play a single show on the Monday.
WOMAD stands for World of music and dance, but theres also a performance art element to the festival. Even if you don't like world music, the entrance price for an evening would be more than justified by the inclusion of some of the best outdoor installations on the planet. This year sees the return of the fabled Company Carabosse (pictured). This will be the third occasion that they have presented their jawdropping fire installations at Womadelaide. The sheer scale of these shows (last time, the company used a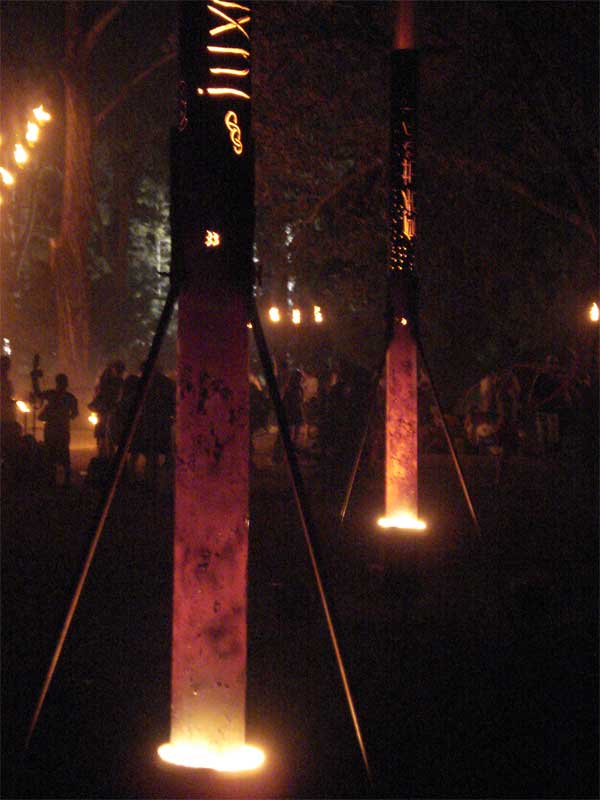 huge crane to suspend their larger pieces amongst the trees in the outer parts of the grounds) and the heat and smoke generated by hundreds of fire pots, demented and bizarre machines and combustable chimneys, is an experience that has left many mesmerized by the glorious incomprehensibility of it all. A must see!
Indigenous music and dance from many countries have a strong presence. Legendary aboriginal artist Archie Roach, whose appearance with the Waifs a few years back playing his iconic song 'From Little Things ( Big Things Grow )' had 20,000 singing along, will perform a single show on Sunday morning. Other traditonal acts include Carnatic singer Sudha Ragunathan, Oki Dub Ainu Band, Hanoi Masters, Gawurra and the East Pointers.
There's also plenty of dance music for those booty shakers who crave beats per minute above all else. At any point in time, with seven stages, there more likely than not an afrobeat /dub/electronic band that will impossible to ignore. Dancers should gravitate towards the likes of Bamba Wassoulou Groove, Lamine Sonko, La Mambanegra, L fresh the lion, Parov Stelar and of course The Specials for their dance experiences.
The Speaker's Corner stage is the refuge of night owls who just haven't had enough when the acts on the main stages call it a day. There is usually a different DJ on duty each night to play in the next day. This year features turntable maestros Skratch Bastid , Rahan and Rich Medina (ex-Rock Steady Crew ) as well as Aussie Dj's Hemingstein , Joy and Sparks and the msysterious bemasked Xanga, who will have the honor to wind up the festivities in the early hours.