[dropcap style="font-size:100px; color:#992211;"]I[/dropcap]s there anything still unexpected in World Music?
Has the cross pollination of sound led to a syncretic culture? True to form, WOMAD 2013 poses as many questions as it answers.
Having gone to several WOMADs in a row 2013 brought a lot of the familiar as well as the unexpected. One thing that organisers and music lovers alike must come to grips with is the issue of scheduling. There is so much to see that great bands can slip past on a side stage when in many cases they'd be worthy of a whole night of big stage ovation.
[quote]readers will have
to forgive us
coining the term
Mosque Pit[/quote]
One new feature of 2013 was that many small stalls had started having acoustic sets or micro electric sets so that the exotic bazaar setting of the tent buzzes to the sound of usually tasteful (although painfully earnest) singer songwriter acoustic music or proto world music. Thankfully though, the wooded areas of the festival are still quiet and when it gets a bit much a retreat is still possible.
That is until the strains of something irresistible reach your ears and you're pulled back into the fray.
Arguably, the 2013 line-up wasn't as bombastic as the previous year and the general atmosphere seemed more sedate,  but the headliners that were in alignment shone in a no less revelatory fashion.
As usual with over four official stages running at any one genre disparate time, several reviewers might well  carve completely different evenings for themselves without seeing the same band once.
The highlights for Trebuchet were concentrated on Sunday's entertainment where the Sufi majesty of Asif Ali Khan took everyone by the heart and led them into a trance heavy pan-religious appreciation of cosmic love.
The weight of Nusrat Fateh Ali Khan 's presence in WOMAD is huge and for many fans this was a way to remember WOMAD's past – but it wasn't rehash – there is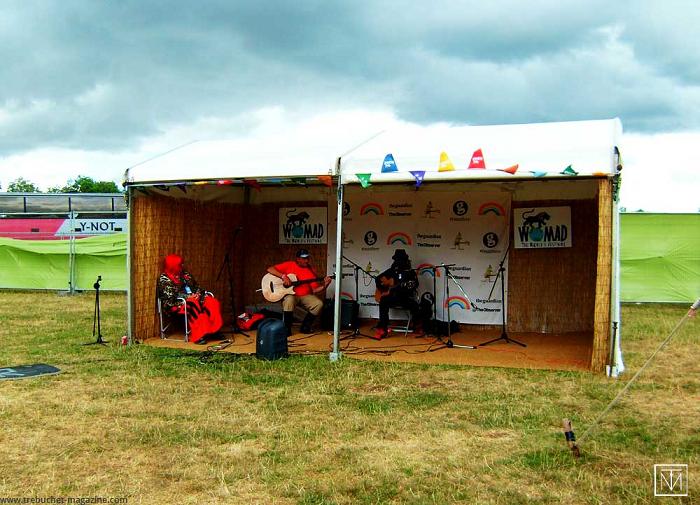 something different in Asif's delivery and demeanour where Nusrat 's mystic languor was replaced by a righteous fire that gave the final day crowd the push required to keep energy levels up for the rest of the day.
The performance of 'Ali Ali Dam Ali Ali' had young and old melding into one voice, clapping and jumping in unison – readers will have to forgive us coining the term Mosque Pit – but we'll save you Heavy Mental.
Wandering out under the trees we witnessed the Ghanian uber funk of KonKoma setting fire to the BBC Radio 3 Stage. Representing 'a live rebirth of 70s and 80s Ghanian RnB' the 10 member band set about rescuing the spirit of the past. Taking music forward is hardly a new aim but few artists are as insanely proficient as KonKoma. Weaving fluid parts that seem as fresh and inventive as anything this reviewer has ever heard they brought to mind a hi-life Grateful Dead, adept at taking a theme and working it into a succession of blink-against-the-brilliance and you'll miss it moments.
Gasping from revelation to musical revelation the crowd (swelled with a lot of the weekend's other acts – including Trebuchet favourites Syd Arthur) danced merry in the beer soaked mud.
Gilberto Gil 's name alone is something of heavy weight experience amongst World Music lovers and he can be considered one of the cardinal points of the World Music experience (whose audience is still largely Western and White despite efforts by WOMAD to Internationalise elsewhere – vis WOMAD Russia in 2013 and WOMAD Abu Dhabi 2011) along with Ravi Shankar, Ali Farka Toure, Salif Keita, Nusrat Fateh Ali Khan, Fela Kuti and Bob Marley – artists on the whose shoulders the weight of not just a culture but a continent rests .
Of course these spokespeople didn't reach that level of influence by being unready or unwilling. Aligned with the politically active Tropicalia movement in 60s South America, Gil's journey has taken him into Brazilian government and touching upon all areas of the arts.
Watching the man perform is a high honour and despite occasional suggestions of retirement (he's in his 70s) he puts on a great show. For the record I am sick of people playing Bob Marley covers at World Music orientated events, it feels hokey and the song choices are usually predictable and uninspired. However, Gil's interpretations were truly unique and showed a genius level understanding of chordal structure and harmony… the way he found something unique into those songs, pushing a middle eight into a subtle cycle of sublime extended chords, was breathtaking.
By the end of Gil's set the audience's admiration for this artist was rewarded by a performance of such artistic height that we're still comprehending it's complexity.
WOMAD 2013 ran the gamut of World Music and remains exploratory and important for any true appreciator of music and culture.  There is a reason why WOMAD feels like it owns the copyright to the still problematic term 'World Music' because year after year it makes tours possible for artists that might not otherwise have an audience in the UK.
In 2013 World Music at WOMAD isn't a ghetto, it's an expo for audiences to find what they like, take it home and turn on their friends . Bring on 2014.
WOMAD 2013
Thursday 25 July – Sunday 28 July 2013