[dropcap style="font-size:100px;colour:#46ffa5;"]T[/dropcap]
here's only one month to go before the gates to Cherry Hinton Hall open to fans for Cambridge Folk Festival 2019 and organisers announce sustainability plans and on site activities.
Returning this year with an 'Outstanding' A Greener Festival Award, Cambridge Folk Festival furthers its sustainability commitment and announces the ban on single use plastics.
Rebecca Stewart, Operations Manager said: "We have always tried to stay ahead of the game when it comes to environmental issues and we're really proud of our ethos and success with green initiatives. We try to work a year ahead, letting traders know that we had made the decision to go single use plastic free in 2019. This year is the first year we will see the difference, estimating it will save over 15,000 bottles from entering the waste stream and accounting for a huge reduction on our overall waste.
For 12 years, Cambridge Folk Festival bars have operated the cup deposit scheme, saving over a million plastic cups from waste to date and the past five years have seen vendors offer discounts for those using reusable coffee cups. For over a decade, caterers have used biodegradable packaging and utensils, with a ban on plastic straws and stirrers enforced since 2017.
Anna Smith, Executive Councillor for Communities at Cambridge City Council, said: "The city council declared a climate emergency in February and we are proud of all the work being done by the Festival team to reduce the waste and environmental impact of this incredible event. In addition to being one of the most environmentally friendly music festivals in the country, underlined by our Outstanding Greener Festival Award, Cambridge has to be one of the most family-friendly, complete with children's concerts and a paddling pool."
For fans heading to the festival 1-4 August, the list of activities available on site has also been released with new offerings and returning favourites alike. Beyond the world-class music on offer on the main stages, there will be mindfulness workshops and talks, children's concerts, ceilidhs, facepainting, storytelling, playgrounds, paddling pool, street theatre and even a wandering magician!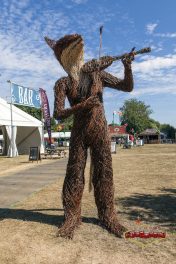 The 'Wellbeing Area' area returns with all things therapeutic on offer near the duck pond at Cherry Hinton. Across the weekend, daily Tai Chi (9.30am-10.15am), willow workshops (10am-12pm), drawing workshops (11am-12pm) and yoga sessions (Friday and Saturday 11.30am-12.15pm) are all available to encourage festivalgoers to channel their zen.
Cambridge Folk Festival will also see varied workshops on subjects ranging from instruments, songwriting, singing and even knitting to talks and panel discussions including the Women's Panel and Mental Health in the Music Industry. Following on from a run of high profile suicides in the music industry, last year saw the first of these talks on site. This year, Cambridge continue to open up the conversation with panellists joining MIND representative Lucy Oliver-Harrison to discuss mental health in the music industry and beyond.
New for 2019, Index on Censorship, a non-profit organisation that fights censorship and defends free expression, will, as dusk draws in, welcome fireside folk tales for grown ups in a series of uncensored folk tales as they've never been heard before.
In addition to the scheduled artists appearing on the main stages at the festival, the cream of local talent will be showcased thanks to the folk clubs in and around Cambridge. From the established Cambridge Folk Club, Black Fen Folk Club, Acoustic Routes and St Neots to the new clubs The Bridge and New Roots, members will be taking to the Club Stage across the weekend.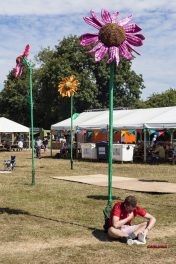 Not to be missed is the selection of traditional Irish music sessions and ceilidhs that are guaranteed to get everyone dancing into the early hours. Continuing the movement and a first for Cambridge Folk Festival, The Sisters of Elva Hill will perform an hour-long, narrative folk ballet, sure to wow the Cherry Hinton crowds.
Little ones are more than welcomed at Cambridge Folk Festival and there's plenty to keep them amused over the weekend. The Hub tent plays host to Children's / Youth's dance and music workshops and the fun continues in the playground, paddling pool and music making at the Coldham Common campsite. Magicians, circus acts, entertainers and face-painters will also be on hand to keep the kids happy in between the bands.
For the full list of on site activities and 2019 tickets on sale now, visit www.cambridgefolkfestival.co.uk
Ticket information:
Full festival ticket: (£179), Thursday (£29.50), Friday: (£73.50), Saturday (£73.50), Sunday (£73.50).
Booking:   www.cambridgefolkfestival.co.uk / Cambridge Live Box Office 01223 357851
Camping at Cherry Hinton Hall and Coldham's Common is available. Glamping at Coldham's Common is also available. Concession tickets (disabled access and carer, Under 21, Cambridge City Resident) are available. Please see the website for more information and full ticket prices: www.cambridgefolkfestival.co.uk
All images Carl Byron Batson – Not to be used without prior permission

Photographer, published poet, former party animal, body builder, grave robber
to the stars and renowned chainsaw juggler, Carl can often be spotted on his
Harley Davidson pretending to be in Terminator 2. He is also frequently seen in
the press pits of old London town, camera in hand, avoiding being hit by bottles
of wee and crippling his opposition with secret Kung Fu moves.