Animals In The Wall exhibition showcases a unique collection of William S Burroughs' artistic work, curated by James Elphick and Yuri Zupančič for Guerrilla Zoo.
William Burroughs, the great progenitor of The Beat Generation, is best known for his anarchic, randomly montaged literary works that changed the direction of literature forever. However, he also applied his distinctive 'cut up' method-
introduced to him by friend and collaborator Brion Gysin- to a dynamic and prolific output in the realms of the visual arts.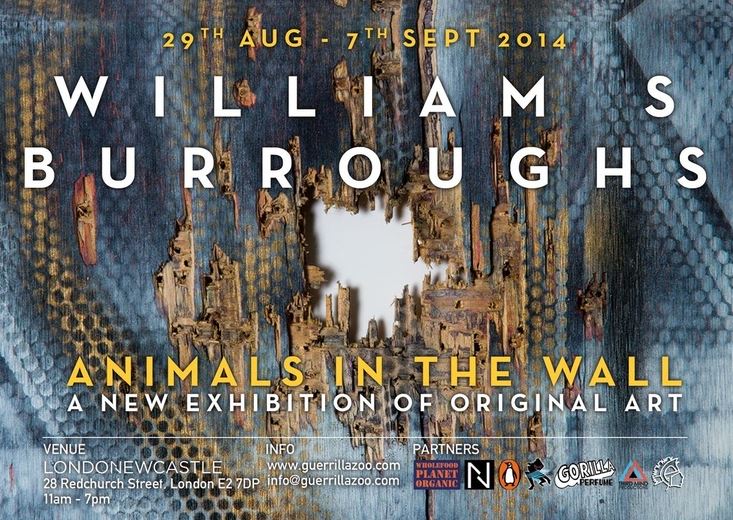 Premiering in the creative hub of East London before embarking on a world tour, Animals In The Wall will feature 40 original William S Burroughs art works– including some never before shown– alongside responses from some of the city's most exciting street artists and an engaging events programme.
Burroughs' paintings and multimedia collaborations are only just being properly explored which, is perhaps apt since he was in a sense creating work for a future generation, famously stating:
"When you cut into the present, the future leaks out."
His interest lay primarily in unforeseen connections and associations, as a means of dissent against the hegemony of socio-political systems of control. He therefore revelled in the act of painting as a process of ritual experimentation, which also reflected his obsession from an early age with unseen realms and magical universes.
Often starting as incantatory scrawlings, the paintings have graffiti-esque overtones in the use of spray paint aerosols, stencils, paste-up collages and letterforms. and, the layering of text and images into new forms, strongly resonates with the vibrant street art of contemporary East London.
Animals In The Wall will bring the two together for the first time, in order to trace the legacy of experimental art as a means of free thought, with Burroughs posited as a prophet for 21st Century rebellion.
Animals In The Wall
28th August – 7th September 2014
Londonewcastle Project Space, E2 7DP