[dropcap style="font-size:100px; color:#992211;"]S[/dropcap]ometimes you just have to sit back in front of the crackling embers at the end of the year, large brandy in hand, and resign yourself to the fact you've missed the boat on one or two things.
It's not necessarily anyone's fault; the dice just didn't roll the right way so just think about the good things instead. That was the feeling as this year brought itself to a close without securing press passes for Wilko Johnson's last tour.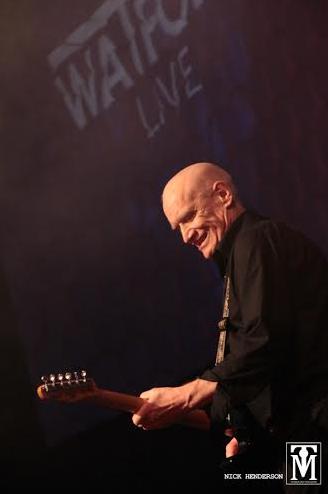 Wilko is the man who is determined not to lay down his guns but rather go out with an almighty bang, an almighty blaze of rock and roll glory. It was a show we dearly wanted to applaud but couldn't quite get a hold of. Oh well, it's a shame but we'll just move on.
But wait, what light through yonder window breaks? It is Wilko playing Watford, and Watford shines out to us like the sun.
No shit, a garbled telephone conversation confirmed Wilko was indeed playing Watford and scoff as you might, Watford has quite an impressive history when it comes to live music, everyone from Marc Bolan and Black Sabbath to Oasis have graced the stages in this old brewery town.
Anyhoo, like magical Christmas fairies, our very good friends at Watford Live came through with the goods and invited Trebuchet's finest down to the event staged at Oceana (previously Destiny, Paradise Lost, Kudos, Bailey's….. remember Bailey's?). This of course has put a glow back in our cheeks and rounded off the year quite nicely thank you. Our brandy glasses now resonate with the clink of last minute success and not disappointment.
Fashionably late due to Nick smudging his eyeliner and mislaying his baby wipes, we were escorted VIP side only to be told we had just missed Eddie and the Hot Rods who were first band on.
Nine Below Zero
Damn it, we would've loved a bit of Hot Rod action but never mind because Nine Below Zero (these guys have been smashing out the tunes since the late 1970's) were just about to fire up their vintage engines.
Nine Below Zero (NBZ) are guaranteed to give a sterling performance wherever and whenever you get to see them. This group of seasoned professionals have been around the proverbial block again and again for over thirty years. NBZ have played with the very best in the business and this absolute wealth of experience all shines through in their performances. On this night they sliced through their set effortlessly like a red-hot knife through butter.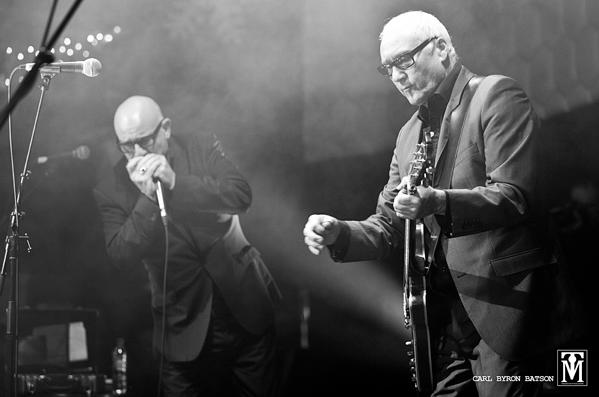 Just when we thought Steve 'West' Weston was the best thing since Jack Kidney, Mark Feltham blows the Oceana roof off with his outstanding harp playing. Brendan O'Neill and Brian Bethell pound out the drum and bass beats whilst Dennis Greaves, suited and booted, belts out some gravelly vocal, caresses his guitar as if it has sprouted out of him and looks just as razor sharp as he did in 1980.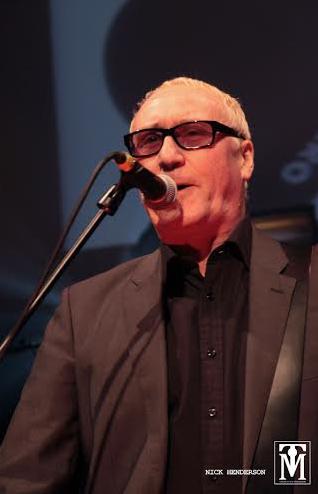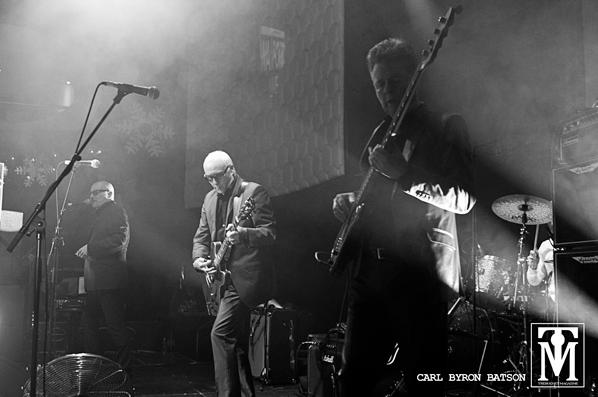 21st century R & B they most certainly are and NBZ still retain that hard-edged punchy modish / punk vibe they always had which really pushes the music home. NBZ deliver the goods with zero dip in energy levels.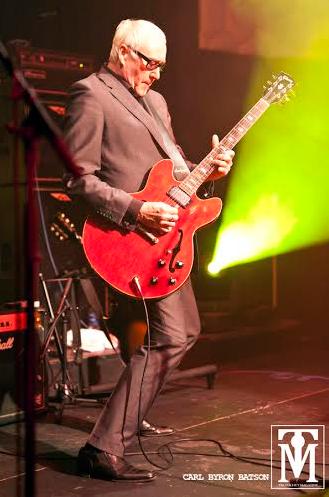 Talking of energy levels, Wilko would be on very soon. Time to go to the bar and pitch up the cameras in a safe spot. The venue is understandably rammed, no one is giving an inch and there is no press pit; deep joy.
As we lurked backstage, checking flash heads, annoying security and sipping on a cold one, a brief discussion between Nick and me culminates in the decision we really need to visit Wilko in his dressing room; we may not get this opportunity again after all.
So with that 'seize the day' attitude we boldly knock and enter.
Wilko Johnson
Wilko Johnson freely admits he should be dead by now so it's a little eerie talking to someone you know is on borrowed time. It's something I've done before and it's something I don't really enjoy, but this was indeed a privilege to be able to shoot a few backstage frames of the man who is playing his farewell tour to his legion of adoring fans when, let's face it, most of us would be crossing off a bucket list or feeling sorry for ourselves.
You can only stand in awe of someone who is blatantly cocking a snoot at the reaper.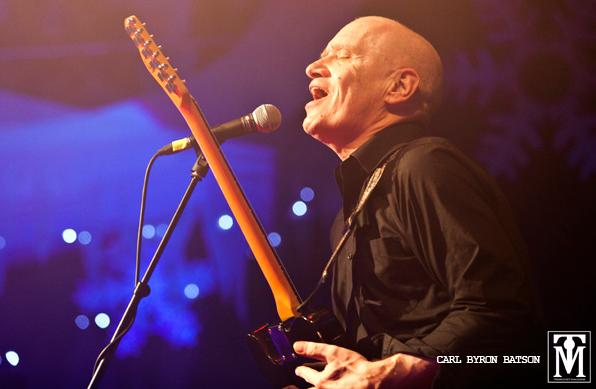 Known for his energy, manic onstage mannerisms, genius guitar playing and of course that trademark thousand yard stare, we were greeted by a very quiet, gracious and unassuming man who was slowly pacing around, patiently waiting to play what could be one of his very last shows.
After leaving the dressing room a humbled feeling mixed with the thought that this may well be a quiet gig. That thought would be proven very wrong.
Wilko Johnson strode onto the stage like a man with a purpose. He greeted the sea of fans with his crazed bulging eyes and proceeded to rip into his set list with the passion and vigour of a man half his age.
Norman Watt-Roy
Blockheads bassist Norman Watt-Roy joined him on stage with Dylan Howe pounding the skins. You may be aware that Norman is one of the finest bassists you will ever see and a more perfect pairing you just couldn't have made.
He paced all over the stage, slapped his instrument like it was a good girl done bad and matched Wilko's crazed expressions grimace for grimace. Falling down on his arse at one point, Norman is a show all of his own.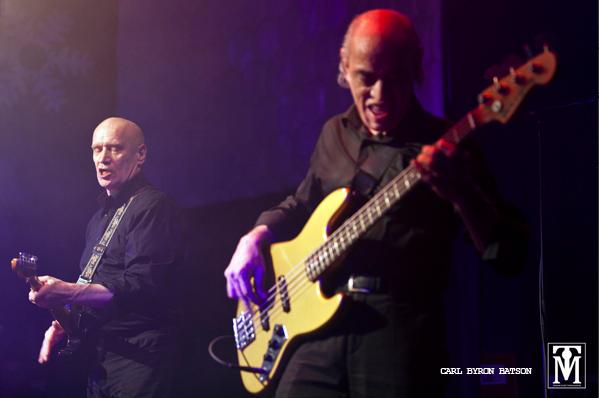 It did seem like the lunatics really had taken over the asylum and it was note fucking perfect.
Needless to say, Wilko et al played all the tunes the amassed horde had come to hear including 'Don't Let Your Daddy Know', 'Roxette' and 'Do It Right'. Bare boned rockers right through to the more thought provoking 'When I'm Gone' and Wilko's finale take on the classic 'Johnny B Goode' with altered 'bye-bye Johnny' lyrics. It really hit your heart on a number of levels but the whole show was sheer joy to watch and a delight to hear.
We came away wanting to stick our own big V to death and thinking we should all make more of the time we have left. Wilko Johnson is doing just that, and long may he continue.
Photos: Carl Byron Batson and Nick Henderson. Not to be reproduced without prior permission.
Happy Christmas from all at Trebuchet.