[dropcap style="font-size:100px;color:#992211;"]A[/dropcap]

semi-autobiographical affair from BAFTA-nominated writer and actor — and director and comedian; he's a veritable smorgasbord — Gabriel Bisset-Smith's current stage play, Whitewash, is warmly funny and thought-provoking. Inspired by his relationship with his mixed-race mother and their marked difference in skin colour, it's an important contribution to the representation of mixed-race people in culture, who, thus far, occupy the bottom rungs of the ladder as far as minorities go. Suffice to say that it is a unique and often frustrating state of being — and no, pal, that really does not include you with your UK-hopping combo of white grand/parents.

We meet mother and son Mary (Rebekah Murrell) and Lysander (Bisset-Smith). It's a warm introduction; an affectionate narrative describes a witty and spirited woman, while the boy is headstrong and wilful. A little too wilful: when he doesn't get what he wants, he frightens his mum by saying he'll tell the police — already suspicious due to the parent's differing skin tone — that he's been kidnapped. While it's delivered with humour, this swiftly served raison d'être packs a punch. From here, it's a non-linear trip across the years that sees single mother Mary struggle to establish herself as an artist in a hostile world while Lysander, ostensibly a white man, is employed by developers who intend to rip down the estate in which he grew up.
"Weaponise my blackness?"
What is immediately striking is Murrell and Bisset-Smith's rapport. Whitewash is a two-hander on a traverse stage; it's an intimate setting that requires shared confidence from the pair to play out various and believable juxtapositions of relationships and cultures. In fact the decision for this two-hander is inspired; both actors play black, white, and mixed characters, complementing the differences — and yet shared experiences — at the heart of the story. It's a brave format that requires razor-sharp observation of its characters, and Bisset-Smith's seamless script does just that, with snappy direction from Charlotte Bennett over just 70 minutes creating a rich snapshot of both mother and son's overlapping lives, and London itself. Bookending the story is a comment on skin colour differences in the same setting of parent and child in public, finishing Whitewash on a poignant, thought-provoking note.
A slight criticism is the video design; archive-heavy images are projected onto brick walls, therefore the details are often unclear. This is a little frustrating, given that the video design punctuates the storylines. It's a minor quibble.
Whitewash gives more than one take to come away with, which will depend on the viewer, and whether they're black or white, or indeed mixed race. Basset-Smith knows this. The obvious is gentrification and how London is changing — whitewashed indeed. But there is a special resonance here that only a select group can understand. For that small group, Whitewash is a moving experience.
Whitewash runs at Soho Theatre until 27 July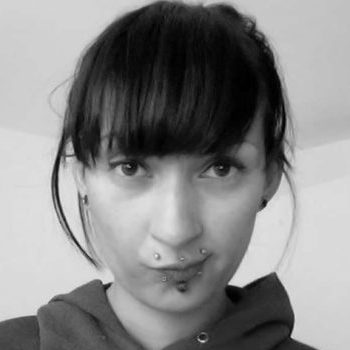 Naila Scargill is the publisher and editor of horror journal Exquisite Terror. Holding a broad editorial background, she has worked with an eclectic variety of content, ranging from film and the counterculture, to political news and finance.