[dropcap style="font-size:100px; color:#992211;"]V[/dropcap]oodoo Vegas play old school twin guitar hard rock, and their second full-length album Freak Show Candy Floss makes a powerful statement of intent.
The title reflects life on the road, driving hours to play high energy rock'n'roll in places like Merthyr Tydfil and Basingstoke, and how that dedication to live music must seem incomprehensible to those with 9-5 lifestyles.
Voodoo Vegas at Cambridge Rock Festival 2016 by Tim Hall
From the opening chords of "Backstabber", this is the sound of a band who mean business. Laurence Case has a classic hard rock voice, Ash Moulton and Jonno Smyth make a hard rocking rhythm section, and guitarists Meryl Hamilton and Jon Dawson serve up monstrous riffs and shredding solos. Which would all count for little unless the songs were there, but Voodoo Vegas have the songwriting chops to match.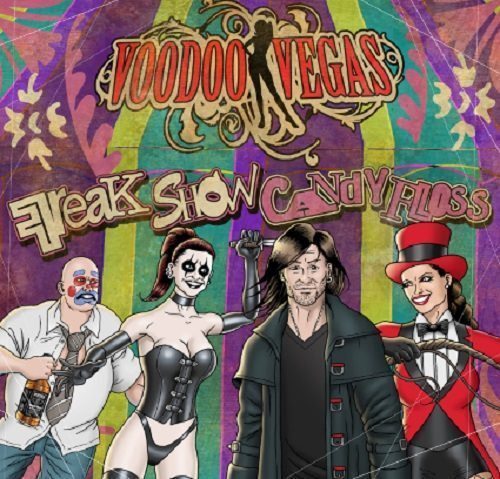 It's one of those albums where it's hard to single out highlights. "Killing Joke" with its references to dancing with The Devil in the pale moonlight along with freaks and candyfloss is almost the title track. Then there's there's the blues-rock stomp of "Lady Divine" with Lawrence Case throwing in a harmonica solo. Some of the strongest songs appear on what would, in the days of vinyl, have been the second side of the record. "Black Heart Woman", "I Hear You Scream" and the album closer "Walk Away" are driving hard rockers with barrelling riffs.
There are a couple of changes of pace, with the swampy blues of "Poison" and the acoustic "Sleeping in the Rain", but there's no filler here, every song on the album is a belter.
This is an album of no-nonsense no-frills rock and roll that does what it says on the tin. When working within a fairly traditional form, you have to be very good at what you do to avoid sounding like a derivative pastiche of other, better bands that came before. Voodoo Vegas pass that test with ease. To put it simply, they rock.
Pre-Order Freak Show Candy Floss from the Voodoo Vegas Website