[dropcap style="font-size:100px; color:#992211;"]R[/dropcap]ight now there's no shortage of exquisitely packaged, strictly limited vinyl editions housing what often turns out to be fairly lacklustre music.
As we see with the special record store day releases, some of these editions are superfluous reissues or opportunities to offload otherwise uninteresting tracks, not to mention opportunities for e-bay dealers to make large instant profits. So it's refreshing to find not just a release but a series in which specially-commissioned original content has been tailored to fit the format.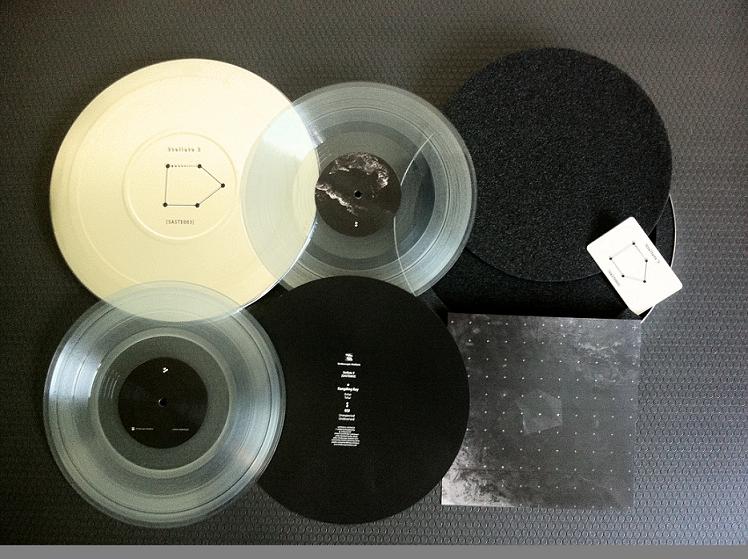 This is the third volume in a planned series of four Stellate releases, each containing 2 x 10" vinyl boxed in a metal tin plus a download code. The first 2 volumes saw Stroboscopic regulars such as Dadub joined by guest artists including Perc and Silent Servant. The brief seems to have been to leave the dancefloor far behind and to be as experimental as possible.
[quote]recommended not just as a collectors' wet dream or a dealers' safe bet[/quote]
The results have generally been surprising and impressive, demonstrating new sides to the artists and to the label. As a result the Stellate series can be recommended not just as a collectors' wet dream or a dealers' safe bet but as an experimental series producing consistently interesting music that might not otherwise have found a home. The four protagonists here are Kangding Ray (whose Monad XI release is reviewed here), NSI, Xhin and Reformed Faction.
Kangding Ray's tracks are very different to his recent work. 'Antar' is in 1990s ambient mode; a calm and contemplative track that's well done but unremarkable. 'Telur' is more subtle and interesting, mixed very low it leaves almost no trace beyond a suitably autumnal atmosphere.
One trait of the Stellate releases is that while all the artists tend to explore low-key atmospheric textures the mood does shift from artist to artist. NSI's 'Unexpected' lives up to its title with an almost-too-sweet synth sequence descending elegantly over a shuffling beat. After a while a shuffling Jah Wobble-style bassline breaks through unexpectedly, creating a curious but not unsuccessful hybrid. 'Undeserved' is a more atmospheric blend of minor piano keys and electronic ambience.
As might be expected of rising Stroboscopic star Xhin his first track 'Them' is the most overtly electronic track of the selection. It's an uneasy midtempo piece with a robust structure of 'IDM-style' beats and beefy bass offset by smeared chords. It's the type of work Warp Records might once have released before they decided to pursue new directions. By contrast the wintry, piano-based atmospherics of 'As It Unfolds', could almost sit within the ECM Records catalogue. It has a very filmic quality that could form the soundtrack to a scene of an unresolved inner dialogue.
Finally Reformed Faction intensify the filmic Northern European atmosphere. The cryptically-titled 'Hollerei Lx' is gauzy and ethereal, yet has a definite dark undercurrent which means it sits unresolvedly on the cusp of tension and release before ending abruptly. Their 10 minute plus 'Koaii Twin' serves as a suitably strong and increasingly dark conclusion to the release.
Starting with an uneasy collection of smeared, discordant tones it rapidly heads towards the territories of contemporary classical aesthetics, a combination pioneered by Gas and other artists on the Mille Plateaux label from the mid-1990s. The last four minutes unleash a haunted symphonic array in which what seem to be sampled strings create a Penderecki-like intensity bringing to mind the classically-derived work of Autopsia or the soundtracks to the ritual actions of Hermann Nitsch.
It doesn't seem fanciful to say that if Deutsche Gramophon still released experimental vinyl of the type now sold for huge prices online they would probably be releasing material of this type, and this suggests that even once the Stellate series reaches a conclusion Stroboscopic' s future trajectory may lie in this direction. Whatever happens it would be good to see these limited vinyl works compiled on CD, as many of the innovative works that the series has inspired deserve a wider audience.
Available Now
[button link="www.stroboscopicartefacts.com/" newwindow="yes"] Stroboscopic Artefacts[/button]