[dropcap style="font-size:100px; color:#992211;"]I[/dropcap] do believe I once said it was impossible to take a bad picture of Valerie June.
Well the poor (low) lighting at the Islington Assembly Hall, together with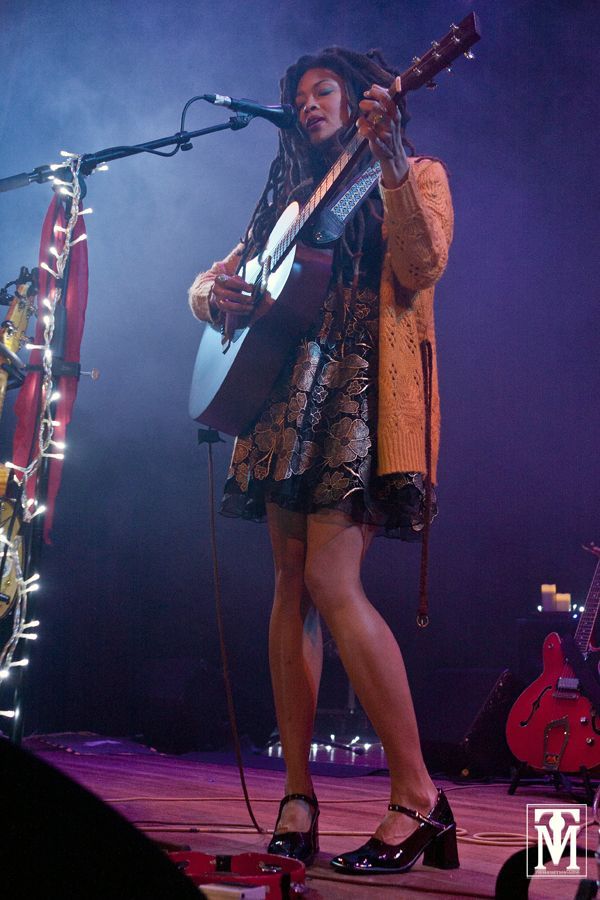 the predictable 'first three' restrictions* did all it could to prove me wrong but try as I might, I couldn't take that bad shot. An occasional rather dark one, but not a bad one (my opinion).
Valerie June has been one of the very few artists I have seen in recent years that has made me lower my camera for a few seconds to actually take in that rare and special package of incredible musicianship, vocal talent and arresting looks (Anna Calvi is also in that club).
After witnessing her performance at the (well lit) 2013 Cambridge Folk Festival, Valerie June has been firmly stuck at the top of Trebuchet's 'shoot again' list, and the high hopes that her career would soar even higher in the following months have certainly come to fruition. She has had an incredible year of touring and recording.
Stating whom she has toured with is irrelevant, as is stating those to whom she may be compared. The fact is that we should be wondering who might tour with, and be compared to, her.
Her microphone all prettied up with fairy lights and her dreadlocks set free around her shoulders, in a Tennessee drawl Valerie June spoke to a packed and enthusiastic house in Islington (about looking forward to her Gran's homemade yeast rolls). Meanwhile, she picked and plucked guitar, uke' and banjo; stamped her strappy shoed feet, and embodied the soul, folk, blues, gospel, and bluegrass spirits of the past hundred years, chanelling them into a blend and style all her own.
I'm telling you, it was better than biscuits and gravy.
---
*'First three, no flash' : A common stipulation when photo passes are allocated, meaning that photographers may only take photographs during the first three songs, and those without using a flash.
Photos by Carl Byron Batson. Not to be reproduced without prior permission.
Valerie June played Islington Assembly Hall on 26th November 2013

Photographer, published poet, former party animal, body builder, grave robber
to the stars and renowned chainsaw juggler, Carl can often be spotted on his
Harley Davidson pretending to be in Terminator 2. He is also frequently seen in
the press pits of old London town, camera in hand, avoiding being hit by bottles
of wee and crippling his opposition with secret Kung Fu moves.