[dropcap style="font-size:100px;color:#992211;"]U[/dropcap]
nit London present Beyond Borders, an iconic group exhibition featuring 14 artists from across the world responding to the current sociopolitical instability.
Putting an uplifting spin on a turbulent time, the exhibition celebrates diversity and focuses on what connects rather than divides us. Launching in line with the UK's exit from the EU amongst other global instabilities, the show includes artists from varying backgrounds, nationalities and political stances. Themes explored include the familiar, such as love and fear, through to quantum physics and our relationship with history. Exhibiting artists include:
Hiba Schahbaz, a Pakistani artist living in New York, who explores the stories of marginalised women throughout her work with portraits that reclaim their history. Since migrating to the United States, her practice has expanded from Indo-Persian miniature painting to human-scale works on paper, with black tea as her favourite medium.
Jason Seife, who fuses traditional techniques from his middle eastern background with modern materials, making the old craft accessible to a younger generation. For example, in Holding on Together (2019) he revives traditional Persian rug-weaving by hand-painting the pattern with acrylic onto a concrete canvas.
Aaron Johnson, whose hallucinatory paintings comment on societal ills. Watery bleeding colours clash with hard-edged brush stroke, with themes exploring a wide range of the human experience that audiences can empathise with, both grotesque and humorous.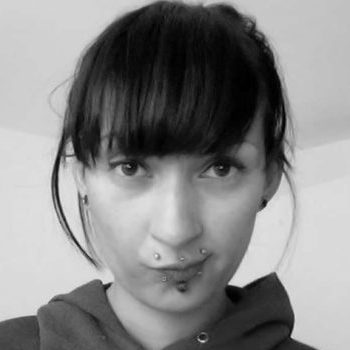 Naila Scargill is the publisher and editor of horror journal Exquisite Terror. Holding a broad editorial background, she has worked with an eclectic variety of content, ranging from film and the counterculture, to political news and finance.