[dropcap style="font-size:100px; color:#992211;"]T[/dropcap]he UK Independence Party (UKIP) dropped all pretense as a Libertarian party this week when they used police and lawyers to threaten bloggers who shared a parody 'fact check' leaflet of UKIP's policies.
Our response must be defiant. Let's get this leaflet around the country and the world.
Censorship, Brought to You by UKIP
UKIPpers forever bleat about political correctness gone mad acting as a tool of censorship.  So, you'd assume they might encourage dissent and debate of ideas – being such champions of free speech.  Um, no.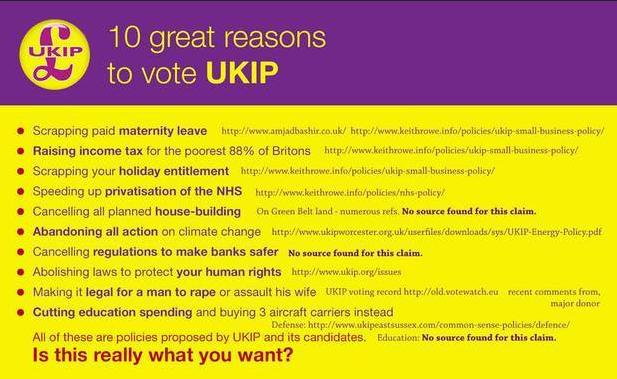 When blogger Michael Abberton tweeted the above image, he received a visit from police, who asked him to delete the tweet.  He described the incident to the Independent, claiming the officers told him that he should not publicise the visit.
They said [the visit] was in relation to a complaint that had been made by a certain political party in relation to tweets I had published about them and one tweet in particular which talked about 10 reasons to vote for them," he said.

"The PC wanted to know if I had made that poster. They asked me to 'take it down' but I said I couldn't do that as it had already been retweeted and copied many times and I no longer had any control of it. They said that they couldn't force me to take it down anyway.
He took to his Axe of Reason blog to detail the bizarre experience further:
A complaint had been made but with no legal basis. Not a police matter. So why did they come to my home in the middle of a Saturday afternoon? Also, seeing as my profile doesn't have my location – how did they know my address, or even the town I live in?

About fifteen minutes after they left I received a threatening tweet from a party member I had had an exchange with earlier in the day. Though appearing to be no more than a party supporter, he seemed to know that the police had been involved. I copied the tweet and sent it to the police.
So the police, however polite and professional the individual officers were, have taken the decision to politically police Mr Abberton – in spite of the fact he had, by their own admission, broken no law.
The Chief of Cambridgeshire Police later apologised for despatching officers for this fool's errand and has announced a review of procedure.  But it didn't stop there.
The Ripple Effects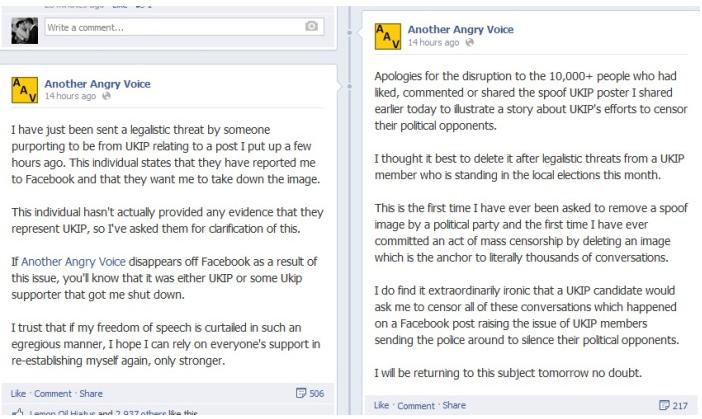 This incident is worrying enough on its own, but having shared the image yesterday, the Another Angry Voice blog claim they received 'legalistic threats' from someone identifying themselves as a UKIP associate and had therefore deleted the image from their page.
Privacy rights blogger Paul Bernal and Mike Sivier over at Vox Political were soon rallying in support, as should we all.
Political policing – that is using police and the law to shield politicians from legitimate scrutiny – is on the rise in the UK.  Here are just a few of the most absurd examples:
How Did It Come to This?
We have been sleepwalking into an authoritarian state.  The Anti Terrorism and Security Act 2001, the Terrorism Act 2006, and the Serious and Organised Crime and Police Act 2005 wiped out most of the civil liberties gains made in the previous four centuries.  Much of this took place unopposed, as dissenting voices were made out as terror-apologists and conspiracy theorists.
The Regulation of Investigatory Powers Act 2000 laid the legal groundwork for the UK to become the most surveilled citizenry on the earth – with more security cameras per citizen than China.
For the full and harrowing list of just how many rights we've lost, please see a previous post on the matter here.
So, when a political party and its members seek to use the police or lawyers to silence legitimate criticism of their policies in the run-up to an election, we cannot merely cuss about it.  We need to make our response so overwhelming that they dare not even think of trying it on again.
If you want an alternative, there are many. Look around.

Kerry-Anne Mendoza is author of the Scriptonite Daily Blog: http://scriptonitedaily.wordpress.com
She is also a contributor to New Internationalist, openDemocracy and the Occupy News Network.
She is a writer, activist and campaigner for social, economic and environmental justice.