[dropcap style="font-size:100px; color:#992211;"]W[/dropcap]hen Mike Oldfield performed his Tubular Bells album in its entirety at the Queen Elizabeth Hall in London in June 1973, he called on musicians from the Rolling Stones and other bands of the time including Soft Machine, Gong and Henry Cow to help him.
When Daniel Holdsworth and Aidan Roberts, two Australian musician friends from the city of Blue Mountains, just west of Sydney, got together and decided to play Oldfield's iconic music in the winter of 2008, they had no such grand ideas in terms of venue and no other musicians in mind. Their idea, conceived round a fire with a few glasses of wine, was to reproduce Tubular Bells on two guitars. Little did they think that they would be touring a now internationally acclaimed show, Tubular Bells for Two, across Europe as their contribution to the fortieth anniversary of Oldfield's multi-million selling album this summer.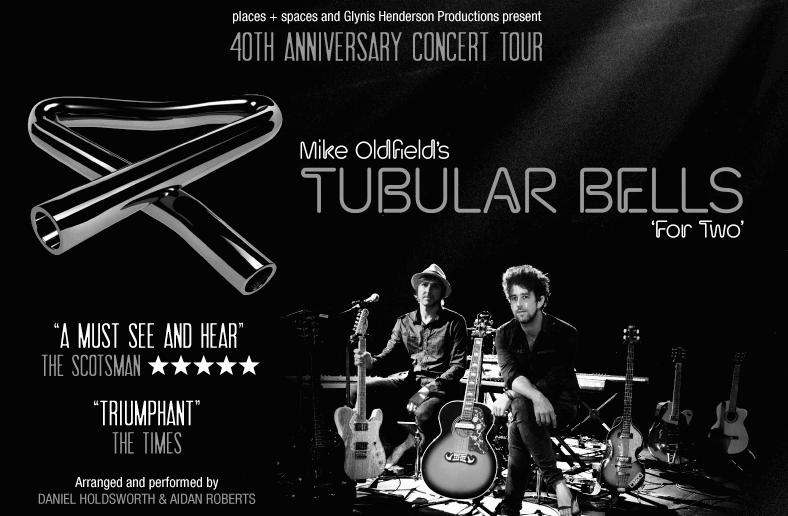 Tubular Bells was part of the soundtrack of Roberts' childhood. When his parents set off on car trips, one of the first items they packed was a tape of the album. They wouldn't have been alone in this. Conceived by Oldfield in his late teens after he'd spent some time on the road in a band, the Whole World, with former Soft Machine singer-guitarist Kevin Ayers, Tubular Bells was an ambitious composition that followed in the wake of contemporary composers including Terry Riley.
Its development of a simple theme into a Celtic folk-rock epic that took up two sides of an LP and featured Oldfield on multi-tracked guitars, keyboards, percussion and whistle alongside a small cast of auxiliary musicians, had been dismissed as "unmarketable" by every record company that Oldfield approached – until Richard Branson, at the time the owner of a successful record retail business, heard it and bankrolled Oldfield to bring it to fruition.
The resultant album became the first release on Branson's Virgin Records label and following its first exposure on BBC Television's The Old Grey Whistle Test, a programme which was as key to the album market as Top of the Pops was to selling singles, it began to sell in unforeseen quantities. The use of a section of the music in the soundtrack to The Exorcist ensured that British sales, which would ultimately reach upwards of 2.5 million, were repeated around the world, making Oldfield a very rich young man and triggering further extended works – Hergest Ridge, Ommadawn – and creating a Tubular Bells phenomenon that included an orchestral version and three sequels.
"Because it had been such a favourite with my parents, we were very aware that we were in danger  of treading on peoples' feelings," says Roberts, whose partner in Tubular Bells for Two, Holdsworth, had become smitten with the album during his teens when he would buy up armfuls of prog rock vinyl that had been dumped in charity shops by people converting their music collections to CD.
Their original idea of using two guitars quickly expanded as they sought to recreate, not just the notes Oldfield composed but also the timbre of the instruments he played and the phrasing he used. Soon, Roberts' living-room-rehearsal space became littered with instruments.
"There's no official score as such," says Roberts. "So we kind of mapped out what happened when and had to figure out how we were going to change instruments and get sounds like the flute that appears at one point. Neither Danny nor I play flute but we could reproduce it on a keyboard. It was a lot of work because there's a lot of detail in the music, and then we decided that instead of just playing it in my flat, we should perform it live."
Borrowing a set of tubular bells for the occasion became the least of their problems. The Clarendon, a well-known, local small-scale theatre-cum-restaurant-hotel, responded to the boys' request for a quiet night by offering them Good Friday 2009. Roberts and Holdsworth reckoned they could count on around thirty family members and friends' support. By the time showtime arrived, one hundred and thirty people had packed into a venue that holds one hundred.
"It was nerve-wracking," says Holdsworth. "We were still refining the music – we're still refining it even now; we keep going back and discovering small details and bringing them into the performance – and it was quite rough. But the audience were really willing us on and they'd actually laugh when we got through a tricky change-over successfully, although the sight of two agitated musicians struggling with more than twenty instruments and feverishly layering passages through loop pedals  in real time was probably quite funny in itself."
Subsequent performances, including sold out seasons at the Sydney Festival, Sydney Fringe Festival and the New Zealand International Arts Festival, convinced them that they had a special show on their hands. It's spectacularly visual at times and almost as much about physical theatre as music as the pair run from keyboard to drum kit to those inevitable tubular bells, from which the music took its name, to arrive in time for cues, dicinb8g with the danger of it all falling to pieces.
[quote]People had thought
from the start
that we might
be having a
laugh at Mike
Oldfield's expense[/quote]
Then, having impressed concert-goers at home, they went international and with the help of an Australia  Council grant to cover travel and accommodation, they flew to Edinburgh in Scotland for a month-long run on the famous Fringe festival that was to open the doors to Europe.
"People had thought from the start that we might be having a laugh at Mike Oldfield's expense," says Holdsworth. "And in Edinburgh, where there's a lot of comedy shows, I think there was a danger that we might be mistaken for a spoof. The audiences were great, though, and we got really good reviews. The Herald Angel, which Scotland's leading quality newspaper awards for outstanding performances during Edinburgh Festival, really helped from a publicity point of view too."
The boys haven't actually consulted Oldfield, although they secured the necessary permission from his publishers, but following their Edinburgh run they discovered an interview in a magazine where the composer had been asked if he'd heard about these two Australians who were performing Tubular Bells.
"He said he thought this was 'really cool' so that's only two words but we'll take it as an official endorsement," says Roberts. "We never expected to be appearing in London right around the time of the fortieth anniversary of the album's release and the original Tubular Bells live concert. But we're really pleased that we can be a small part of that celebration. I can't think of many better jobs than touring around Europe playing music that you love – even if it is quite hard work."
"Yeah," agrees Holdsworth. "Even after – what – more than a hundred performances, we can't ever get complacent. But when we reach the part on side two of the original album where we have the Piltdown man chant and I get to sit behind the drums and rock out for a bit, that's a great feeling because we've almost made it to the end again and I can relax just a little bit."
Touring throughout the UK May, June, July & August 2013.  For tour details visit www.tubularbellsfortwo.co.uk