[dropcap style="font-size:100px;color:#992211;"]O[/dropcap]
pening spring 2020, Barbican Art Gallery present the first ever UK commission by Nigerian-American artist Toyin Ojih Odutola, a site-specific installation for The Curve. An epic cycle of new work that unfurls across the gallery, A Countervailing Theory explores an imagined ancient myth conceived by the artist.
Working exclusively with drawing materials, including pencil, pastel, ballpoint pen and charcoal, Ojih Odutola's works often take the form of monumental portraits, which retain a remarkable intimacy despite their scale. She approaches the process of drawing as an investigative practice, through which to explore an intense engagement with mark-making and its potential for meaning. Ojih Odutola recognises that the pen is 'a writing tool first', playing with the idea that drawing can be a form of storytelling. She proposes speculative fictions through her practice, inviting the viewer to enter her vision of an uncannily familiar, yet fantastical world. Working akin to an author or poet, she often spends months creating extensive imaginary narratives, which play out through a series of works to suggest a structure of episodes or chapters. Drawing on an eclectic range of references, from ancient history to popular culture to contemporary politics, Ojih Odutola encourages the viewer to piece together the fragments of the stories that she presents.
Her previous work has addressed the malleable nature of identity and the role of place in shaping this concept throughout history. She has explored the sociopolitical construct of skin colour to question what is understood by 'blackness', scrutinising this notion through the lens of aesthetic, historical, political, conceptual and emotional principles. Her works manifest a persistent attention to the texture of skin, achieving extraordinary luminous effects; the topography of the flesh conveys the nuanced histories of her subjects. Ojih Odutola's meticulously executed works subvert the grand tradition of portraiture and painting, deftly elevating the medium of drawing.
A Countervailing Theory runs at The Curve, Barbican Centre from 26 March – 26 July 2020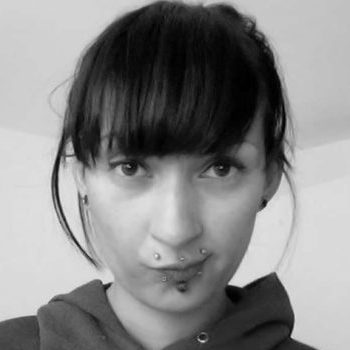 Naila Scargill is the publisher and editor of horror journal Exquisite Terror. Holding a broad editorial background, she has worked with an eclectic variety of content, ranging from film and the counterculture, to political news and finance.