Country-pop album Fool Like Me by Stephanie Manns sounds, on first impressions, a bit thin and drippy.
On subsequent playthroughs, the impression that these are a series of skin-deep songs detailing the sort of anguished identity and relationship woes that only a woman's heart would know deepens. Which is about all that deepens. Change the Americana-lite soundbed around a little in your mind and this could well be Vonda Shepard soothing the cast of Ally McBeal at the end of each tortured episode.
Which is probably fine for those whose record collections don't already feature albums by Shania Twain or Norah Jones (or even The Corrs – Manns's voice could pass for Andrea Corr's, and the country-style fiddle breaks on Fool Like Me vary only in geographical provenance from the Celtic twiddly-dum of the winsome Irish quartet).
There are some moderately engaging, essentially pleasant, songs on the album. Actually, they all are. Alas, nowhere is there a standout song, chorus or even hook to draw the attention.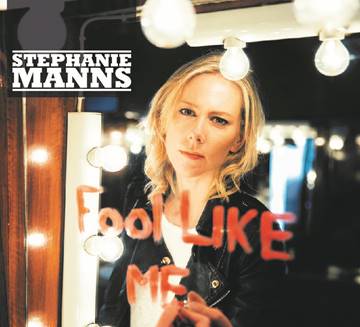 It's competent stuff, certainly, with a level of instrumental expertise that speaks volumes. Tight and well-drilled, the all-over smoothness of the soundbed for Manns' slightly plain voice is flawless, but uninspired. There is too much of the session-player about it – that recurring flaw of albums by solo artists.
On 'Bonnie & Clyde' guitarist Conor Smith reaches out a little with a bit of volume-dominance on one repeated acoustic guitar lick, but elsewhere on the album he is underused in unadventurous rhythmic plucking and moderately-overdriven electric guitar solos designed not to distract from the middle-of-the-road country-tinged feels-pop that defines the album.
All told, it's hard not to wish for a touch of individualism. Manns' songwriting is wistful and, actually, lyrically engaging. Title track 'Fool Like Me' is a prime example – centring on the clever 'Only a fool could love you – a fool like me' premise. Closing track 'Last Train Home' is a finely expressed breakup song, eschewing the glib simplicity of 'Never Really Loved You Anyway' or the grim protests-too-much obsession of 'I Will Survive' for a bittersweet assertion of that inner female strength which traditionally drives sales on this sort of girls'-night-in fare :
'I crossed a thousand miles just to see your face
But you could not hold my eye
And you did not want to try'
turns quickly to
'And if I hold on, these lonely nights aren't going to last long
Release my heart from under your grip
Forget how sweet it felt
When we kissed'
then to
'Don't call me, I'll call you'.
…which is fine strong woman stuff, doubtless of interest to existing fans of an artist now on her second album. Just don't expect any flashes of Wynette-ish gutteral emotion, Joni-esque key-drops, Shania-like wry twangs or Adele-style fishwife bellows (god forbid) .
Stephanie Manns stays safely distant at all times, which is the simultaneous strength and failing of Fool Like Me.
[button link=" http://www.stephaniemanns.com/" newwindow="yes"] Stephanie Manns[/button]

Sean Keenan used to write. Now he edits, and gets very annoyed about the word 'ethereal'. Likely to bite anyone using the form 'I'm loving….'. Don't start him on the misuse of three-dot ellipses.
Divides his time between mid-Spain and South-West France, like one of those bucktoothed, fur-clad minor-aristocracy ogresses you see in Hello magazine, only without the naff chandeliers.
Twitter: @seaninspain