[dropcap style="font-size:100px; color:#992211;"]T[/dropcap]hat difficult second album. Always a trouble.
Album one distils the entirety of a band's life to date into musical form, a wellspring of decades to draw upon for inspiration. Album two? Well, if things went well with the debut, the 'sophmore' album will be inspired by a slew of hotel rooms, filthy toilets and whiffy tour buses. It's not the richest of ores to mine.
So, shake things up a bit. Kick out the jams, get a new drummer. No! Get an EXTRA drummer!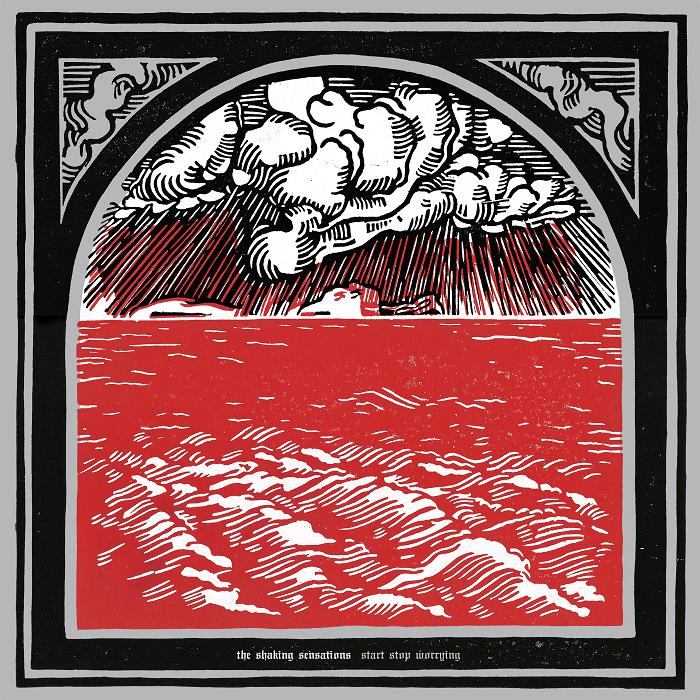 Thus is the (reviewer-imagined) background narrative to Start Stop Worrying, the second album from Denmark's The Shaking Sensations. Post-rock instrumentals (mostly in the ten-minute region) make up the tracks on the release, with the overwhelming sense that slow jams during soundchecks contributed much of the songwriting ambience.
That's not to be taken as a negative point – there is much of Start Stop Worrying that reminds of hazy afternoons spent in a festival stupor, where the music washes over in that blissed langour that only sleep deprivation and loud guitars seem to deliver.
Starting stong with a stoned but dramatic build of reverbed guitars, assertive percussion and all-out rock grandeur, the album brings to mind the likes of Godspeed You! Black Emperor, doubtless layering synth, piano and multiple guitar stems the full height of the ProLogic screen in its production stage.
Is there a problem? Well, define 'problem'. Rarely does the album seem to benefit from that second drummer – the percussion is strident and atmospheric, but never quite manages to demand the listener's attention. Perhaps a drummer would understand better the intricacies of the rhythm patterns, and why exactly they need eight limbs to perform, but it's not immediately obvious to the layman.
[quote]This is an
album to induce
a trancelike
post-rock euphoria,
rather than one
to focus on[/quote]
Other issues? Again, not anything that could be defined as wrong – just a facet of the genre, but… there's not really a huge difference between songs. This is an album to induce a trancelike post-rock euphoria, rather than one to focus on. Which would be easier if it didn't so often remind the (British) listener of all those tracks from Sigur Ros's Taak that got used on BBC idents for a chunk of the early noughties. It distracts, but it's hardly their fault.
Still though, these are very nicely executed 'grande jams' (to coin a phrase) and make for disarmingly satisfying listening. The CD comes with a tasty lino-cut design by Danish artist Dorth Naomi too.
Out now on Pelagic Records
[button link="http://pelagic-records.com/cds/" newwindow="yes"] Pelagic Records[/button]

Sean Keenan used to write. Now he edits, and gets very annoyed about the word 'ethereal'. Likely to bite anyone using the form 'I'm loving….'. Don't start him on the misuse of three-dot ellipses.
Divides his time between mid-Spain and South-West France, like one of those bucktoothed, fur-clad minor-aristocracy ogresses you see in Hello magazine, only without the naff chandeliers.
Twitter: @seaninspain