[dropcap style="font-size:100px; color:#992211;"]G[/dropcap]od save the queen? The term punk rock royalty is a weird one.
Isn't punk supposed to be a roll against the grain, the expectation, people called Norm and the norm itself? Surely there are stronger ties that bind?
It's worth noting that punk rock royalty is not one that The Professionals seem to apply themselves. They are exactly as they claim. Working musicians who create solid street stories rousing the everyman to cock a snook at the powers that be. Whether it's the taxman or the law, The Professionals raised a toast to the half-drunk and rowdy fans at their powerhouse Garage show.
Support act Hands Off Gretel were a particularly hard act to follow; young, colourful and charismatic. Eyes widened at the (relatively) new blood drenching the stage who, despite having a bit of a dumb name, are worth seeing live. A few releases down the road Hands Off Gretel put on the type of show that'd worry most headliners looking for easy glory.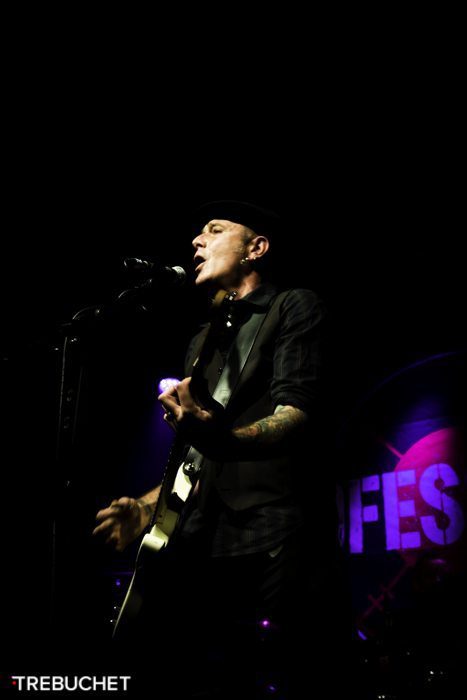 After sadly missing the first part of their support slot, the final three songs were a immense pleasure, and also a timely reminder that leopard print may tear but it'll never truly fade.
As the support act pushed back amps and wound cables, waving at punters and parents, the end of the beginning marshalled the waiting. Until, that is, a roar builds to meet the harsh line-checking chord-puncturing (pun intended) stage gloom. Your working day might well be over but for The Professionals, the time had come to party.
With Tom Spencer at the helm the band are a fantastic live act, active and loud with tight musicianship, their classic post glam punk sound twists and turns into unexpected choruses and sparkling guitar melodies. For new fans there's enough accessible material that you're quickly singing along with bald or greying veterans, and for old fans the new songs are surprisingly good. So often long tail groups are coasting on past glories. Happily, the Professionals are, yes, a band with history, but manage (like their bouncing soled fans) to stand on contemporary feet.
The second encore contained a treat of Sex Pistols songs and to see (if you didn't know) drummer Paul Cook play his classics sends sweaty shivers down your string vest.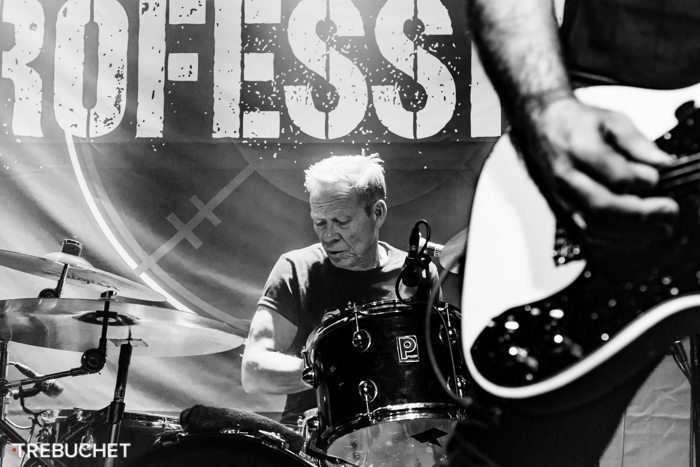 To his credit, singer Tom Spencer doesn't try to sing them like Lydon/Rotten and that confidence if nothing else made the gig special. This wasn't a rehash of 'the other pistols' but rather a blistering live act that stands up against whatever trials and tribs face the now. Thatcher was then, the present has its own problems, and The Professionals loudly and proudly put the music first regardless of its history or politics.
The Garage October 27th
What in the World available here.
The Professionals were supported by Hands Off Gretel.
Photos: Kailas Trebuchet