[dropcap style="font-size:100px; color:#992211;"]T[/dropcap]he Levellers have always been a festival band.
From their early days a quarter of a century ago when their fans would hitchhike around the country to see them, to their memorable sets at Glastonbury in the early 1990s, to their own Beautiful Days festival now a decade old.
Appropriately then, I spoke to guitarist / vocalist / banjo / mandolin / harmonica player Simon Friend ahead of their set at this year's Cambridge Folk Festival.
[quote]Certainly I think
we've been ignored.
Or not even
ignored – shunned[/quote]
Given that they have played the Cambridge Folk Festival several times and have their latest album produced by Sean Lakeman (brother of Seth), I asked him whether they finally see themselves more as a folk band than a punk rock band with folk instruments.  He told me: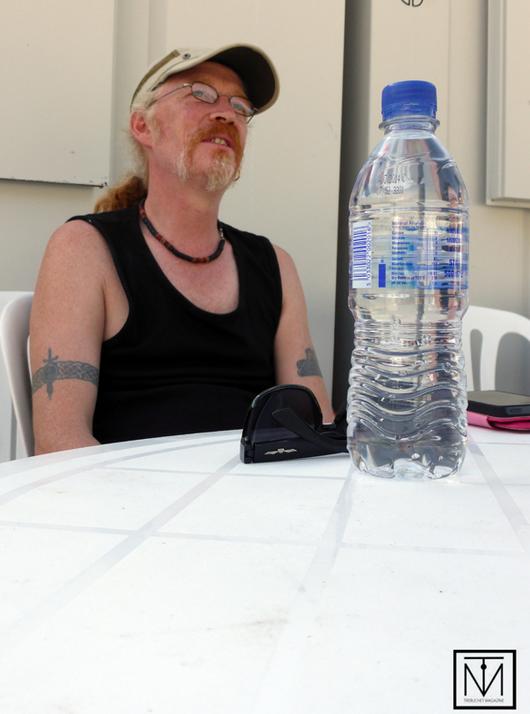 "We're still the same band we always were. We're all into different types of music and yet we're all into the same types of music.  Personally I used to listen to lots of folk.  Probably Led Zeppelin and Neil Young really are my favourites, slightly crossover, kind of folk-country.
When I joined The Levs, [Simon joined the band in 1990] a lot of them were into the same thing but were into The Clash and punk bands that I'd never really been into. So it was a strange mixture when we all got together eventually. We've always managed to fit in.
I believe this is our fourth time here in Cambridge – we've headlined it twice, did an acoustic show last time we went and now we're second up to Bellowhead.  So I think we've encompassed a lot of things over the last 25 years. In the media, we've been perceived as various things over the years. We've always been all of them. That was our point, I think."
So given their longevity and level of success, does he feel that they have been ignored by the mainstream media?
"Certainly I think we've been ignored. Or not even ignored – shunned. We didn't really fit into their niches.  We're not your average band. Musically for me, I like the unusual.  I like the unusual in anything in life, whether it's art or TV or an unusual vehicle. I like things that are slightly quirky and I think that's the same for all of us in the band. We've always looked to the outside, the unusual, we've always championed that and of course that's not popular with the big selling businesses and corporations.
A massive example at the moment is Guilfest, which didn't happen this year but they put on Magic Summer Live instead which as far as I'm concerned was a complete farce and travesty – it's just a very long gig on a hot sunny day with nothing in there for the punters and that's not a festival.  I had friends who went and it was just terrible.  That's the sort of thing where it's a clear case of money winning over wanting to do this.
Cambridge is a great example of where the council and organisers come together and do it successfully.  Ok it's samey and it's very safe, but that's fine. It happens and some great music happens.  
Things like Guilfest and Beautiful Days, our festival, we try to turn up a bit of the unusual as well and I think that works really well."
[quote]Mumford & Sons,
they're nice fellas
but it is just
music by numbers[/quote]
Folk music has been in the public eye recently with the so-called "nu-folk" bands such as Mumford & Sons.  I asked Simon his views on such bands:
"I think the same as what I just said about some festivals – it's just corporate. Mumford & Sons, they're nice fellas but it is just music by numbers, it's 'Garage Band' music. I like things that are slightly outside the norm and they were unusual to start with but now, their last couple of albums just sound the same to me.
No offence to them, I'm sure the same could be said about us as well! But it feels to me like somebody's leapt on the idea rather than them just coming through as a band and they've been taken and used.  I'd like to think they're still doing it for the reasons they started out doing it, whatever they may be, but I'm not convinced."
As a member of a band with political content to their songs, whether the anthem "One Way" or the story of travellers being beaten by police in the 1980s ("Battle of the Beanfield"), how important is the protest element of music to him?
"Most music in the past has been based on protest. Historically the surviving songs from years ago are the protest songs – people saying something about something that happened then. Usually the ones that are most memorable are about an event, maybe a battle.  They're not necessarily protest songs as such but are a record. Protest songs historically are a massive part of music."
So to what extent can music act as a spur for activity and change in the world?
"I think it can change things but I don't think it necessarily changes things in the way that people think it will change it. Writing a song about an event isn't going to change what happened but it might change people's perceptions about why it happened or whom it happened to which can bring long-term change.  It's about making people aware – this is what happened and this is how it happened, it's not necessarily how it was told."
[quote]even if your mobile
is switched off it's
got a receiver,
they can still
hear you[/quote]
In terms of civil liberties, we have far fewer rights now than when the travellers were being attacked by police.  Following on from the controversial Criminal Justice and Public Order Act 1994 (which the band spoke out against), there have been various other pieces of legislation curtailing our rights over the last two decades and more going through Parliament as we speak.  I asked Simon whether he feels that we are sleepwalking into a police state.
"I think we would be very naïve if we didn't realise we're already in it.  Enough said on that – we're already living in it.  They follow you on everything from Facebook to your mobile phone, even if your mobile is switched off it's got a receiver, they can still hear you.  It's not just scaremongering, that's the truth. I know that because that's what technology does. We're already living in that state."
So does he feel that with all of these constraints that it is possible to still live an alternative lifestyle?
"I think it's a necessity. I think people have to live an alternative lifestyle. Without it, where do we go?  I just wish that life could be easier for a lot of people and it could be if people opened their eyes more.  It's really simple.  And if people actually said "no" a bit more.
I'm a big one for alternative lifestyles and alternative living spaces, which is important in today's world. It's equally important for the powers-that-be to be more understanding of people's wants and needs to live that way.  I think it's increasingly becoming a need to find alternative accommodation and power sources."
Speaking of alternative lifestyles, in keeping with a Levellers song "The Boatman" (on which the lead vocals are sung by Simon rather than usual lead vocalist Mark Chadwick), Simon has lived on a narrow boat for the past eight months.  Tragically this followed the death of his wife last year.
"It's something I always wanted to do and I couldn't see myself settling down.  It is a nice way of life. It is a responsibility, more than you'd think.  It was an empty boat, pretty stripped out and she'd been underwater last year so it kept me busy for a few months and I'm reaping the benefits now. My bed is virtually on the water level, I just leave the doors open and it's a lovely breeze. I wake up with the ducks and swans. I got rid of my telly the other day. I spend most of my time looking out of the window.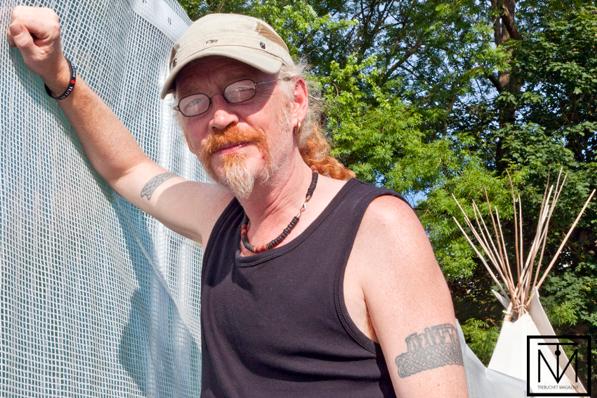 Living on a narrow boat, I listen to a lot of pirate music, sea shanties. There's 'Rogue's Gallery', a compilation that I think is Johnny Depp's. There are loads of people, really bizarre, like Nick Cave and Ed Harcourt, all singing these old songs and it's great, I'm loving that."
Obviously such a significant bereavement has affected him deeply.  He told me that although music can be therapeutic in some ways, it has been a struggle to keep going.
"Things have been a bit up and down over the last couple of years on a personal level and you have to go with it and come back.
Music can be really heartbreaking.  After I lost my wife last September, certain things were very difficult to do in music.  I found it very difficult for the first few months to think about doing anything. Music can rescue you as well and I know that, it has done in the past. I haven't written anything since but I will. I play a lot but I can't put words to it, it's too hard."
In addition to the sea shanties, he told me that other bands he's been listening to recently include Public Service Broadcasting and Alt-J.  As for artists at the Cambridge Folk Festival:
"There was a lad on stage just now, Sam Lee; I thought he was really great. I was just wandering back through the site and I liked it because it had a Nick Drake-esque sadness to it."
Looking to the future, we talked about plans for the next album and tour.
"We're 25 years old this year and we kind of let it slip because we thought there was something else in the offing that was very interesting to us that hasn't been followed through. I'm not going to mention names but the label that we were supposed to do something for, and we were quite excited about it, they changed MD, which has got us thinking, let's do it anyway.
So I'm not going to say too much about it but obviously we're not going to sit down and not do anything because we like to be busy, we get bored sitting around. So yeah, there'll definitely be something out by the end of next year at the latest if not before.
Touring wise, we've got the rest of the summer – we've got Camp Bestival and several other dates leading up to Beautiful Days, which is our show in Devon. After that we've got little itsy bits and we've just started to book shows in December, a few in Germany and some over here – Manchester Academy, probably something in London."
Judging by the number of punters at the Cambridge Folk Festival wearing Levellers t-shirts and their reception on Friday night, there will be plenty more festivals and gigs.  The folk band that indie kids listen to, the punk band with a violin, the successful band that travellers still follow – call them what you want, The Levellers are as much an English institution as farmhouse cider.
Photos: Carl Byron Batson