[dropcap style="font-size:100px; color:#992211;"]I[/dropcap]t's fair to say that Terence Blanchard is a true modern legend of jazz.
His sound is as distinct and recognisable as any of the true greats. He's been heard on movie soundtracks, countless records and live in every corner of the globe (I know it's round, but I didn't coin the phrase).
It's a Friday night at the Barbican, and Terence Blanchard is a big draw on the jazz festival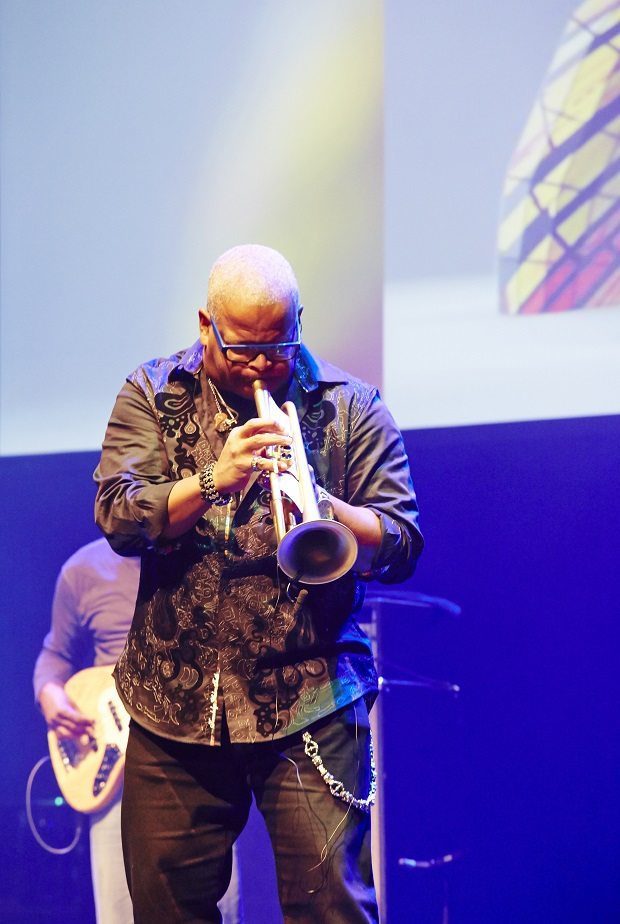 list. You can see eagerness on the faces of people waiting to go in, and in those same faces, expectation of great things to be heard.
This is where the dilemma begins, in earnest. As stated, his sound is unavoidable and distinct, but that is all that remains of any expectations. Tonight, with his current project, the E-Collective, what is being played simply doesn't gel, at least in a way that makes you think of Terence Blanchard.
Don't misinterpret this to be bad musicianship by any quarter. Individually, they are all superb, but together it sounds like a good idea after a night of heavy drinking, where no one has yet mentioned you're no longer drinking or drunk!
My best guess is a moment of inspiration and change of direction went into this new work. I cannot argue with the belief Terence Blanchard has in it, as it was performed flawlessly. Alas, there is no further positive endorsement I can give as it simply left me bemused, and wondering what happened to the expectations I previously held. This was sorely backed up by the plethora of audience members leaving the gig looking as confused as I felt. Even in conversations with other musicians attending, there was that small feeling of being somewhat cheated.
Legend is a word frequently misused. Just the implication of that statement leaves a lot to live up to, and no real room for wiggle. It's also going to lead to heated debates as to the truth of the statement, and contested answers, as they are always subjective. When there is consensus, the relevance is even greater.
The legend that is Terence Blanchard is not remotely diminished, but this is one very real example of 'if it ain't broke….'
Terence Blanchard and the E-Collective played at The Barbican during London Jazz Festival 2015