[dropcap style="font-size:100px; color:#992211;"]I[/dropcap]nured by glossy Sunday supplements, it is easy to take for granted the type of digital photojournalism that shows a city strewn with rubbish bins and its inhabitants with their warts laid bare.
However when William Klein shot photographs of ordinary New Yorkers in the 1950s, initially nobody wanted to publish them (complaining that they gave a negative image of the city).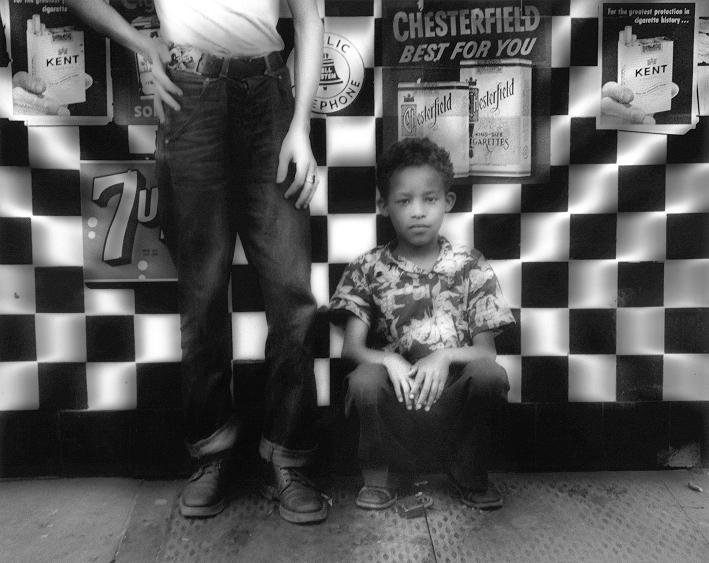 William Klein Candy Store, New York, 1955
In the same way that Constable's painting of a pastoral scene was revolutionary in its day for its portrayal of non-aristocratic subjects, but seems tame now, Klein's images were progressive and subversive for their honesty and realism.  Eventually he found a publisher who shared his vision.  The resulting book, Life Is Good & Good For You in New York, captured both the negative and positive energy of the city that never sleeps.
A chance to see any form of art at the Tate Modern is always an extremely enjoyable and educational experience.  Currently exhibiting there, and a legend in the photographic world, William Klein has been a huge influence on many photographers.  Indeed one particular image, Candy Store was a source of inspiration to me during my early years as a photographer.
Tate Modern. Photo: Carl Byron Batson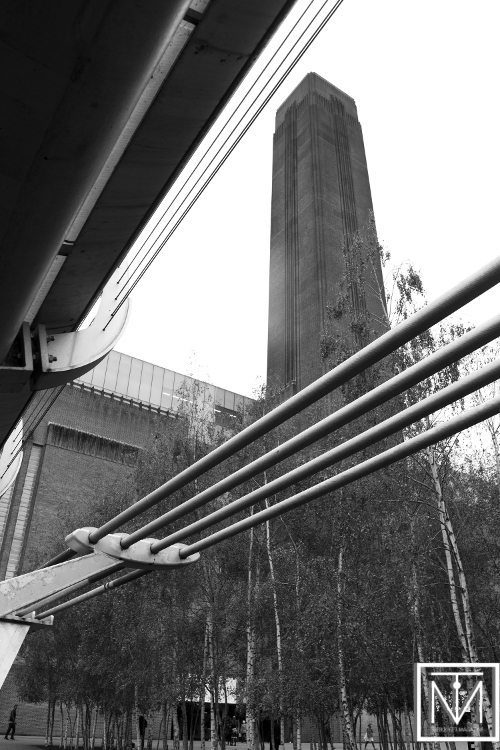 Tate Modern. Photo: Carl Byron Batson
More of a social commentator than fellow New Yorker Diane Arbus (with her quirky character portraits), and a contemporary of Robert Frank, Klein is undoubtedly a major influence on American photography. The exhibition demonstrates the vibrancy of his work: from children playing with real guns to street protests, from a barber's shop to advertising hoardings.
Klein was also a renowned fashion photographer and worked for Vogue for some ten years, and his striking images of models are included in the exhibition.
The medium of photography enters into the realm of art at some parts of the exhibition. Swirls and balls of light are depicted through the clever use of photogram techniques and magically surround the models.  One room that grabbed my undivided attention above all others has giant sized black and white contact strips emblazoned with bright and bold primary colours to depict the selected and rejected images rather than the customary china-graph pencil. Having used contact sheets as art myself, I found this particular format very impressive.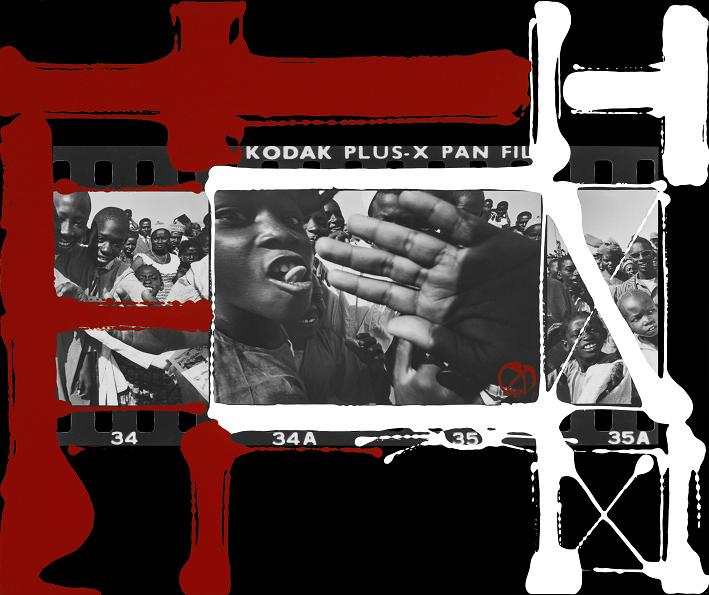 William Klein.  Dakar, school's out, 1985. Painted contact 1998
Also on show in this exhibition is an eye-catching collection of William Klein's paintings and if you have time, you can also sit and immerse yourself in his films. These are more explicitly political than the photographs, including scenes of Paris 1968, as well as films about Mohammed Ali.  In the final room, there are television documentary interviews with Klein giving a fascinating insight into the man and his work.
Paired with William Klein in this exhibition is Japanese photographer, Daido Moriyama, born in Ikeda, Osaka in 1938. Relatively unfamiliar with Moriyama's work, I found this section of the exhibition somewhat cold. He is reported as being influenced by Klein, although this isn't immediately apparent and his work on show here did not wholly reflect that. At least not on first viewing. There is however, strong evidence of Andy Warhol's influence here; Stray Dog being an obvious example.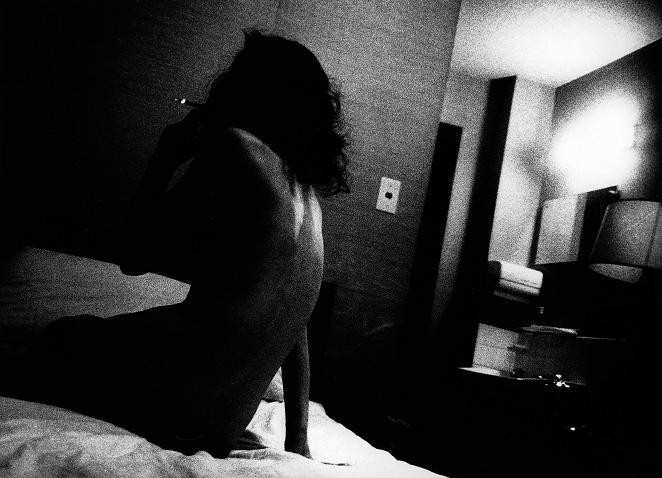 Daido Moriyama provoke no. 2 1969 (printed 2012)
When we are talking about 'the eye', I felt Moriyama didn't measure up to Klein. Not wanting to take anything away from Moriyama's body of work, I felt it was just a mismatch in boxing weights. I have long been a fan of the grainy black and white for which Moriyama is renowned. I certainly enjoyed many of the images on show, especially those based around the red light districts, his close up work and more studio-based studies of objects (which made me think a little of Bob Carlos Clarke).
Daido Moriyama. Japan Theatre Photo Album 1968
I am obviously a little biased toward William Klein and there are those who will no doubt love the Moriyama section of this exhibition; it is after all an impressive and diverse display of photography, which is well worth seeing. However I should like to have seen Klein paired with Diane Arbus, Robert Frank or even Weegee.
Tate Modern's William Klein/Daido Moriyama exhibition can be viewed until 20th January 2013
[button link="http://www.tate.org.uk/whats-on/tate-modern/exhibition/william-klein-daido-moriyama"] Exhibition Home[/button]


Photographer, published poet, former party animal, body builder, grave robber
to the stars and renowned chainsaw juggler, Carl can often be spotted on his
Harley Davidson pretending to be in Terminator 2. He is also frequently seen in
the press pits of old London town, camera in hand, avoiding being hit by bottles
of wee and crippling his opposition with secret Kung Fu moves.