[dropcap style="font-size:100px; color:#992211;"]N[/dropcap]ews of a mini-event curated by Swans leader Michael Gira bolstered expectations of a loud night of outsider noise and insider musical elitism. We got both and want more.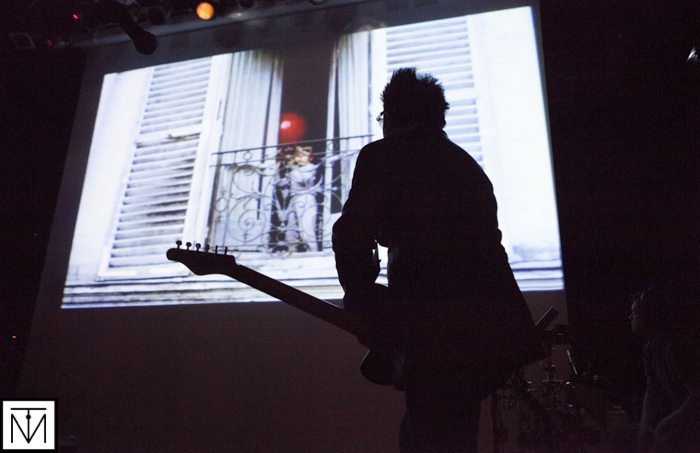 Due to reasons completely within our control we arrived to Ben Frost playing a hyper-loud set of repetitious electrotribalistc music. Featuring two drummers, laptops, intense knob twiddling and treated guitar the audience was shaken into a dazed appreciation.
Manifesting pain in the tight rhythmic passages, the walls of volume, static and noise, formed collective harmonies that floated through the air distracting the listener from the drum punching you in the gut. There are rumours that Frost's latest release will be a collaboration with percussionist extraordinaire Thor Harris and it seems as though we were given a privileged preview of that release. How much is on the record we'll have to wait to see.
About a decade ago the musical world seemed to swim in entreaties to see Mercury Rev but since then there seemed to be a bit of a lull. Why this is so we can only wonder. For Mouth to Mouth Mercury Rev with the help of Nick Franglen (Lemon Jelly/ Blacksand) and Martin Smith (Tunng) played a soundtrack to a projection of short surreal masterpiece The Red Balloon (1956) by Albert Lamorisse. Psychedelic textures interplayed with dance friendly elements that nourished the Ben Frost blasted audience.
[quote]huge smiles and
ecstatic applause[/quote]
The danger in live soundtracking a film is that people are distracted from both to the elevation of neither. However, Donahue and co picked a perfect symbolist film whose simple story suited the live environment well and the improvised highlights reacted in human time to swell into peaks of excitement and childish glee.
As the final scenes faded on the transcendent boy being lifted into the air by friendly balloon from the screens, huge smiles and ecstatic applause erupted from the crowd.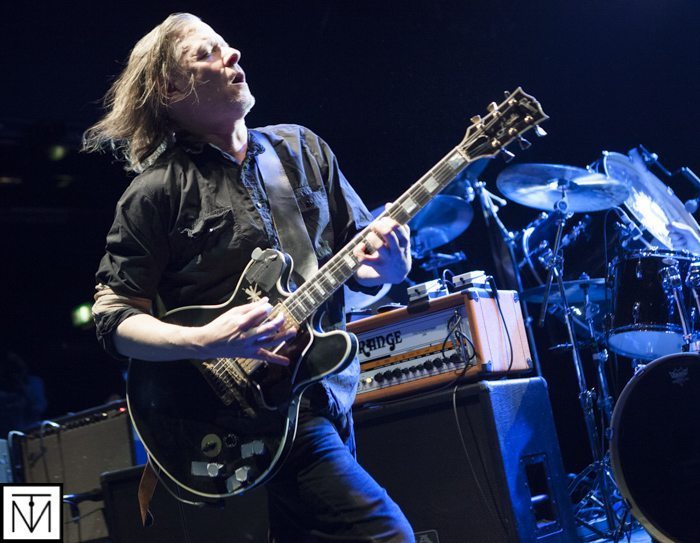 Swans Review
Nominally Swans 30th anniversary, the Mouth to Mouth festival is potentially:
"… the first instalment in what we hope to be a yearly festival, focused on disparate music and genres. Artists are chosen based on their ability to resuscitate, set fire to the air, or to mesmerize. All of the performers chosen for this year's festival I find personally to be compelling in this regard. The goal: joy!" – Michael Gira /Swans/Young God Records
however, most importantly, it's a chance for a new audience to learn about this underrated band whose (second hand) influence has reached everyone in popular music. Listening to 'Half Life' from 1984's Cop the influence on Godflesh is huge (as Broadrick himself admits), though arguably Godflesh is more accessible, less difficult, less rank, and in the end: less permissive.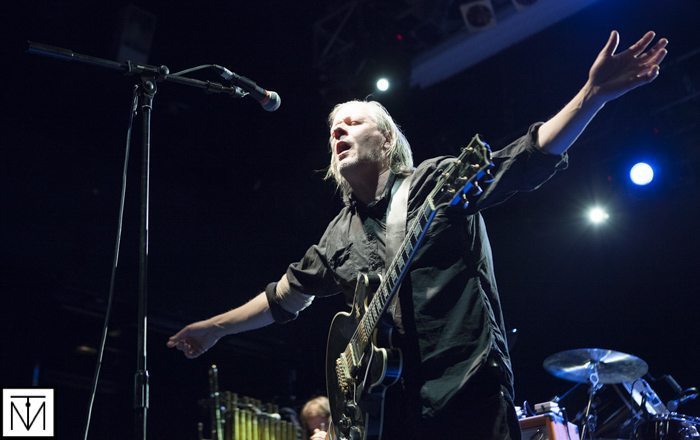 "I have a problem, or an uneasiness, with audiences generally. Except in a few rare circumstances I can't stand to be in an audience anymore. Something about the warmth, the destiny of the flesh, make me feel like I'm choking. It's just oppressive.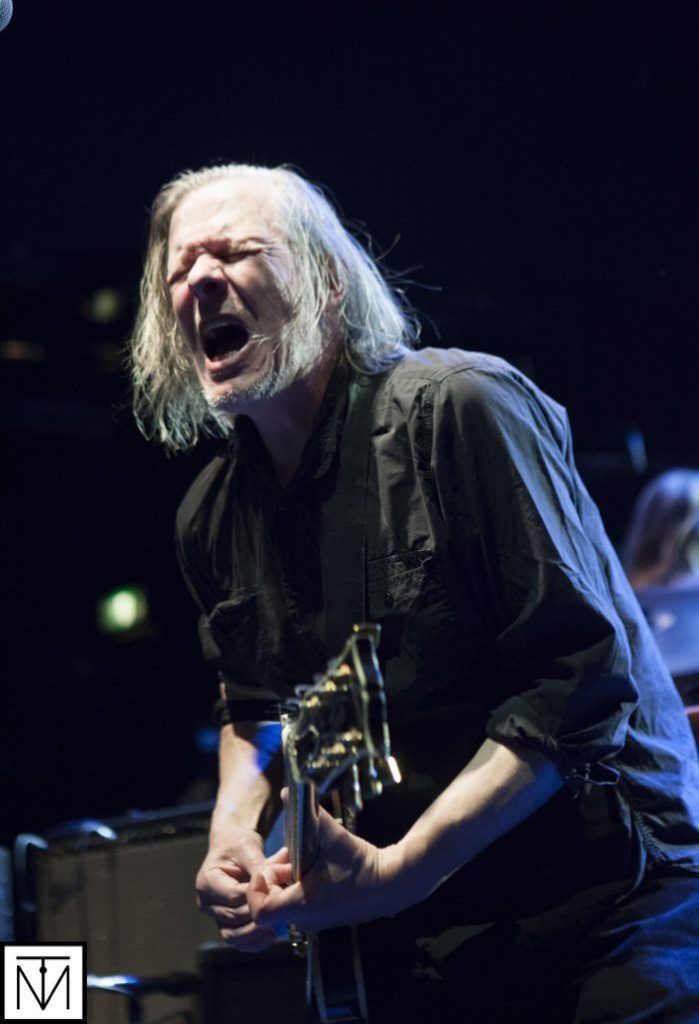 …As I say, for the most part the audience's job is to be still and listen, sort of like bipedal cows, or less disparagingly, like someone who is actually polite enough to sit quietly and listen to what you have to say during a conversation. As long as they don't distract me, they're fine with me." (Michael Gira, 1996)
The success of many bands rests on the manipulation of an audience into believing they can (famously) 'be them, or be with them'. Not so with Swans. Swans/Gira never allow you into that space, suggesting that; not only do you have to make it on your own, but you have to make it against each other. There isn't much love in Swans but there is hard won self-respect, which of course sits against the grain of fandom, music journalism, and 'the business' as the music industry was.
And there's the reputation of Gira himself. Occasionally violent and not given to idle praise, he's not a cuddly man. What then would we expect from the show?
Pure magic. Unlike the more floaty serene Swans of the 90s, the 2013 Swans are brutal, staccato and tribal. Show opener 'To be Kind' has become something of a majestic anthem for the band over the last few years, and this performance was a strong and direct step into the musical black lodge that lasted the whole night.
Onstage Gira prowls, shaking out dark energies. His weird ballet isn't to appear cool, there seems something inside him, something pretty wrong, and something that's wracked his form into the emaciated gargoyle that's screamed at audiences for over 30 years.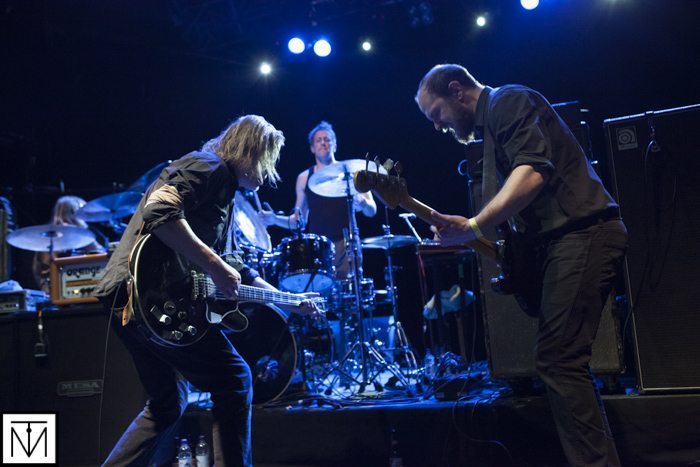 Behind Gira, the Swans are made up of Norman Westberg (electric guitar), Christoph Hahn (lap steel), Phil Puleo (drums), Thor Harris (drums), and Christopher Pravdica (bass guitar) and while the band might be Gira's vehicle he shares the wheel with all members. Thor Harriss in particular is an impressive figure looking like he leapt straight from a Frank Franzetta mural to play a hammer (of the gods) dulcimer solo, before going back to epitomising hirsute cool as he bangs things tunefully.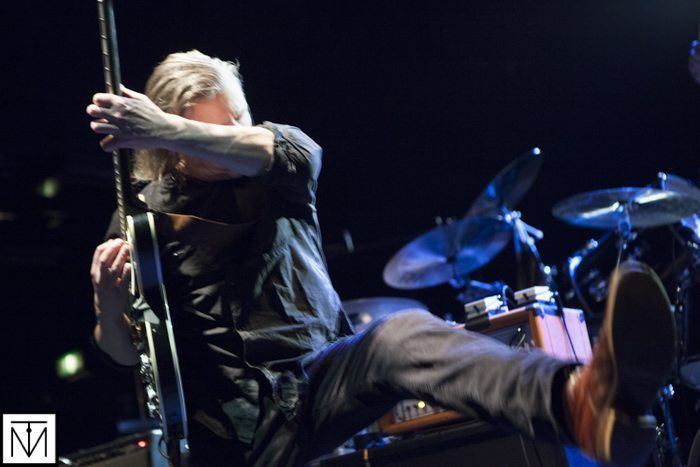 It's hard to describe a Swans gig without delving into history. Their appeal is in creating layers of industrial groove, journeys in noise and volume, fractured and cataclysmic mirrors of histories equally odd. The parts and the techniques that make this sound are no longer rare, however these are the inventors of this sound and their vision of what it achieves is more cohesive and compelling than their latter journeymen because they've paid for every step.
Just prior to band breaking up in 1997 Michael Monihan asked Gira "Why hasn't the Swans received the recognition it deserves? "
Michael Gira: Well, there's a boundless stream of recriminations, self and otherwise, that could flow from that question, but let's just leave it with this oppressively truthful axiom: you get what you deserve."
Skipping forward to KOKO in 2013, Swans received a huge welcome and were lauded as gods and while their trials might be muted, thankfully Gira and Co show us no such mercy.
Images: Falk-Hagen Bernshausen
Quotes from a SECONDS interview (1996), by Michael Moynihan.

Swans
PLAYED ON: THURSDAY 4 APRIL 2013 @ KOKO London.
Setlist
To be kind
Mother of the world
Screen Shot
Coward
Oxygen
The Seer
Toussaint Louvetoure
Full Line Up:
Swans, Mercury Rev Ft. Nick Franglen & Martin Smith, Ben Frost, Xiu Xiu, Grouper.
The aim of art is to represent not the outward appearance of things, but their inward significance. – Aristotle