[dropcap style="font-size:100px; color:#992211;"]M[/dropcap]arillion's guitarist Steve Rothery and his band came to Bush Hall on a wet Saturday night for a sold-out gig to mark the end of his short UK tour promoting his solo album The Ghosts of Pripyat.
The gig featured the five piece band he put together to record the album, including Yatim Halimi of Panic Room on bass and Dave Foster of Mr So and So as a second guitarist.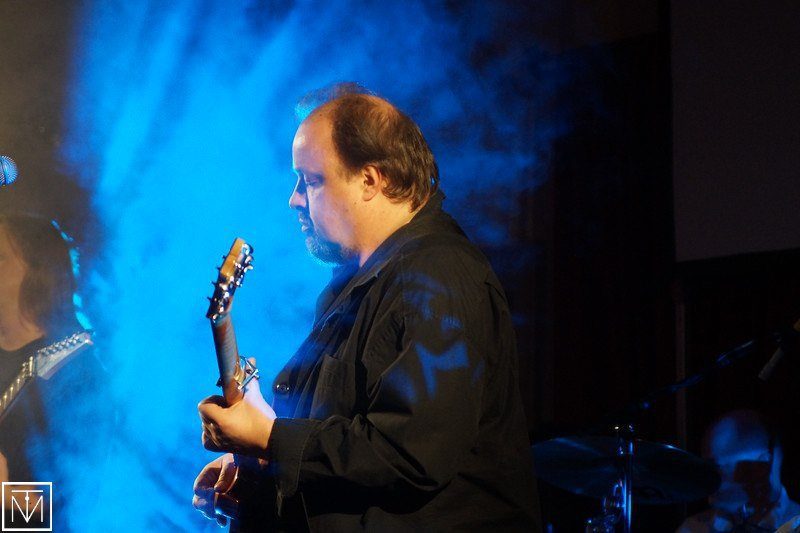 Steve Rothery
Support was the Italian four-piece RanestRane, playing to a back-projection of the first part of Kubrick's 2001. They played melodic contemporary neo-prog, with effects-laden guitar and the occasional foray into Hammond-heavy hard rock. It had its moments, and it was all skilfully played, but much of the time it felt a little generic, and by the end you found yourself paying far more attention to the  visuals that the music. The fact that the drummer sang lead meant they lacked a proper frontman, which may not have helped here.
[quote]the closest thing to Fish-era Marillion
in their mid-80s prime as you're
likely to get[/quote]
Steve Rothery and his band began with his new solo album The Ghosts of Pripyat played in full. They recovered from guitar problems at the end of the opening number "Morpheus" to deliver a very impressive first set. The material, all of it instrumental, comes over strongly live. It's powerful and emotional stuff, built around Rothery's lyrical guitar playing, but far more than just an excuse for extended soloing.
Rothery is one of the greatest guitarists of his generation, casting such a shadow over subsequent waves of progressive rock that other guitarists in the scene either end up sounding like him or must try hard not to. He's equally at home supplying effects-laden atmospherics and textures, or soaring lead lines. His playing is always melodic, with a less-is-more approach that doesn't waste a note, and the first hour demonstrated all of this.
There were moments that resembled Marillion without vocals, but with two guitars the textures were often denser and darker. While it's obviously Rothery's show, Dave Foster still made his mark, sometimes playing muscular riffs while Rothery added atmospheric fills, and had a few spotlight moments of his own. Foster's metal-orientated shredding contrasted with Rothery's own distinctive style.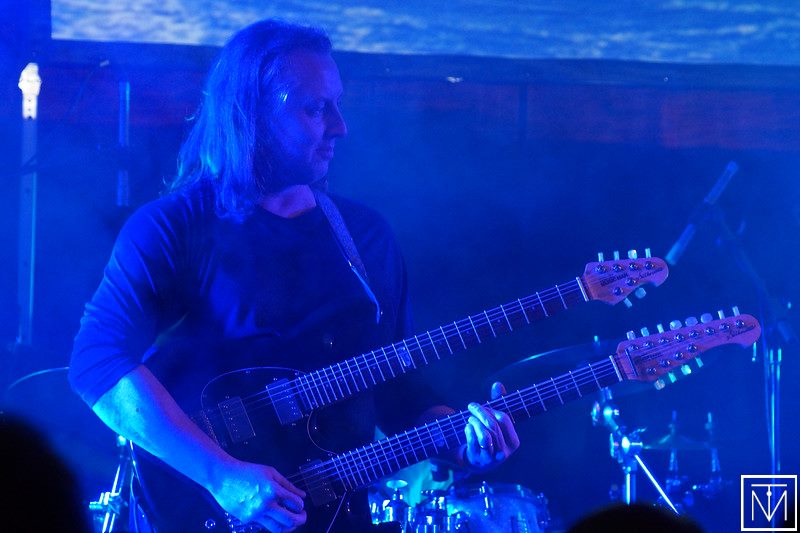 After the final notes of title track of the album died away, Rothery announced that they'd be taking a short break, and would be back with some Marillion songs.
This is the point where it might all have gone horribly wrong; on a live album recorded in Rome earlier in the year the second half was something of an anticlimax, largely down to the guest vocalists not doing the material justice. Not so tonight; Steve Rothery drafted in Martin Jakubski from the tribute band Stillmarillion, a singer who knows exactly how to bring the classic early material to life on stage.
It started slowly, with the early B-side "Cinderella Search" and the reflective title track on "Afraid of Sunlight", the only Hogarth-era song played. But things really caught fire with the dark intensity of "Incubus", the disturbing song written a generation before 'revenge porn' was ever a thing. With "Chelsea Monday", "Fugazi", and the encore medley from "Misplaced Childhood" the band took the roof off.
This was material from the Fish era that the present incarnation of Marillion never play nowadays in regular touring sets, and sung with all the high notes intact rather than the rearranged versions Fish has performed in recent years. It was the closest thing to Fish-era Marillion in their mid-80s prime as you're likely to get in 2014.
With the majestic first half and the strongly crowd-pleasing second half, this was a life-affirming occasion.