[dropcap style="font-size:100px; color:#992211;"]S[/dropcap]taff Benda Bilili are a great band, and the Union Chapel is a great venue – so a combination of the two should be a match made in heaven.  Right?
Unfortunately, the answer is no.
If you're not familiar with the band, their story is about as romantic as it gets.  They are a group of street musicians from Kinshasa, all with disabilities, who were discovered and recorded by a Belgian record producer, and went on to tour the world to international acclaim.  A bunch of able bodied street kids form the backing band to the main singers/musicians, who are paraplegic, and they have been massively successful, not least in the UK and US, where the albums were met with pretty much universal acclaim.
Then, to add a bit of rockstar spice to the mix, there were stories last year that a few of the main guys had let it all go to their heads, and that these diva-ish tendencies had led some of the major players to quit.  Creative differences, not being appreciated, only brown M&Ms in the dressing room – you get the picture.
It's a narrative with a bit of everything, in other words.  And the music they play is infectious – danceable, catchy, beautiful to listen to.  Put them in a stunning building in North London and what could go wrong?
A few things, unfortunately.
Union Chapel really is a beautiful venue.  Places like this nearly always are.  Few people were as good at understanding how to genuinely impress their audience as the various Christian churches, after all (with the possible exception of the Quakers).
The acoustics should be amazing, the architecture is stunning, and at the Union Chapel they emphasise it with great lighting as well.  You walk in and think – no matter who you're seeing – this is going to be brilliant.
But somehow, the venue and the band, on this occasion, just don't match.  [quote]complaining that Islington is not
like Kinshasa is as ridiculous as
complaining about people
in North London being too white
and middle class.  [/quote]It's a Sunday night in Islington, and the crowd are all seated in pews.  The sound is, to be kind, terrible.  The singing – and we're talking somewhere between 4 and 8 part harmonies here – comes across fairly well, but the guitarists might as well not be plugged in, and the bass is not much better.  Percussion – ok, you get a good sense, but it all feels a bit echoey, like the sound is just being sucked up into the towering dome overhead when it should be coming straight at you, as a unified groove that you can't help but feel.
Then there's the crowd.  I fully appreciate how ridiculous it is for a middle class white man (me) to complain that the audience here is so middle class and white.  But combined with the ranks of pews and everyone being so worthy about it, it feels awkward, and uncomfortable.
That's probably unfair – it almost certainly is, in fact.  Not least because the crowd overall go absolutely mental.  They love it.  But I don't really understand why.  We try standing in a few places, but the sound really doesn't get any better wherever you are.  And more than anything I start to think that this isn't a problem with the place, or the people, or the band – it's just the choice to do this gig here – with these musicians playing in this space.
Staff Benda Bilili – great band.  For me they showed that again here by sounding pretty good, even in a venue totally not set up for them.  Union Chapel – beautiful, but not right for this sort of music.  In any way.  Congolese rumba – or whatever you want to call it – this is all about dancing, and go to Kinshasa and watch the sapeurs arrive, and the sheer amount of expression that can be packed into the smallest buttock movement, and you'll see why all of this just feels out of place.
Admittedly, complaining that Islington is not like Kinshasa is as ridiculous as complaining about people in North London being too white and middle class.  After all, that's not their fault.  But it does help to explain why the match up of venue and band seems so wrong.  Stick these guys in front of the same crowd in a place with a dancefloor and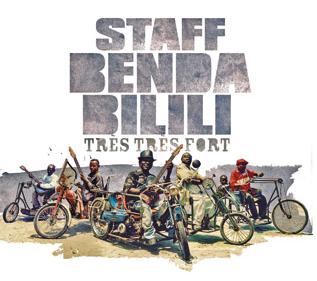 good sound and it would have been amazing.  Literally, move it all into a local pub's back room just round the corner and give the sound desk to a local sixth former who puts it all up too loud, and you'd have a party that no one there would forget.
To a certain extent, I'm not even saying this was a bad gig – but there was the potential for so much more.  I came wanting to see a bit of Congolese magic brought to London, but that wasn't what I got.  I don't want to see these musicians patronised – the reason they're brilliant is because of the music they play, not because of their story, or their disabilities.  And sticking them in one of the poshest venues in town at £20 a ticket with no dance floor seems to me like  missing the point.
And that was how I left feeling.  A gig I'd looked forward to more than any other in a long time left me a bit cold.  Because it was the wrong band for the venue, the wrong venue for the band, the wrong sound for both, and I couldn't work out who was worst served by the whole situation – Staff Benda Bilili or the crowd.