[dropcap style="font-size:100px;color:#992211;"]S[/dropcap]otheby's announced today that it will host an online auction of over 140 works from Keith Haring's personal collection, all on offer from the Keith Haring Foundation. Dear Keith: Works from the Personal Collection of Keith Haring is expected to bring in nearly $1m with a selection of works on offer ranging from a $100 painting by David Bowes to a Warhol print featuring Haring and his lover Juan Dubose for $250,000.
All of the works will appear at auction for the first time and 100% of the proceeds will benefit New York's Lesbian, Gay, Bisexual & Transgender Community Center, where Haring painted a now famous mural in its second-floor men's bathroom in 1989.
"Dear Keith is an especially meaningful event in what is the 30th anniversary of Keith's passing," says Gil Vazquez, director of the Keith Haring Foundation, in a statement. "It is rare that we as a foundation are able to address so many of the concerns that our founder deeply cared about in a single gift. The Center embodies so much of what Keith was about: community, empowerment, and the support of our future, the youth."
The non-profit had previously been warned by legal counsel that keeping a collection made by artists other than its founder may undermine its charitable mission. Many works in the collection are by artists associated with Club 57, a long defunct nightclub once located in a church basement on the East Village's Saint Mark's Place; these works include a small Jean-Michel Basquiat painting on aluminium estimated at $100,000 – $150,000, as well as works by Bruno Schmidt and the performance artist John Sex.
Works from Haring's fellow street artists also make up a sizeable part of the collection, including works on paper by Haring's former roommate Kenny Scharf, as well as pieces by Rammellzee, Lady Pink and Lee Quiñones. Also included in the sale is a Roy Lichtenstein print estimated at $50,000 – $70,000 and a small George Condo pastel drawing, inscribed to Haring, estimated to sell for between $12,000 and $18,000. The collection will be exhibited at Sotheby's New York gallery from 26 September.
Source: The Art Newspaper
Image: a Polaroid portrait of Keith Haring © Keith Haring Foundation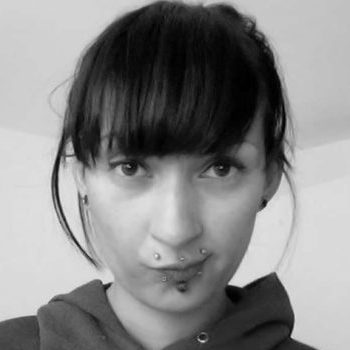 Naila Scargill is the publisher and editor of horror journal Exquisite Terror. Holding a broad editorial background, she has worked with an eclectic variety of content, ranging from film and the counterculture, to political news and finance.