[dropcap style="font-size:100px; color:#992211;"]S[/dropcap]ome bands release that widely appreciated and lavishly praised album early in their career, and then spend their whole existence trying to match it with each release.
Never quite getting there and never managing to live up to all that praise invites hard drug metaphors. They chase the dragon, always snatching at his tail but never quite latching on.
Unfortunately, one such band is the UK's own The Answer. Once dubbed as a highly promising classic rock four piece who would take over the music business (and all those other jumped up plaudits and tropes we use to drum up hype with…). In other words, these guys are good.
The Answer released their dragon album in the form of their debut Rise, and have since spent the best part of a decade trying to match it, only coming close with Raise A Little Hell. This is no slight on the rest of their musical work, which is steeped in blues and raw rock, but sadly a matter of perception.
Marking ten years since that debut album which both blessed cursed them was released, The Answer hit the studio again, but instead of more of what they normally kick out they decided to wipe the slate clean… and came up with something completely different!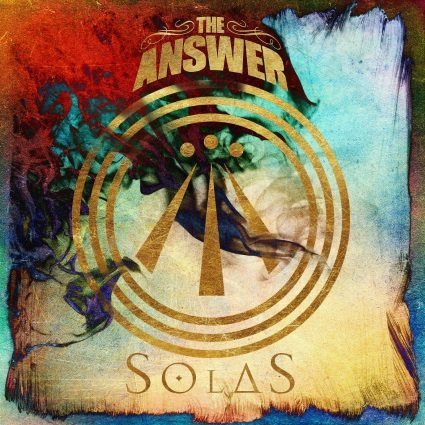 Solas (Gaelic for 'Light') is a rebirth for the band's musical sound. Gone are the 12 tracks of foot stomping, bluesy rock 'n' roll groove and instead we are treated to a band who are playing with freedom, passion, feeling, and most of all, energy. Opting to delve into their gaelic roots, the band have shunned the rock approach (aside from the bare essentials, naturally), and have instead taken a more traditional/folky/celtic approach, bringing an entirely new dimension to their sound.
Think Led Zeppelin III with some modern rock and distortion from time to time and some prominent Celtic sounds. So without further ado, let us step into the light and see what it brings.
Already, just from the opening of the title track "Solas", you can sense things are going to be different. Darker sounds and a haunting ambience accompany the introduction of the track, like that mammoth Led Zep track 'Kashmir'. The fuzzed out pounding bass and steady pulse of the drums keeps the track locked in tightly and the haunting air which hangs over it helps subtly bury the vocal line in amongst the darkness and grit. It's a real statement of intent from the guys as they approach things in a new way. As the track slowly comes to life, it has real impact with slick guitar melody lines which have real blues and passion bursting out of their seams. Despite the band walking away from the more pounding rock and roll approach, this certainly rocks!
From here on out, it's a very diverse aural banquet. "Beautiful World" has a grandiose feel with its string accompaniment in the intro and the soft touch from the vocals gives a hazy feel. The way it comes across musically, you would be mistaken for this being a classic U2 song (you know, from when they were actually a raw and emotionally charged rock outfit, not the current mess that they are now).
"Battle Cry" is filled with that Celtic spirit as it brings an uplifting and invigorating energy with folk undercurrents and Gaelic gang vocal chorus sections. "In This Land" has a mid-late 90s radio rock feel to it, the dynamics between the main and backing vocals in the chorus give it solidity, and the simple solo has some sweet sounding blues groove backing it up. "Being Begotten" brings the classic 12-bar blues in with its slightly seductive vocal delivery and hypnotic, gritty blues riffing.
Of course, there is the classic Answer we all know and remember in the form of "Left Me Standing". The fast paced rocker is a good way for the band to tip their hat to what has led them here, and what they move on from. The crisp tone of the guitar and bass, hook laden chorus and the raw and powerful vocals are exactly what is needed for those who may be wondering when something is going to hit them hard.
Overall, Solas is a great example of what happens when a band totally changes its approach. Changes in musical direction are needed in lengthy careers, although they are not always welcomed. Bands can stagnate doing the same thing for so long. Sometimes change can work out well, as it reaches a new fanbase or actually gets the band 'the big break' they need, whilst on other occasions it can spectacularly backfire.
Bold, invigorating, fresh, infectious and passionate, Solas is the product of a band who enjoy doing what they do and who aren't afraid of taking risks. Whether this direction is permenant or merely just shaking things up a little will be revealed in the future, but right now, this light is shining bright and you'd be a fool not to venture towards it.
Born in the 80s, grew up with the 90s and confused by the millennial generation, I am Peter, more commonly known as Fraggle (long story, don't ask, details are a little hazy!)
With a degree in biochemistry, an ever growing guitar collection and a job handling medication, things are far different to how I expected them to have turned out, but the one thing which hasn't changed is how important music is in my life—it is one of my main passions, be it playing it, listening to it or attending it and experiencing it in the live setting (the way it is meant to be).
Blessed with a 'proper punk/metal spirit' (quote from Kailas), you will often encounter me at gigs or festivals with a beer firmly clutched in one hand and shirt in the other… Or these days, a pen and notepad too, maybe a camera if needed.