[dropcap style="font-size:100px; color:#992211;"]I[/dropcap]slington's O2 Academy plugs its wintry self into throwback mode for the Soil gig tonight.
In an (albeit chillier) sense, it feels a bit like falling backwards 10 years through a barrel of Jack Daniels and into a Pantera t-shirt.
It may have taken a couple of years (and possibly a few barells of Jack Daniels) but I think it is fair to say that Soil have reclaimed their balls and are now touring Europe with support acts Liberty Lies – a heavy rock West Midland five piece, and super-sized Sons of Texas. Presumably, they've also brought those aforementioned balls along for the duration.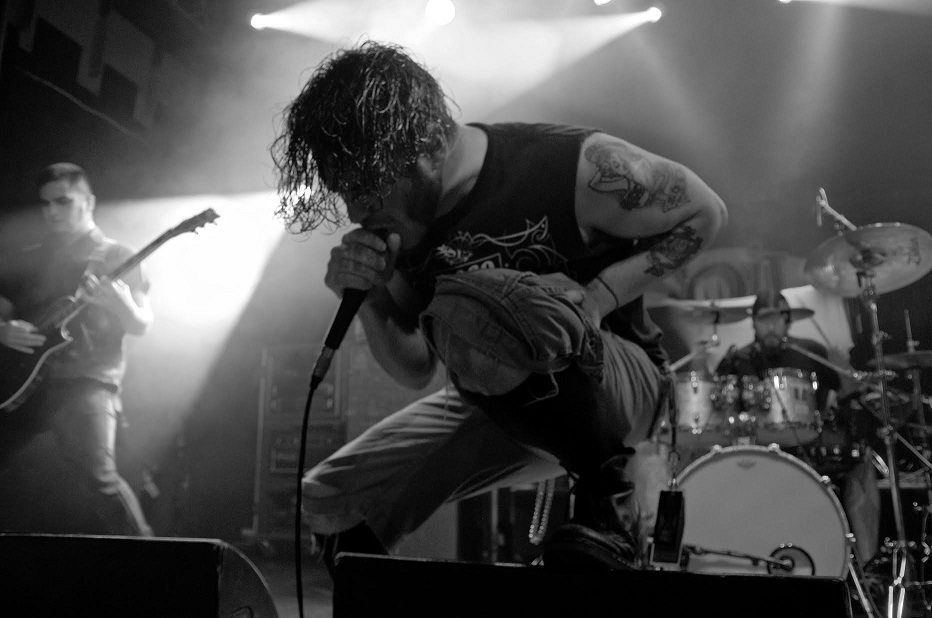 From the Lone Star State itself, Sons of Texas (pictured above) burrow their roots into their own local history of blues and metal, producing a mix of groovy bass, heavy break downs and Phil Anselmo inspired vocals. The band has a fizzing raw energy and gives a lively performance of traditional head banging and stage diving. Not one pint of, ahem, "beer" was tossed.
Ryan McCombs (Drowning Pool) rejoined Soil as lead vocalist in 2011 and we're not sorry. After the seriously bland Pitch Perfect we weren't sure if they could ever claw their way back to the good old days of Scars, but they proved us wrong releasing Whole. Clearly, single word album titles make for better product. In some ways the latter album comes across a bit Scars part two-ish, but it's very much a refined version of the classic.
As expected, Soil's performance goes off with out a hitch, involving a smattering of catchy singalong moments and a few quickly disposed of crowd surfers.
If only for the nostalgia, Soil is worth reliving, but do it now in case one of them ups and leaves again.
Soil, O2 Academy Islington, with Sons of Texas and Liberty Lies. 15/11/2016