[dropcap style="font-size:100px; color:#992211;"]W[/dropcap]hether it's really tasteful to open a bar in the backstreets of rapidly-gentrifying Dalston and to call it Servants Jazz Quarters is an interesting symbolic question.
Whether a venue usually home to retro jazz events for the Dalston glitterati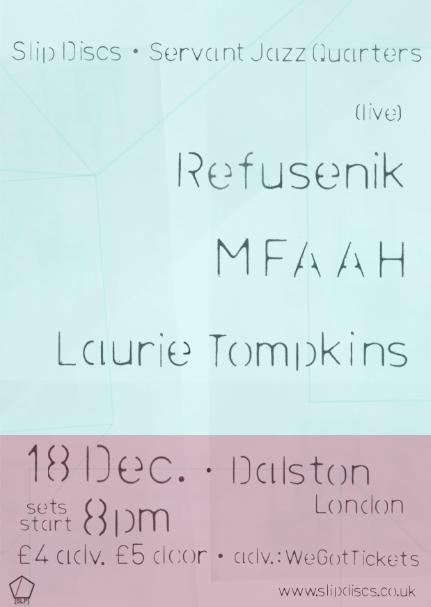 is the natural host to a night organised by Manchester's Slip Discs label is a question with a more clear-cut, and on this evidence, negative answer.
The place has a certain retro charm with a well-stocked bar but for any performer with quieter moments in their set it's an acoustic deathtrap. If the music is too quiet it may be drowned out by chatter from the bar above and if it's too loud or odd it unsettles the regulars.
Yet this was the location for a very varied night presented by the avowedly playful Slip Discs, committed to breaking down what they see as strict divisions between afficionados of contemporary composition and wider audiences (something perhaps more obvious in Manchester than London).
First up was young Mancunian performer MFAAH, a purveyor of 'fractured electronic music' making his London debut. MFAAH builds on the glitch aesthetics of the last decade, analysing and twisting his sonic elements into new shapes. [quote]If there are any other
budding composers out there
contemplating the possibilities
of banjo, electronics and kitchen
utensils they may want to look
elsewhere. It has now been done.[/quote]There's a trace of the electro-acoustic tradition in the way in which he works through the sounds and a nod to contemporary improv aesthetics in his general avoidance of coherence and strucuture – sounds are disrupted and prolonged rather than played.
Yet it's in the moments when he allows the sounds to cohere that he achieves the greatest impact. A brief passage of glitch-free icy tones is highly atmospheric and tantalising.
Some might say that electronic music needs banjos like fish need bicycles, but Resonance FM presenter Laurie Tompkins and his banjo-wielding accomplice David Bainbridge beg to differ. To their credit, the banjo elements weren't always totally ludicrous. At the start it was quite surprising to hear it produce some atonal textures offsetting the laptop electronics. These were later augmented by Tompkins on live percussion, or at least on upended saucepan and frying pan.
If there are any other budding composers out there contemplating the possibilities of banjo, electronics and kitchen utensils they may want to look elsewhere. It has now been done. That particular chapter of musical comedy has been written, although for a set up so rich in comedic potential it was notable how humourlessly it was performed. Some might want to see these antics as (very) late DaDa, but in fact a better analogy would be terminally-late Rail Replacement Service DaDa.
Finally, there was a rare London performance from the Lithuanian composer Arturas Bumšteinas, who works with a wide range of tools and musicians, producing distinctive music. Tonight he appeared, or rather, lurked, as Refusenik, venturing out from the back of the room only to hand out carved whistles to audience members so they could participate in the piece.
Supposedly produced on the renowned Soviet-era Polyvox Synthesiser, the soundscape that slowly unfolded was quite different to expectations.
What we got was somewhere between Kraftwerk's electronic tone-picture 'Morgenspaziergang' and Chris Watson's birdsong recordings. A quietly shifting soundscape of whistles whose ability to captivate the audience downstairs was in inverse proportion to its ability to hush the chatty drinkers upstairs.
In its own space and time it worked very well and was a memorable performance, but it deserved a much better fate than ending up in the basement of the Servants Jazz Quarters.