[dropcap style="font-size:100px; color:#992211;"]O[/dropcap]k, so Shoreditch (known lovingly as The Ditch) is still in essence what it always has been: bars, restaurants, clothes shops.
Although whereas its inhabitants once tended to be purely artists, creatives, musicians and general vagabonds, they are now lawyers, bankers, PR execs, advertisingers, and of course,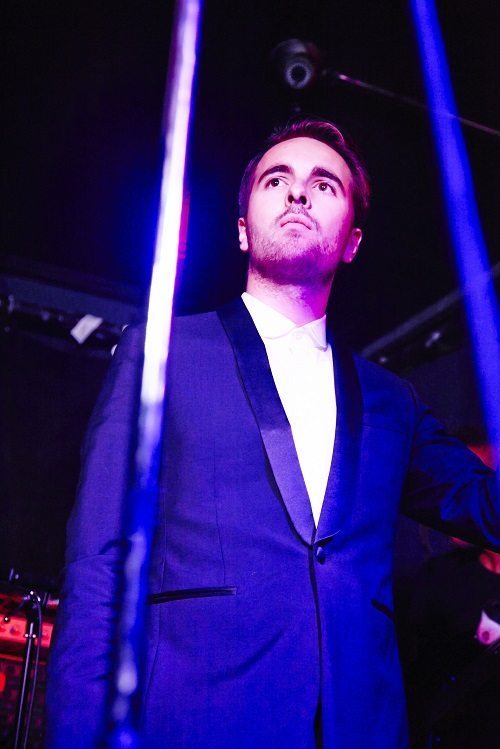 HIPSTERS (no amount of expletives on this page will make that affiliation any less offensive).
Within that demographic adjustment, more of everything has appeared, prices have increased, and well known coffee chains have opened their doors. But has this changed what was once a place where you could see real talent emerge (be it in fashion, photography or music) into yet another place where gentrification has also softened the raw and unique talent it produces, or hosts?
The first answer to this was on arrival at the Old Blue Last, where a bemused doorman smiled at me as I requested information on where to get my photo pass and pass for my cohort of the evening. His retort: 'it's a free gig'…. Obviously, either miscommunication on our part, or a cleverly thought-out ploy by the management of Her (the band I'm here to see), to big up the reality.
After a chuckle, we went upstairs to await the answer to this question (and ordered a beer to help manage the chuckle).
There is a good crowd in the venue, a lot of French accents (Her is a French Duo), and a definite buzz in the air, which is a good sign, yet I'm still a little plagued by the free gig moment.
Stage lights come up and a voice begins to sing, keyboard backing it up. More interesting however is the fact that this voice seems no match for the person producing it! It's strong, melodic and can carry the tune it sings. It has soul….
This isn't meant in a derogatory way, more as in being taken aback. If this were a soul band, it would make more sense, yet it isn't. If this voice didn't belong to a guy who looked like he should be in a Calvin Klein ad, it would make more sense.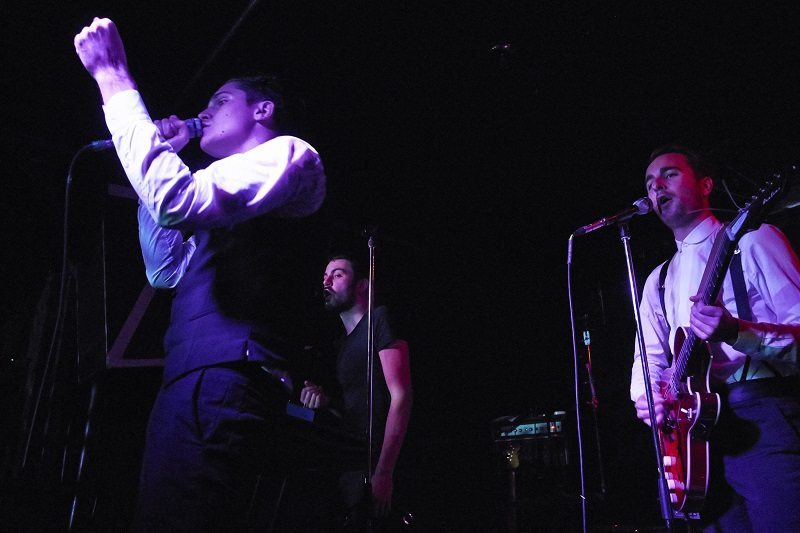 The music and lead singer changes from one song to the next. Alas, which is Victor and which is Simon, I know not, but the 2nd proponent of "Her" looks more the archetypal French singer, just in a modern good looking way. Again, his voice is strong, though not in the same soulful way as his partner in rhyme. He plays guitar, while the other singer plays keyboards. On some songs they share vocal duties, and it works well, they balance each other out.
But this is where things simply fail for me. The songs are strong, the music catchy. It's soul one track, pop the next, dance to follow etc. There is nothing to fault on the music, the vocals, the backing musicians (who I would guess from their obvious skill sets, are session players), but there is no heart. They are dressed to carry a look, (Her in black suits, white shirts, and white sneakers, while the backing band wear complementary clothing, with white sneakers). I feel a white sneaker revolution beginning.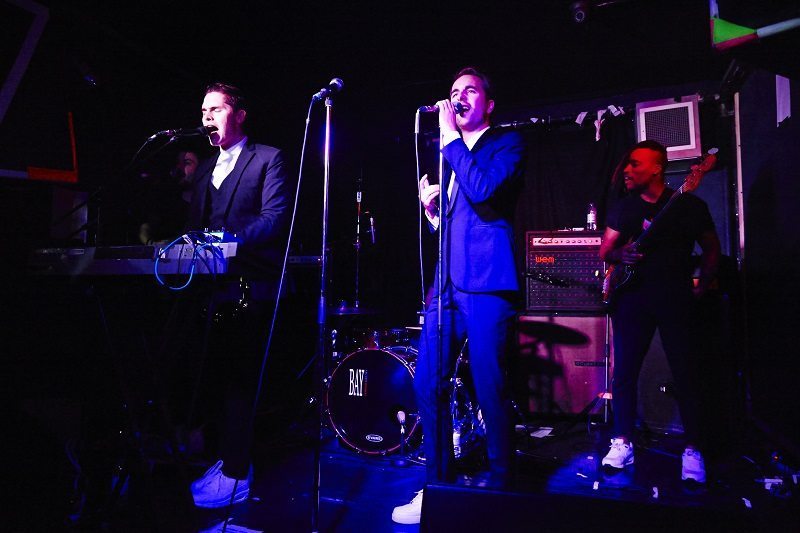 Be it rehearsing to the point of excess or simply just playing notes, the music falls flat. It's lost its punch. While singing things that are meant to have meaning, the arm shaking, fist pumping angst and emotion seems feigned. It all looks too styled and choreographed to carry any weight.
I cannot fault the band for a performance of good music, played extremely well, with honestly great vocals, but I think they have been over styled and over rehearsed, leaving all real emotion and soul missing from their music. Can that be resolved? The talent is there, I have no doubt, and the songs are there as well. The real question is was the soul ever there, and if it was, can they get it back?
Her at the Old Blue Last, 22 October 2015. Photos by Richard Harvey.