[dropcap style="font-size:100px; color:#992211;"]R[/dropcap]easons to visit San Sebastian abound, even for a destination without a budget airline route.
That in itself is another fine justification for a sojourn in the city – to get there most likely means a Ryanair hop to the nearby airports of Vitoria (Spain) or Biarritz (France). Either one is worth a trip in itself, with Vitoria (in name, if not quite in practice, the capital of the Spanish Basque Country) where the smart money's at for relatively undiscovered Basque cuisine, charm and lifestyle.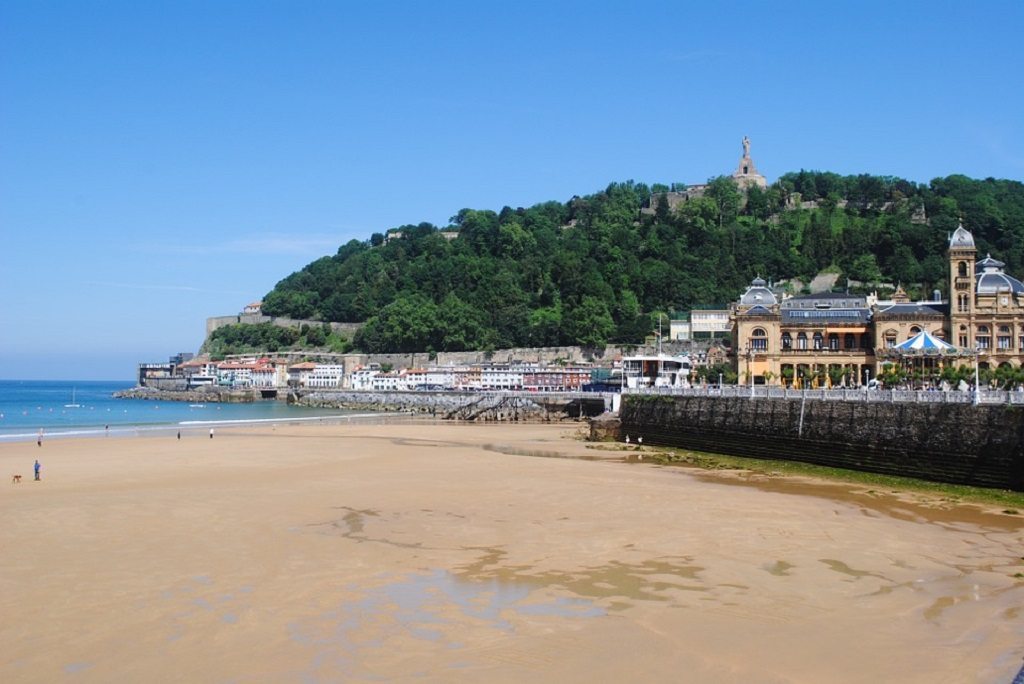 Undiscovered or off-the-radar cuisine, charm or lifestyle, San Sebastian can not lay claim to. If the Sunday supplement coverage of the city's ever-multiplying faffy eateries have somehow escaped your attention, one can only surmise that you have been comatose for the past decade. San Sebastian (or Donosti as it is unaffectedly referred to in Basque by its fiercely separatist inhabitants) is well aware of its reputation as a centre of gastronomy. Too much so. How and when exactly the tradition of a free nibble to help your beer down got twisted into today's plateful of sub Ferran Adria miniature molecular gastrowank is uncertain, but it neither fills a need, fulfils an appetite, nor leaves change from a fifty euro note. At the risk of contradicting a billion TripStagram selfies, avoid.
And unless your summer schedule is for some reason crying out for a few hours of shuffling elbow to elbow with phalanxes of American students along narrow streets touting overpriced omelette slices, tasteless beer, cartoon t-shirts and mobile phone covers, the once-quaint old town is best given a wide (or early morning) berth. The Kursaal theatre too, squatting crookedly and officelike on the seafront of Zurriola beach is also something of a carbuncle. When Bilbao got the Frank Gehry masterpiece of architecture that is the Guggenheim Museum, the civic heads at San Sebastian countered with this sloping cross between a Nissan showroom and a Venetian blind which now abuts the river Urumea's flow into the blue Atlantic.
At that point, the negatives dry up. What's left is a small city which has made an art of civic life. Bikepaths, city beaches, lush urban parks, fin de siecle architecture and cafe society, all done with a panache that is the more convincing the less it is forced. San Sebastian is an unalloyed delight, as long as you don't chase it.
To business: the film festival. Inhabiting a post-Cannes slot in September, San Sebastian plays to its strengths – the offbeat, the quirky, the quietly assured. Wannabe starlets on Russian yachts posing in outre chromed monokinis are not part of the scenery. Open audience interviews with leading actors and director-attended premieres, are. It's a small city, without much in the way of exclusive high-security hideaways. Learn to follow a buzz and expect interesting late-night conversations.
On the menu for 2016: Political, social and religious themes including Alberto Rodriguez's The Man With a Thousand Faces, a torrid tale of Fransisco Paesa, spy-assassin of Spain's early democracy years. Current social and political tension is reflected in Jonas Trueba's La Reconquista, whilst Rodrigo Sorogoyen completes the Spanish entries to the Concha De Oro prize with his Madrid-based thriller tracing the hunt for a serial killer at large in the city during the 2011 papal visit.
Beyond the official contenders for the Concha, the usual festival rule applies: browse, wander, take your pick. The venues are all within walking distance, the walk itself is usually pleasant, and the filmic gem which stays with you forever will most likely be one of the many offerings presented outside of the contest, or in contention for one of the lesser prizes. International films unofficially outnumber the fifteen Spanish titles presented in 2016, as well as off-programme screenings of two recent Diego Galán features. Keep an eye out for Sigourney Weaver whilst you walk, selected to receive the Donostia prize for lifelong service to cinema, as well as her latest bout of monster-bashing in Juan Antonio Bayona's Un Monstruo Viene a Verme (A Monster Calls).
Call it San Sebastian, call it Donosti. Just don't call it Spain.
[button link="http://www.sansebastianfestival.com" newwindow="yes"] San Sebastian Film Festival 2016, Information[/button]

Sean Keenan used to write. Now he edits, and gets very annoyed about the word 'ethereal'. Likely to bite anyone using the form 'I'm loving….'. Don't start him on the misuse of three-dot ellipses.
Divides his time between mid-Spain and South-West France, like one of those bucktoothed, fur-clad minor-aristocracy ogresses you see in Hello magazine, only without the naff chandeliers.
Twitter: @seaninspain