[dropcap style="fontsize:100px;color:#992211;"]R[/dropcap]ossana Martinez is an artist interested in anatomy, health, wellness, movement and nature. She was born and raised in Puerto Rico, and holds an MFA in Sculpture and Printmaking from Pratt Institute, Brooklyn, NY, and a BA in Liberal Arts from the University of Puerto Rico, Rio Piedras. Her work and movement practice investigates the body and its subtleties of balance and geometry.
Her projects have been exhibited nationally and internationally in New York City, Australia, Belgium, Mexico, The Netherlands, Switzerland, New Zealand and Puerto Rico. She has received awards from the Brooklyn Arts Council, Bronx Museum of the Arts, Lower Manhattan Cultural Council, and El Diario La Prensa (Mujeres Destacadas Award). Her work has been reviewed in publications, such as The New York Times, The Village Voice, The Brooklyn Rail, The New York Sun, Flavorpill and Artnet Magazine. In 2003, Rossana co-founded MINUS SPACE, a gallery for reductive art on the international level, based in Brooklyn. In 2007, she began a sketchbook/blog (now on Instagram) called art & life, about the relationship between the two — where she shares her experiences as an artist, runner, yogi, rooftop gardener and mama.
What is your background?
I was born and raised on the northwest coast town of Aguadilla in the Caribbean island of Puerto Rico. It's a beautiful small town known for its waves and the numerous surfers that flock there. My father is from Orocovis, a town in the mountains in the center of the island. He went to study in Salamanca, Spain in the 1950s where he met my Spanish mother. They returned to the Caribbean in the 1960s where they still live today. My parents are my ultimate example of what is to love and committing oneself to working hard. They raised five children.
What does your work aim to say?
My work tells a story of the moment I am living. My work has always been about a connection and dialogue with nature. I have used abstraction in a variety of forms and materials to express that connection and awareness. Creativity is the tool that allows me to be aware of what's around me and how I fit and contribute to it.
You have been utilizing the body as a form for expression in your practice for some time. How did this connection begin?
After graduating from Pratt Institute, I was making works on paper focused on the abstraction/geometry found in nature inspired mostly by pre-Columbian textiles and colonial history. My daily routine was a combination of a full-time day job with a focus on my practice in the evenings. These were days of stress, paying back of student loans, and attempting to succeed in NYC, not an easy task I must say.
One day, when I awoke, I realized I was exhausted from the routine and of feeling tired all the time. I decided to get back to exercising, especially running. As a kid, I was fortunate to have grown up on a tropical island which offered an active lifestyle all year long. It sounds odd that this realization happened in a busy town like NYC, but it was through running that I returned to my core, and it made me remember how much I enjoyed my school's field days and my routine of running and being surrounded by nature. I realized that I had forgotten this real connection with nature although my work was focused on making a reference to the importance of that connection. I was spending most of my days indoors at that time.
Through this process and awakening, I began speaking with other runners and I came to learn the benefits of yoga. Also, I was lucky to join the local YMCA and found the most talented yoga teacher I've ever had (he was a former dancer who spoke of grace, kindness, anatomy, and nutrition). His class was in the early mornings and there I was experiencing again the morning light, the most beautiful light of the day in my opinion. Through movement, the sweat, the fresh air, the visual information from poses in yoga or from running outdoors during that hour of movement, the inspiration began to appear in my work. These series were on paper and the markings represented the post-movement of energy. This was a natural process for me. What followed was the first series of work that incorporated the body directly.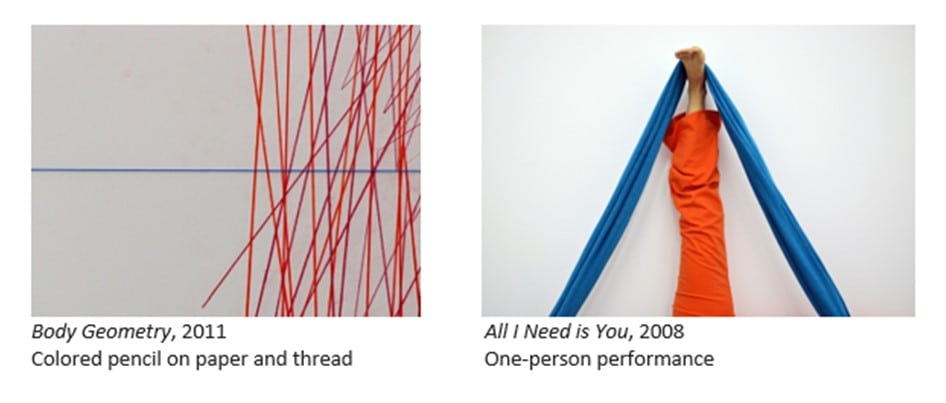 Do you see your work as a hybrid between performance based work and fine arts? What is your connection to minimalism?
Yes, a balance between performance and fine arts may be a good description too. I became acquainted with minimalism when I began my Masters degree at Pratt. I've been a minimalist in terms of material things since I was a kid. I was always organizing, editing my space, my toys and supplies. When I moved into the dorms in college, the room was quite small. Living in such a space made living with less a priority. This connection with a minimalist pull is very much on a personal level. A year following my arrival, I met my new neighbor in the dorm, Matthew Deleget, a nice guy from the Chicago area who had similar tastes and interests in life, abstract art and what we call reductive abstraction.
In 2003, we began a new concept, a virtual space when the internet was not as mainstream as today. The virtual space was called MINUS SPACE. Our concept was to educate and create a dialogue about abstract art globally. Since 2003, the concept has developed and materialized into a commercial gallery in the neighborhood of Dumbo, Brooklyn. The work we exhibit is reductive abstraction.
My routine now is spending several days a week as a foundation manager for a philanthropic family in NYC, and for the last two years I've returned to my studies. The gallery is truly Matthew's vision and passion. The core of the concept and what the gallery stands for is still the same – a common interest between us in abstract art and the conversation that we began as neighbors in the Pratt dorm room.
Some of your work is drawing an emphasis on mark-making, and leaving a trace from marks made from the body. What influenced this process?
The process was a combination of experiences. Going back to my reference of using the body as a form of expression, movement is an excellent tool for awareness. I began to notice the geometry found in our bodies, especially triangles. I call it body geometry.
I also enjoy visiting dance rehearsals whenever possible. I love to dance. Music and dance are a big part of the Caribbean where I grew up. Dance rehearsals are those special moments behind the scenes to observe how much work and sweat goes into a dance routine without distractions such as costumes, sets, etc.
The body here is the tool instead of a brush or a pencil. For the mark-making works, I made the inks from beets and other plants I grow in my rooftop garden in Brooklyn. Growing food and planting seeds is also an excellent tool for awareness. When you plant a seed, there is a mark and the best part is that the mark will grow into a plant.
The resulting works on paper are a subtle recording of the essence of a self-portrait. The work is made in the moment. It's raw and unedited. Any marks, any movement, any mistakes stay present and are part of the work. I don't re-work or edit it.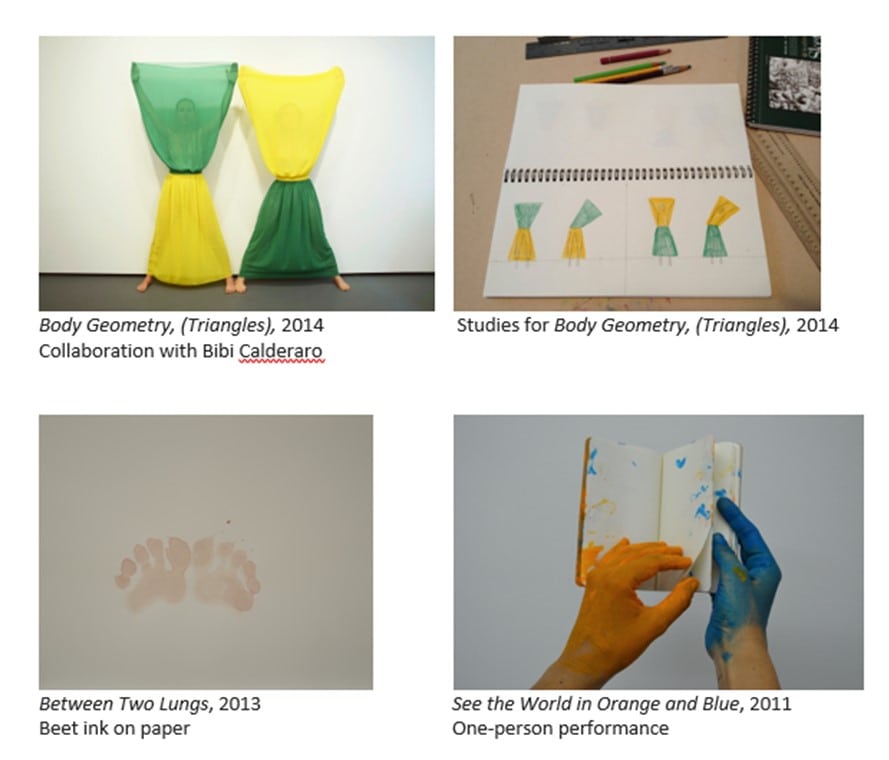 How does your work comment on current social or political issues?
The work is about our environment although I do not utilize the word "environment" because in my opinion, it has lost its meaning from overuse. In a subtle way, the work is a reminder to look and understand what is around us and how our surroundings and decisions affect our life and health. It's a message of care and hope.
I began growing food almost 10 years ago in our rooftop garden in Brooklyn. During the warm months of the year, we are pretty much self-sustainable as we consume our vegetables from the garden. Living in a busy city can make us forget where real connections exist–connections with people, connections with down time, connections with creativity.
Moreover, the list of benefits from movement are endless. Medical studies are published every day to remind us how to incorporate a healthier lifestyle, how nature can speed the process of recovery for the sick, and how a walk in nature can calm anxiety. The same goes for a creation of a green roof in the city. An urban garden is a haven for pollinators including birds, provides an effective use of rainwater, it improves air quality and controls heat. These are a few of the many benefits.
For the last two years, I have returned to my research and enrolled at Hunter College to become certifified as a personal trainer/coach. The program is a combination of movement, health, nutrition, and anatomy. It's been wonderful to be in a learning environment where the focus is the body. The idea of becoming further educated in regards to nutrition and anatomy had been on my mind for some time and with a focus on a deeper study and investigation between of the connection between the body and mind. Individuals approach me regularly now with questions regarding their health. I want to give them the most helpful information so that I can contribute to creating the positive change they are looking for. Assisting and helping individuals is a social issue and serves as a positive impact for them as well as the environment in the long run.
My approach as an artist is to highlight the body as a creative tool. Wellbeing as a way of living.
My approach as a trainer/coach is to find health and wellness through small steps, and to reach a balance of movement, food, and mental stimulation through arts and culture. Art feeds the trainer/coach. The trainer/coach feeds the art. I am both. My commitment in my work is focused on social awareness towards communal health as well as a healthier city.
Who are your influences?
My biggest influence is the every day – life itself. Simplicity, repetition, community.
What do you believe is integral to the practice of an artist?
A strong core, to be able to understand and share who we are and what we believe. And a natural curiosity.
How has your practice changed over time?
As I began working with the body, I changed from having a permanent studio to renting a dance studio space for rehearsals. Then the creation and development of the rooftop garden changed it all. The garden is my space for creativity and also health.
I'm at a moment where I feel the need to learn and expand. I like to consider myself a creative person, a moment where I want to write more, to learn how to weave, to make bread. All creative endeavors that aren't necessarily projects that need to be publicly expressed in form.
What work do you most identify and why?
Work that reflects what it is to be human. The work can be in any shape, form, and from any time – poetry, visual art, performance, design, architecture, and music.
What themes do you pursue in your practice?
Sustainability, balance, wellness, beauty, generosity, simplicity.
What inspires you?
it's a long list. Here's a short list of what I call my flashes of inspiration:
The morning light
The ocean
Nature
Kindness
Color
Dance
Pre-Columbian textiles, ceramics and architecture
Cultures like Taino, Aztec, Maya, Inca, Native American
Greek mythology
The history of food and agriculture
To watch a garden grow
Understanding the process of breathing
All art that makes reference to nature and anatomy as a way to connect with the essential, with humanity
Music including Florence + the Machine, Emeli Sandé, Mumford & Sons
Writers including Mary Oliver, Henry David Thoreau, Ralph Waldo Emerson, Walt Whitman, Thich Nhat Hanh, Rumi
Artists including Anni Albers, Ray & Charles Eames, Eadweard Muybridge, Lygia Pape, Lygia Clark, Helio Oiticica, Mira Schendel, Trisha Brown's early works
What's the most indispensable item in your studio?
Plants and books, and now that my creative space has extended to the rooftop garden, seeds. They're the beginning of all.
What role do you believe the artist has in society?
Well, that's a difficult question. I'll answer with what I attempt to do every day with mine. To be active in many ways, to think creatively, to live simply, and to contribute to the community and the moment I'm living.
For more information about MINUS SPACE: http://www.minusspace.com/, info@minusspace.com

Naz Shahrokh has worked as an artist and educator internationally in the United States, Egypt, and the UAE. She received a BFA and an MFA in Painting, and an MS in Art History from Pratt Institute, Brooklyn, NY, where she later taught Fine Arts and Art History from 1998 to 2008. She joined the faculty at the Performing and Visual Arts Department at the American University in Cairo, Egypt in 2004-2006, and has been teaching at Zayed University, Abu Dhabi, UAE since 2008.