[dropcap style="font-size:100px; color:#992211;"]I[/dropcap]n the late 19th century Journalist and Epic Cyclist Robert Louis Jefferson made some spectacular cycles from London to the Constantinople, Khiva and beyond.
Largely forgotten today, Trebuchet publishing in association with the general public is hoping to raise awareness of both this great cyclist in particular but also the history of cycling in the UK.
With that in mind we made this little clip to pique some interest.
The beginning of the ride from Trebuchet Magazine
Fuller interview with John Jefferson about his grandfather Robert Louis Jefferson.
—

TO MOSCOW AND BACK ON A BICYCLE. [A CHAT WITH ROBERT 
LOUIS JEFFERSON.] 1895
' Your name is spelt the same as the actor's ?' I said.Lunching at Coventry, the other day, with Mr J. ii. Starley, the cycle manufacturer, and being introduced to a gentleman with a very faint American accent named Jefferson, I not unnaturally asked, ' Are you a relation of Joe Jefferson, the actor ?' 'Yes, I am,' was the reply, ' but only a distant one.' Whereupon Mr Starley explained that his guest was the Mr Jefferson who had ridden to Moscow and back again in under fifty days on a ' Rover' bicycle.
'It is. If you want it in full, Robert Louis Jefferson, born at St. Joseph, Missouri, December 18, 1866 ; but I am a naturalised Englishman, having lived here all my life.'
* Robert Louis ?' I repeated
' Ah, I know what's coming. But thanks to my Christian name 3 I have, had a series of short stories accepted in America, the publisher telling me that anything by a man with those prefixes was certain to sell.'
1 Then you are an author ?'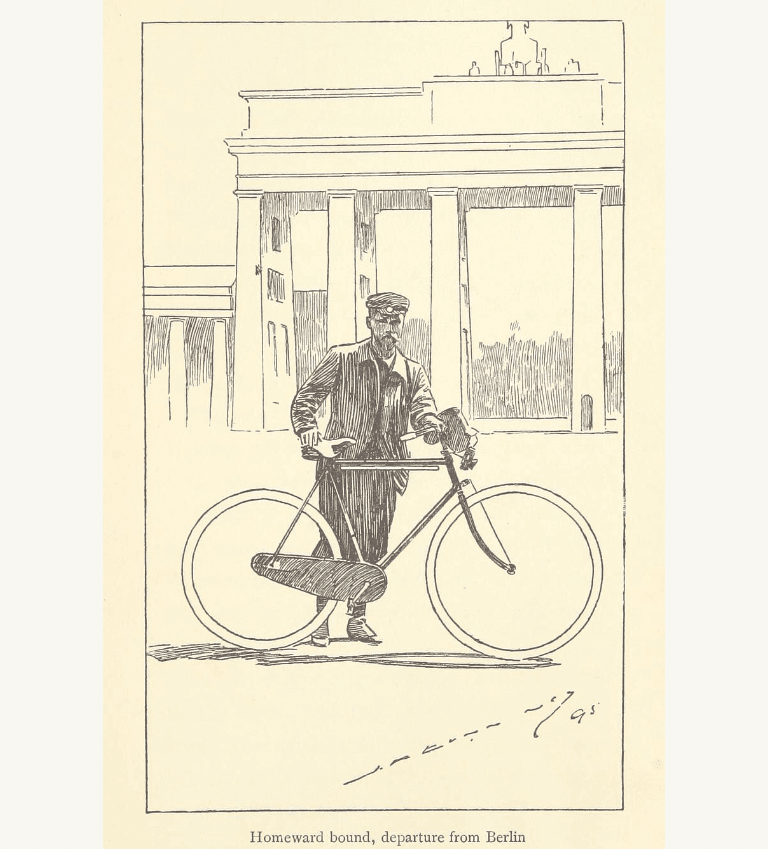 ' A journalist. I graduated at the Press Association, and during the thirteen years I was there finished up by reporting in the Gallery of the House. My book on the Moscow ride is finished, and will be published in a week or two by .Sampson Low. I have always been fond of athletics, and since 1885, when I took to cycling, I have taken 220 prizes, holding at the moment the mile and two mile ground record at Stamford .Bridge.'
'Is this the first long distance you have accomplished ?' 'No ; last year I went to Constantinople, through France, Switzerland, Italy, Carniola, -'Croatia, Sclavonia, Hungary, Servia, Bulgaria, and Eastern Roumelia, but that was nothing compared with this last trip.' ' You had more difficulties to contend with in Russia ?'
' Oh, rather. From the moment I crossed the German frontier and arrived at Slupca, where 1 was searched, I was subjected to every conceivable annoyance, sometimes being detained as long as three hours at a time by the officials —almost everyone you meet in Russia seems to be an official —and, only speaking German, I bad great difficulty in convincing them I was not there for political purposes. In fact, I doubt if I should have got through had I not made them believe that 1 was riding for 20,000 roubles.'
' What are your general opinions of the country and your journey ?'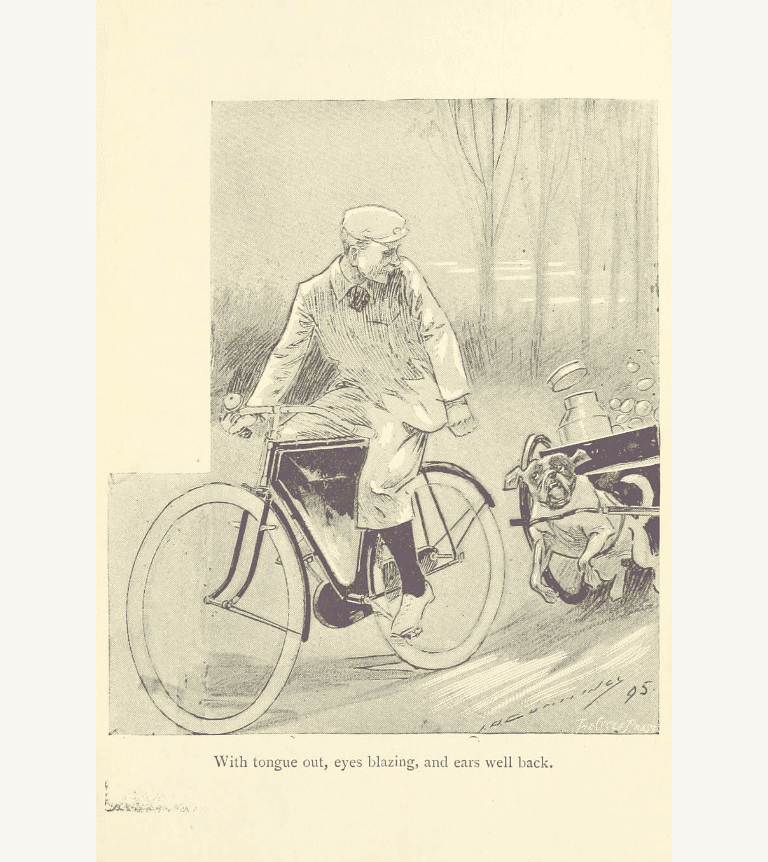 ' Chiefly, that the ride to Moscow and back, covering 4281 miles in under fifty days, is .a splendid anti-fat prescription. I was exactly 11 stone when I started, and weighed barely 9 stone on my return. During the whole of that time I had but two square meals, my daily diet consisting of black bread and sour milk, with occasional drops of vodki, and once or twice some sardines.'
' What about the roads ?'
' They are well engineered, but their surface is too bad for any great speed.'
' Without anticipating your book, can you give me any memorable incidents ?'
1 1 could if there,were time. I had timed myself to reach Moscow on May 11. Unfortunately, at Mearkleyo, I was run into by a Russian tarantass, and my back wheel was completely smashed. This necessitated a long walk with my machine, and a journey to Moscow and back by rail, by which I lost three days. Had it not been for this, however, I should have reached Brest Litowski on the very night when that town was burnt and 137 persons perished in the flames.'
' Anything amusing ?'
' Yes. At Sluck I had arranged for a room and supper for six roubles at the inn when my – passport was demanded by the landlord. I refused to give it up knowing the difficulty I should have in getting it back, but I agreed to accompany this individual to the Captain of the gendarmerie, who, when he looked at it, was strangely polite, and most obsequious. On my return to the inn, I found a much better apartment than the one I had engaged had been prepared for me, together with a choice supper with champagne, my host and the Captain having mistaken the name of the Earl of Kimberley, which you will see is in big letters on the passport, for mine.
' And now as to the Russian people ?'
' Well, excepting in Moscow, where they have a good cycling club, which came out to welcome me, I saw scarcely anyone but moujiks and peasants, and they are drunken to a man. I have photographs of the outskirts of Moscow, where there are shoals of them lying drunk in the streets, unnoticed by the police.' I gathered that Mr Jefferson's journey on the hiberian highway or post road was by no means unattended with danger, and the difficulties he encounted were quiet sufficient to prevent his experiment being imitated. In appearance he is slight and prepossessing, extremely unassuming in manner, and maintains that his success in accomplishing the feat was not a little due to the magnificent machine manufactured specially for him.— St. James' Budget.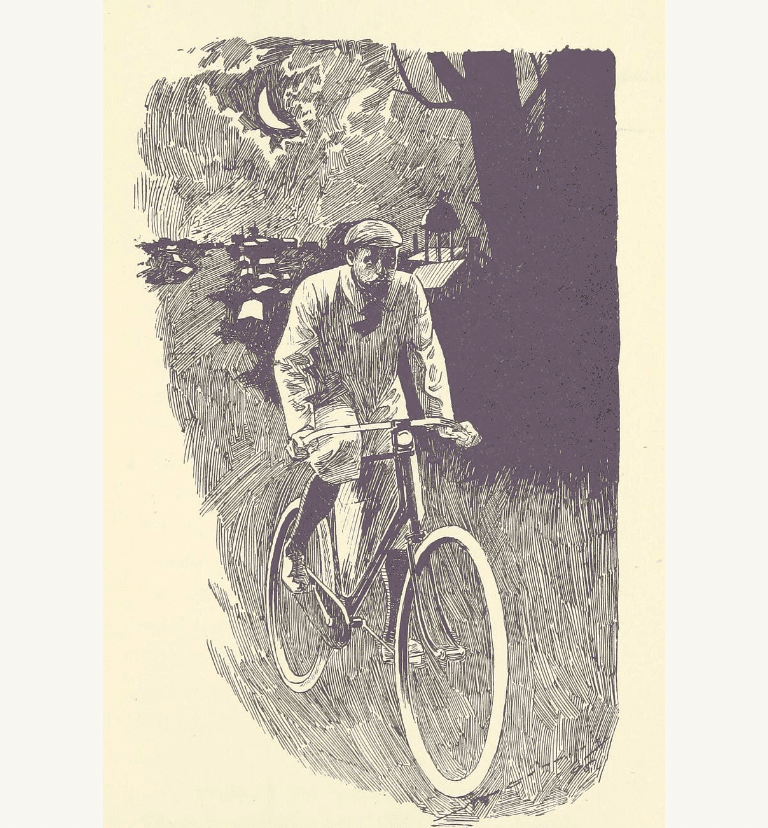 TO MOSCOW AND BACK ON A BICYCLE. Daily Telegraph , Issue 7499, 19 October 1895, Page 6
—
Aims of the project.

– To raise awareness of the roots of early cycling
– To republish RLJs articles online and in selected publications on cycling as they show a variety of interesting facets of the cycling world (yes they were doping even then!)
– To foster the same comraderie and good feeling that buoyed those early cyclists amongst today's generation.
– To have preserve the historical accounts of these innovators before they're lost forever!
Articles about Robert Louis Jefferson – famous 19th century cyclists online.
– [TBC]
World Cat bibliography on Robert Louis Jefferson.
His books are available online .
– [TBC]
Currently, best place to find his book is via the British Library App under 19th century travel. 
Related articles: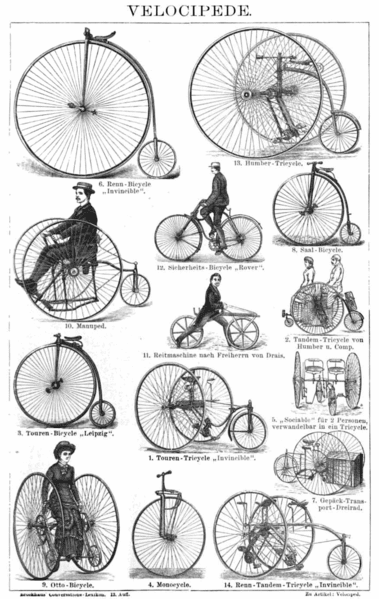 The rise of the gentleman cyclist [Guardian]
19th century cyclists [Guardian]
Other Links
http://www.gentlemencyclists.org/clubhouse/
http://agentlemancyclist.tumblr.com/
—
 Interested parties wishing to help out can get in contact here.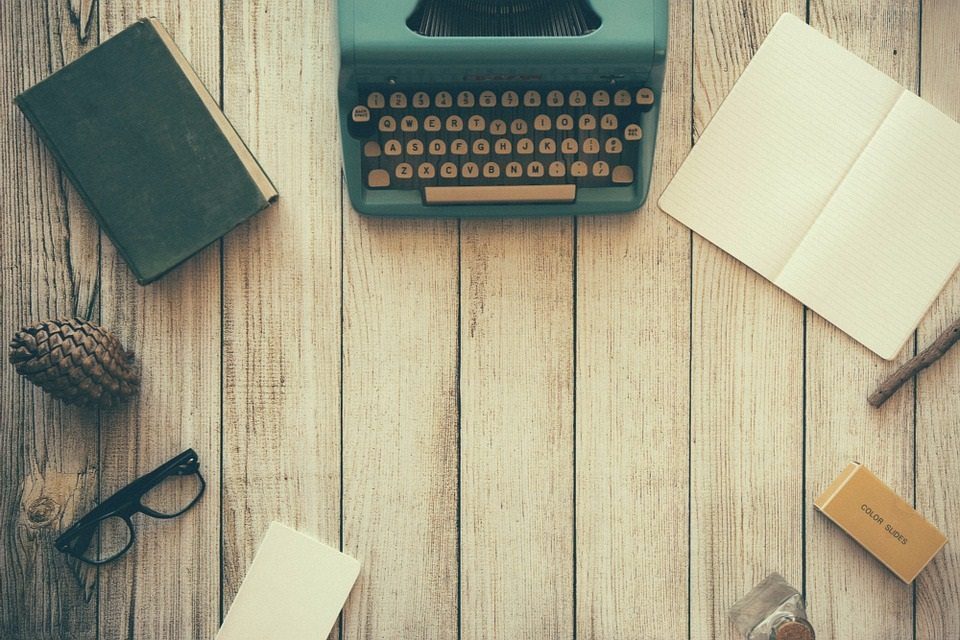 The aim of art is to represent not the outward appearance of things, but their inward significance. – Aristotle