[dropcap style="font-size:100px; colour:#992211;"]W[/dropcap]e last saw Jim Heath playing London's O2 Islington in the sad wake of Cramps drummer, Nick Knox's passing. Now 
REVEREND HORTON HEAT

 come roaring back with their 12th masterpiece Whole New Life. The zesty, infectious eleven track release is a follow-up to 2014's REV and is now available for purchase just in time for Christmas.

Jim 'Rev' Heath has been at the helm of rockabilly royalty since 1985, along with longtime bass master and confidant Jimbo Wallace. After rocking as a trio for nearly 30 years, Whole New Life marks a whole new era for the band, now a quartet with Matt Jordan on organ and piano, and new drummer Arjuna 'RJ' Contreras, adding new flair to an already legendary outfit.

Heath says, "I love playing with these guys, it truly is a whole new band, so the title fits perfectly. It is appropriate for what Jimbo, RJ, Matt and I are going through. We're really enjoying our career right now and it's all a little new for each of us."
Undoubtedly one of the most important and popular rockabilly artists of all time, the legendary Texas troop have genre-hopped their fan base in front of audiences from the Sex Pistols, Johnny Cash, Soundgarden, ZZ Top, Motorhead and tons of other heavy-hitters.
"It's the most positive album I've ever done, admits ringleader Jim 'Reverend' Heath. "Some of my stuff in the past was dark, maybe too dark. I guess I'm not the awful vindictive jerk I thought I was!"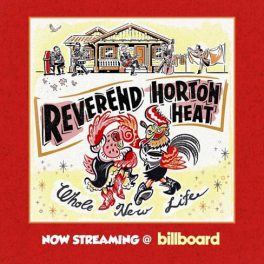 Recording the album in their hometown of Dallas, Heath says that "Creating Whole New Life brought out something more positive in my storytelling and guitar playing. I also saw a vocal coach to reach notes unheard to the average fan. It's got some Southern feel to it, a bit of gruff and a crooning style to it. Write what you know, that's what they tell ya in school, right?"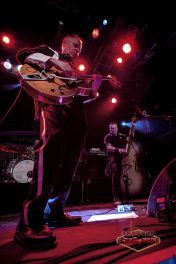 The artwork was created by a pair of rock 'n' roll sisters called The Mad Twins, Olya and Vira. These creative designers from the Ukraine also animated 'Hardscrabble Woman,' the bands final video from the previous album. "Jim Heath is a real old-school gentleman with a precise taste of 1950's retro style and an excellent sense of humour," Vira professes. "Jim gave us a good guide of the songs meanings lyrically and musically so we visualized a 1950's color style from that era. Call it globalism but isn't it wild that two Ukrainian female artists are doing American 50's graphics for a Texas band thirty years into their career? The design, art and music of that time are so powerful because people were doing it all by hand – paintings, clothing, cars, instruments – there were simple and naïve emotions, less vulgarity, straight honesty and sincere love. All that makes up the musical tornado of REVEREND HORTON HEAT."
"

Rock n' roll is alive and well! I'm blessed and honored to be a part of the new album. The title is serendipitously appropriate because, since I joined Reverend Horton Heat, I've experienced a whole new life of my own

" Matt Jordan
The Texas titans officially kicked off the Horton's Holiday Hayride Tour on November 27 in Omaha, NE and will wrap up the year in Birmingham, AL on December 22. As more riotous shows are booked for 2019, Heath cracks, "I'm afraid I'm on the Willie Nelson retirement program, which means I'll never retire!"
Whole New Life Track Listing:
Whole New Life
Hog Tyin' Woman
Hate To See You Cry
Got It In My Pocket
Don't Let Go Of Me
Ride Before The Fall
Tchoupitoulas Street
Sunrise Through The Power Lines
Wonky
Perfect
Viva Las Vegas
The foot-stomping hellfire roots of REVEREND HORTON HEAT's rock 'n' roll stylings are louder than ever with Whole New Life, but if that's not enough for all you greasy Trebuchet readers, the band also delivers the second video in the form of the sexy and sultry "Hog Tyin' Woman." As the album hits shelves, the Texas rebels have traveled thousands of miles, playing 13 countries in front of over one million people since the release of 2014's Rev.
Watch "Hog Tyin' Woman" Music Video
All REVEREND HORTON HEAT Tour Dates.
"If this doesn't get your Loblans hot, I don't know what will" – TREBUCHET MAGAZINE
"In your face, rip-snortin' bust out the windows rock and roll" – NO DEPRESSION
"A throw-back, old-fashioned good time" – CBS
"Upbeat, optimistic spirited rockabilly" – BILLBOARD
"Great American rock & roll" – MUSIC CONNECTION
"Zesty, infectious and timeless" – BIG TAKEOVER
"RHH's engine refuses to stay idle" – GOLDMINE
"An upbeat stomper" – NEW NOISE
"The pace of a race horse gallop and twang of cowboy campfire, a ball-busting, beer-swillin' rocker – INNOCENT WORDS
"A solid stomp of blues with hillbilly, garage rock" – UK ROCK & ROLL
"Glorious wave of exuberant, tightly constructed, wonderful songs" – AMERICANA UK
"Authentic, upbeat rockabilly" – VIVE LE ROCK UK
"Powerful, cathartic and triumphant return of the godfathers" – HYSTERIA
"The best album of their career" – VOID REPORT
"Infectiously fun" – CRYPTIC ROCK
"Fun, twangy and vibrant. A memorable album with infectious singalongs" – ILLINOIS ENTERTAINER
"Colorful rockabilly with reliable pro chops" – DETROIT FREE PRESS
"High-octane tempos, mixing rock and classic R&B" – MILWAUKEE SHEPHERD EXPRESS
"RHH is the real deal when it comes to psychobilly blues and country" – CLEVELAND.COM
"Turbocharged pedal-to-the-metal rootsy cornucopia of rockabilly, feral country, hard-wired blues, honky-tonk and punk'n'roll" – MINNEAPOLIS CITY PAGES
Live stage photos by Carl Byron Batson. Not to be reproduced without express prior permission.

Photographer, published poet, former party animal, body builder, grave robber
to the stars and renowned chainsaw juggler, Carl can often be spotted on his
Harley Davidson pretending to be in Terminator 2. He is also frequently seen in
the press pits of old London town, camera in hand, avoiding being hit by bottles
of wee and crippling his opposition with secret Kung Fu moves.