[dropcap style="font-size:100px; color:#992211;"]N[/dropcap]otorious for their heavy riffs and wry music videos, Portland's finest stoner rock denizens Red Fang recently released their fourth album Only Ghosts.
Guitarist David Sullivan takes some time to talk to Trebuchet about crashing cars, drinking beer and touring with Torche.
You just released your latest album Only Ghosts, how has life been since doing so, and how has the record been received?
I try to avoid reading reviews and block all of that out, but it seems to have been received really well! I've seen lots of people post on Instagram that they're excited about the record, and I'm happy for it to finally be out as well. We finished recording it back in February, so it's been months of us just waiting for it to be out. It's nice to finally have it here. People are excited about it, and so are we.
I know you're currently touring mainland Europe with Torche, and that you just did your biggest UK tour to date with them and God Damn, how's the tour been so far?
It's been great! The UK was really good, and I'm really happy to be touring with Torche as they're one of my favourite bands right now. We're actually sharing a bus with them as well, so we're all just hanging out on the bus together. I've always known their music but never known them personally before. They're really great guys and we've had a lot of fun. We're almost at the end of the tour now, I think we've got seven more shows, then home for three weeks before we're back out on the road with them and a band called Whores for another month in the US.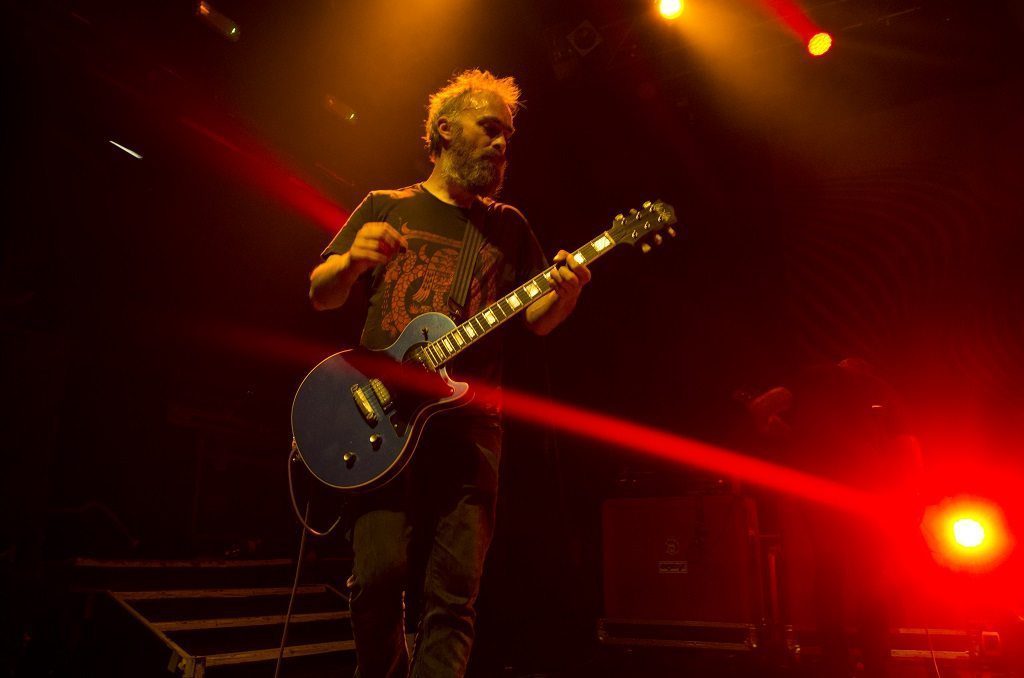 As you're all sharing a bus together, can you run us through a day in the lives of Torche and Red Fang on tour?
Well, I got up about an hour ago at 11am, had some coffee, and now we're waiting for the club to open so we can get inside and unload our gear. Every morning consists of everybody looking for wifi, as most people's phones don't work over here. Luckily I have a plan that does. So yeah, mornings are mostly coffee, wifi and unloading the van, followed by soundcheck and food before finally getting to play the show.
It's really good, I feel fortunate that I get to travel and play music that people respond to and like.
You guys are known for your sick music videos, which one has been your favourite to make?
I think maybe 'Wires' was my favourite, mostly because we got to drive a car and smash into things, that was awesome. At first we were pretty scared as we didn't really know how it'd work, but after doing a few test runs we were feeling pretty invincible – it was almost like getting to play a video game in real life, go all Grand Theft Auto and just smash into stuff. We're lucky as our director Whitey McConnaughy who does most of our videos is just awesome and has great ideas. The credits for the concept and everything – all him. He sort of takes who we are and exaggerates us into these, probably funnier than we actually are, characters, and it's fun to do.
You're pictured as beer drinkers and hell raisers, so how much of your actual personae actually shine through?
I like to drink, we all like to drink, but it's definitely a larger than life exaggeration as we're obviously not out smashing things and crashing cars every day. He takes who we are and blows it up, movie style. We like to drink, but not as much as the videos make it out to be. Sometimes we'll get to shows and there'll be fans waiting wanting to shotgun beers with us and we're all just like 'Ah dude, no, not again!', cause that's kind of a party trick kinda thing, not how I want to drink a beer every day. Anyway, we're serious about our music, but we like to have fun in the videos.
You mention Torche being one of your favourite bands at the moment, what other bands or artists you're currently listening to?
I really like this UK band called Wolf People, their album Steeple really caught me, it's got great guitar playing and really nice vocals. They kind of remind me of a lot of seventies rock bands, maybe in the same way as Graveyard had that kind of seventies vibe to them, but still pretty different from Graveyard.
They've just released a new album as well which I actually haven't heard yet, but they're a great band. God Damn as well, who we just toured with in the UK, are really good. Big Business I like a lot, and Whores who we are about to tour with in the states are excellent, they remind me of that whole 90's Chicago Amphetamine Reptile Records kinda stuff, but while doing their own thing.
Imagine you're one of few survivors after the apocalypse, what would be your top survival tips?
Oh yikes, I don't know…. I guess get somewhere safe and secure with a lot of water. I really enjoy zombie movies, but I've never really thought about what I'd do if I was in that situation myself. It's the kind of thing where you don't really realize what's important until you're in that situation. But I know that you have to have water, always, so somewhere you can keep away from things and still have access to water. That's kind of a boring tip, but yeah, that's all I've got, hah.
Any last words for the reader?
I'm really happy the record's out, and we'll be doing a lot more touring coming up supporting it, and I hope people enjoy it. See you at the shows!
Photo by Marianne Pink for Trebuchet. Not to be reproduced without express prior permission.