[dropcap style="font-size:100px; color:#992211;"]M[/dropcap]usic at the edge of suburbia on the quiet train to dad rock. Why would anyone go?
The answer is the expansive English 'Well…'.
New festival Ramblin' Man has the targeted aim of bringing together 'classic rock' greats in a calm Fayre-like setting. Good food, great ale, a sense of space and comfort, even Sunday's rain kept itself to an apologetic drizzle and from this setting we witnessed the famous and unruly summon magic from the annals of musical history.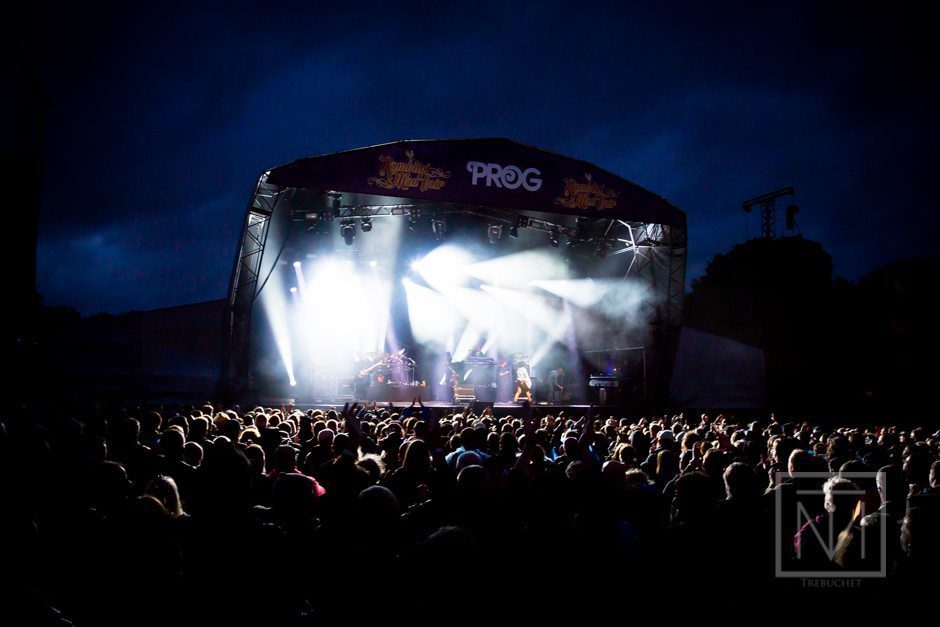 It was a weekend to wear your denim (double or triple) and not to care too deeply about musical fashions, time, or even bad behaviour. It was a time of music (man) the spheres rattled and molten steel broiled hot from the six stringed dragon's mouth with a lineup mixing the best from the past with a good helping of retro-rock from icons in waiting.
Solid sets were delivered by Saxon, Gregg Allman, Rival Sons, Blue Oyster Cult and Ian Anderson, all of whom catered to the casual box ticking fan by delivering wide-spanning greatest hits sets.
I've yet to see Saxon do a bad show. Nibs thunders on bass with such energy and drive that, regardless of how the rest of the band feels, he makes sure they connect with the audience. Saxon have always had a hard driving rock sound but with Nibs there is a power that allows the rest of the band to shine.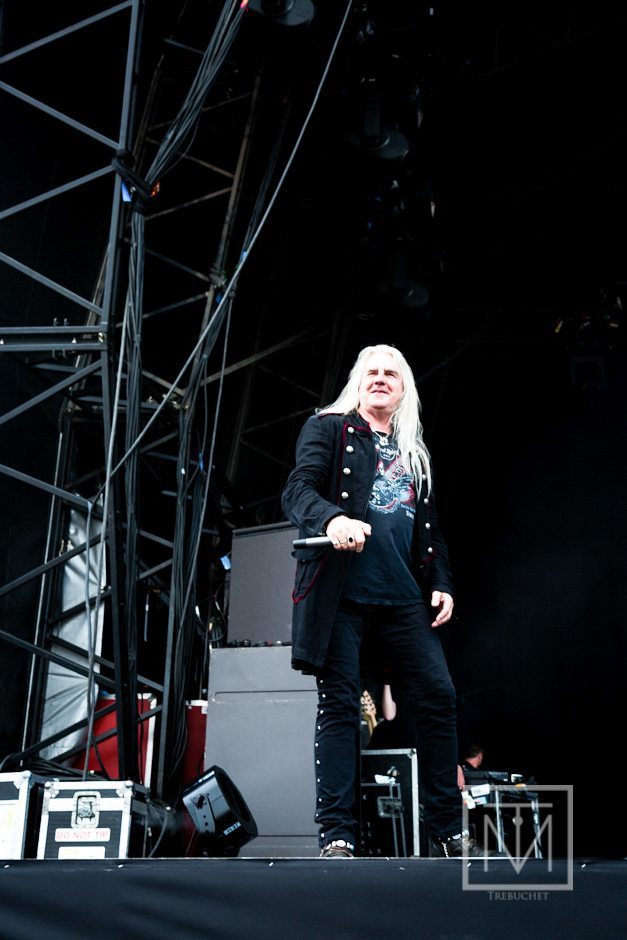 Biff in particular seemed to have a great time smiling out to the audience, acknowledging fans. Markers of time will be buoyed to note that Biff's voice is still there, he's still able to do thirty year-old songs justice and pound them out with fire and conviction. This isn't a put-down via weak praise, but hats off to the man (and to whatever tonic preserves him). How many reunion tours have been marred by dusty cords and weak lungs? Too many, and just quietly (bom bom), a few at this festival too.
Just about hanging in there is Blue Oyster Cult. While it is an unalloyed thrill to see this legendary band on stage, watching fully competent and technical players walk through a lacklustre set is a poor showing for a band considered one of the godfathers of art rock and metal. I suppose that ticking off the list of bands you want to see is something, but I wanted to be blown away.
Seasick Steve turned in an unusually average set compared to his Hammersmith show earlier in the year. The festival crowd enjoyed themselves but perhaps the shorter set time curtailed the groove he normally delivers.
Marillion drew a hearty crowd for their prog-stage closing set but despite putting on the lights and flowing the fog, they never elevated themselves. Marillion are capable of being one of the greatest bands on the planet, capable of expressing soaring emotion through complex music, itself the benchmark to which all progressive rock strives. Moreover, despite being veteran performers they have stayed experimental when others have calcified into cliché. Explaining  why they are so cultishly popular a Marillion gig is expected to be something that delivers with passion.
The nature of experimentation is that sometimes the dynamite fizzles where it should explode and whatever eldritch deities they call upon failed to answer at Ramblin' Man. Marillion struggled where they should have been surefooted and stumbled when they should have danced. While we can forgive crazy chances going wrong, nothing really makes up for lack of passion. I never thought I'd write this, but Marillion were boring and beer's call drew me away.
A study in contrasting greatness came in the form of both headliners: The Scorpions and Gregg Allman. The Scorpions closed the main stage on Saturday, bringing their perennial Teutonic majesty to the already well appointed Kent stage.
Projection mapping of the band silhouetted against Union Jacks and a excellent stage show, these 60-something rockers brought high voltage Rock and Roll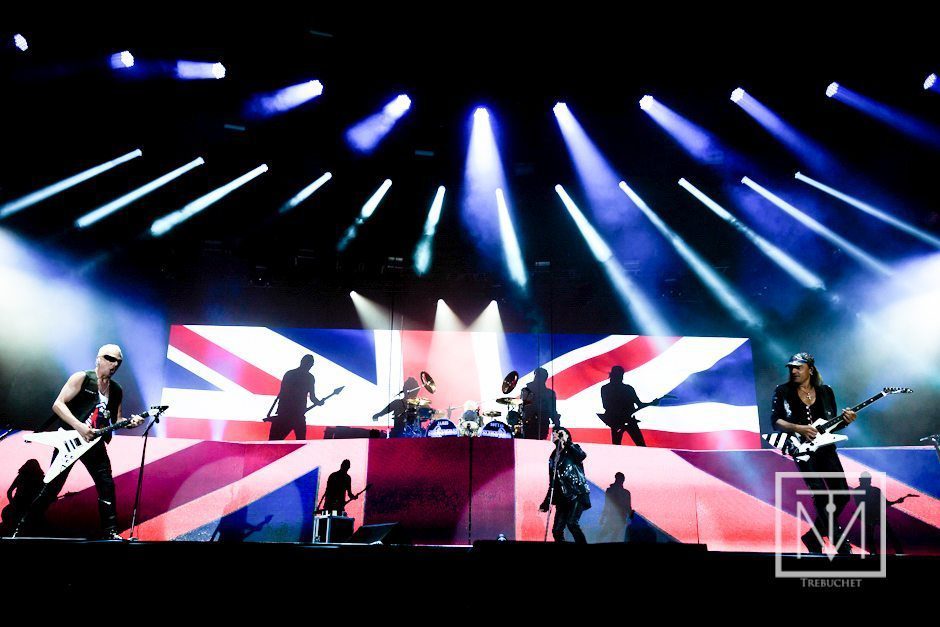 aplenty to the Ramblin' fans. The irrepressible Rudi jumped all over the stage, grinning ear to ear as he lead the crowd in rocking each and every song. Eschewing their earliest material for a mix of new stuff and hits, the raving crowd were treated to pulverising renditions of 'Winds of Change' and 'Hurricane', both of which had greying fanboys singing at the top their long-broken voices.
Pint-sized singer Meile loves to rock and every song contains some reference to it's healing power, transformative excess, sexual efficacy or ultimate hardness. Yes it's a bit silly and Spinal Tap-ish when compared to the more earnestly 'artistic' bands appearing over the weekend, but then, Scorpions were easily the most fun.
"The bitch is hungry, she needs to tell
So give her inches and feed her well
More days to come, new places to go
I've got to leave, it's time for the show"
Bringing a veritable country funk orchestra to the stage on the closing night was Gregg Allman. Does expectation come any higher than playing at a festival that is named after one of your hits?
I didn't know at the time but Gregg Allman's mother Geraldine (98) died a few days before the show. The impact of this must have affected him deeply and his performance was drenched with aching soul.
Having not seem him perform before I'm not sure to what extent he moves around (difficult from behind a piano) but the man seemed thoroughly focussed on the music. In places I think he was mainly singing to himself. Several times during the set the audience got chills as renditions of classic Allman Brothers songs were reinterpreted into more soulful downtempo works.
Not to say the set was slow or lacked energy and fire, with an incredible drummer and horn section powering the show from the back of the stage the consummate American Jamband gave it their all. Caught between covering Marillion and Gregg Allman I missed some classic moments but what I saw was an unforgettable performance from an artist who has left a massive imprint on Western music.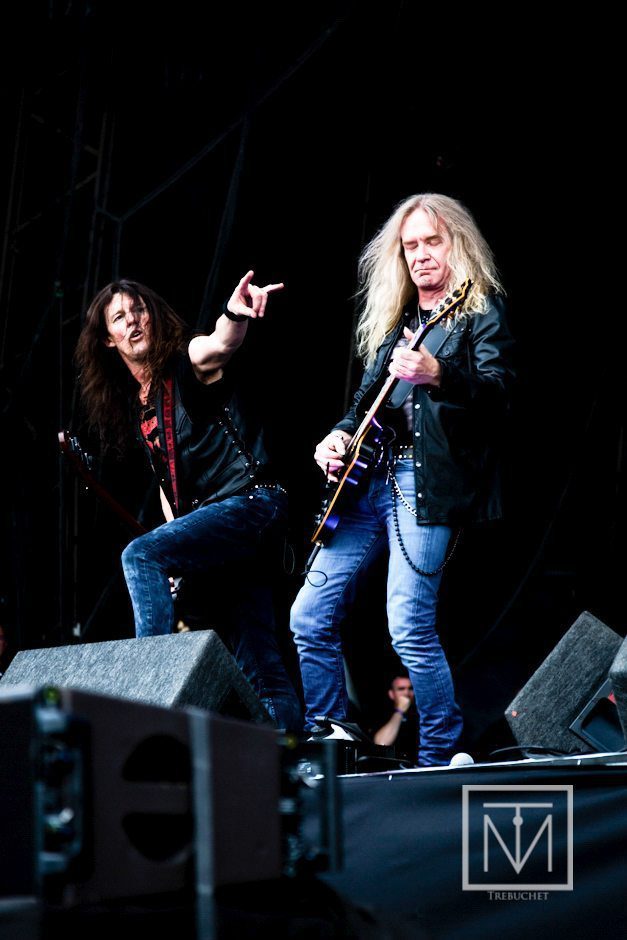 Honourable mentions must also go to Rival Sons and The Temperance Union who played solid sets (wouldn't a double headline tour be fantastic?) to jumping crowds, and Ian Anderson who probably should have been on the main stage (perhaps a Tull gig would have done it).
Capering about and rocking the OG Jazz flute, he is so bonkers he thoroughly deserves national treasure status. Sadly his voice wasn't in great form and, while his band were scrappy in places, overall their set was a delight. Also on the prog stage were Knifeworld and Pineapple Thief. Both were very well received by the crowd but again, I thought the performances didn't sound quite great. It seemed as though the bands were fighting to get their sound right and/or hear themselves. Technical issues perhaps?
Wandering to the train at the end of the festival, I mused that it's great to have a festival like Ramblin' Man so easily accessible from London. One can be moved to wide mouthed awe by a performer like Gregg Allman and still be in bed before the underground ends. Rock and Roll has certainly grown up a bit but this festival teaches us that aged doesn't have to mean sluggish, or lacking in experimental vigour. It can also mean comfort and Marghueritas.
Well done Ramblin' Man and see you next year, here's hoping the clouds part, the sun shines and who knows, perhaps we'll be treated to a Rainbow.
Saturday 25th & Sunday 26th July 2015, Maidstone, Kent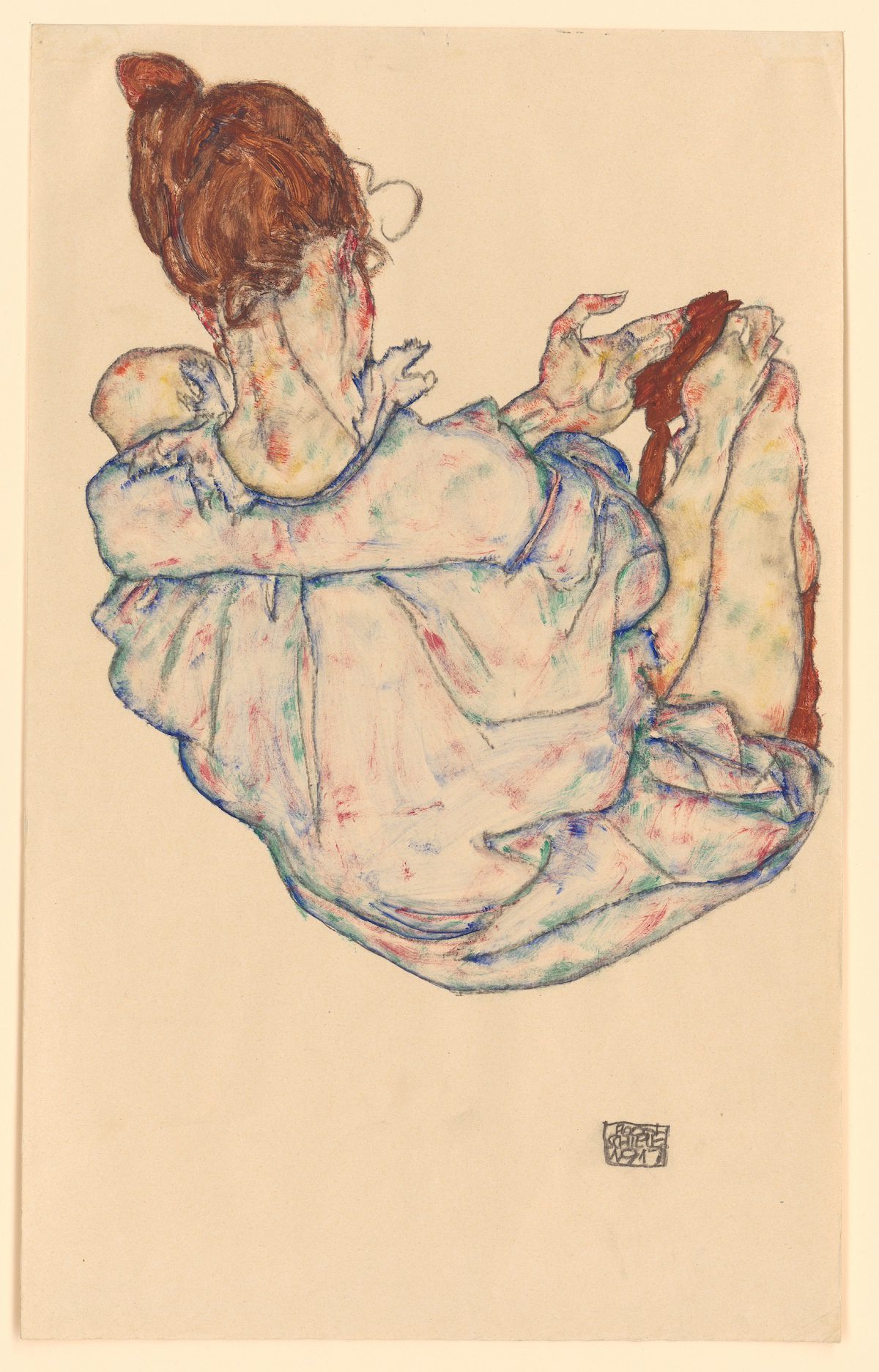 Ex-London based reader of art and culture. Specialist subjects include; media, philosophy, cultural aesthetics, contemporary art and French wine. When not searching for road-worn copies of eighteenth-century travelogues he can be found loitering in the inspirational uplands of art galleries throughout Europe.