[dropcap style="font-size:100px; color:#992211;"]F[/dropcap]or a while it seemed that like the Sundew Dragline Excavator, Raging Speedhorn would no longer reclaim metal from the snow capped peaks of Corby, and like grains of ivory sand they too would be washed away off the Eye Brook peninsula.
However, calls were made, festivals booked and 2014 saw the grand return of a band that, defying hygiene and good taste, have decided to spread their particular brand of irresponsible music throughout the UK.
With a big Damnation Festival show looming we asked guitarist Jamie a few pointed questions about the reunion, to try and understand why anyone would subject themselves to Raging Speedhorn.
---
Trebuchet:  A Tour, Sonisphere, and (finally?) Damnation – it's been a good year for Raging Speedhorn.  Highlights so far?
Thanks, it's been great so far! While Sonisphere was a definite highlight, I think my favourite so far has been the first show back that we did in our hometown of Corby. Coming back after all this time and selling out our hometown was a great feeling and made us feel really positive about us getting back together in general.
The fan reactions have been VERY positive, what's touched you guys the most so far? Anything unstoppable?
Just the fact that so many people are so into us being back is awesome! Considering we're a shitty underground band from Corby, it's pretty amazing that so many people still care.
Back together again? Temporary or the continuation of something ugly, sick and wonderful?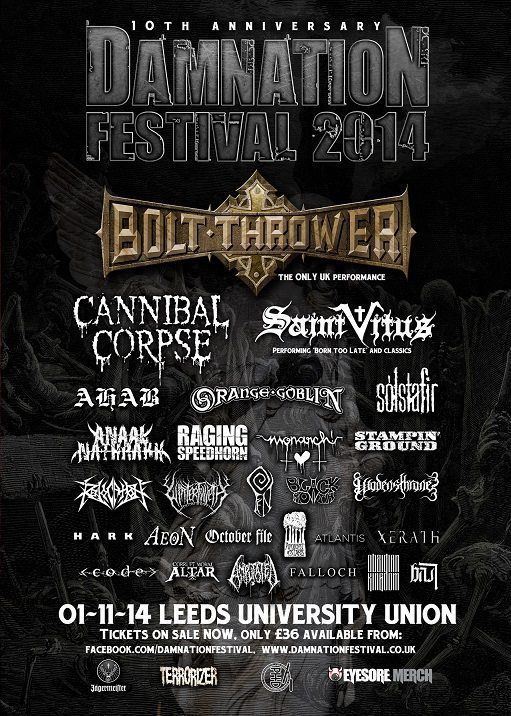 Good question! It's going really well so far, so no plans to quit just yet. We'll keep going until people get sick of us or we fuck it all up . Hopefully that won't happen for a while, but we definitely have a knack for that.
Reconsidering Frank's departure during the year, have you thought 'Damn, if he hadn't left we could have been doing this!' or was it a break that needed to happen?
Yeah, we've never really read too much into it as so far as what we could have been doing. It needed to happen for various reasons at that time and that's just how it goes. The important thing was that while it was tough, we didn't end up hating each other and remained friends at the end of the day, so it was clearly what had to happen at that time.
Have you found that you're favourite songs before the break are still your favourites to play live?
In a way, though it mainly makes sense to do the older stuff due to Frank being back, as our last record was with Bloody Kev on vocals. Having said that, we're likely to throw in a few tracks from the third album for our upcoming UK tour, as a lot of people still want to hear that stuff too.
Leading up to Damnation: What is your most requested song?
To be honest it's all over the place! Everyone seems to have a different song that they like best, which is cool, and I guess we were never really a hit singles band, to say the least! It just makes it more difficult to choose our set-list!
Anything you won't play?
I doubt we'll be doing anything from the fourth record, but that's not to say I'm not really proud of it, I just don't think it'd work with our current line-up.
There's been a bit of a backlash against hardcore moshing, what's your take on the rise of windmill-kicky pits?
Well, I was at a hardcore all-day show the other weekend and it had all the kids windmilling and kicking etc. They look like complete cocks in my opinion! I mean, I'm all for people getting into music however you like, but that's not about music, it's about people practicing their daft moves in the mirror to impress their mates. It could be any old shit band playing and they wouldn't care.
How do you think the music scene is going in the UK at the moment, what could be done to make it better?
Band-wise I'd say it's pretty strong. However, we've got a big problem with a lot of great venues closing every day unfortunately. So definitely more needs to be done about that, and proper funding for arts in general in the UK, as this current government couldn't give a shit about the arts at the moment.
Do you think that heavy bands should be more politically involved?
Totally personal I think. You shouldn't be obliged to, but if you feel it's necessary then why not? I will say that if you express a political opinion in your music, there will always be someone who disagrees with it.
Having a look around, Raging Speedhorn don't seem to be as much a 'pro-merch' band as others out there. Is the merch thing getting out of hand?
I think it's fine, I mean at our level it's pretty much the only source of income so it has to be done to survive. Probably the only reason we don't have as much merch is that we're too skint to get it made up in the first place.
Do you ever feel any pressure to modernise the Raging Speedhorn sound or is it something that you've decided not to mess with?
Not really, I mean we're all for pushing our sound forward, and we're not afraid to experiment if it sounds good, but we're a simple bunch and we've worked out what works for us!
Any tantalising news to keep the fans amped for Damnation?
We're heading into rehearsals this weekend to get our set ready and we're really looking forward to playing for all the guys in Leeds. We might even have time to try out some new riffs in rehearsal and see how that pans out….
Cheers!