Part One: Future Map 10 Exhibit
A battle of the budgets was waged over the first exhibiting fortnight of the New Year. En masse underdogs competed with the graduate elite for show supremacy. Could it be a moral victory for the art collective crew? Or will elitist competitions win out?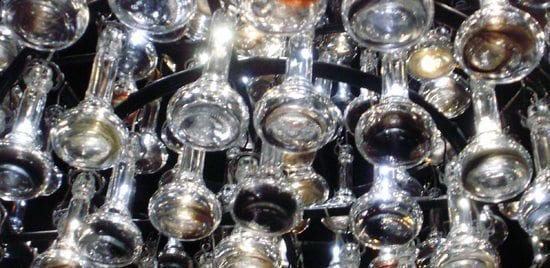 It's the beginning of 2011 and art galleries across London have to make a statement. Some involve shining a light on the best works of 2010 while others try and initiate a new wave within the adolescent years of this millennium. Whichever it is, the gallery must have a defining impact on its audience, start as you mean to go on and all that jazz.
I attended two such events within the first two weeks of this year. These exhibits differed in location, duration, organisational support and production costs. Yet both are founded within an academic arts system that demand's innovation and rewards few who are truly innovative. These two disparate exhibits were less than one week apart and little did they realise that they competed for this reviewer's esteem. A worthy prize no doubt. The first instalment in this ferocious tale of aesthetic judgement, Future Map 10.
This is a renowned showcase of the University of the Arts London crème de la crème. Out of nearly 10,000 applicants, the finest 28 graduating students were selected and put on show. Supported by GAM, a major arts sponsor and hosted by the Zabuldowicz Collection, specifically their Testing Ground programme.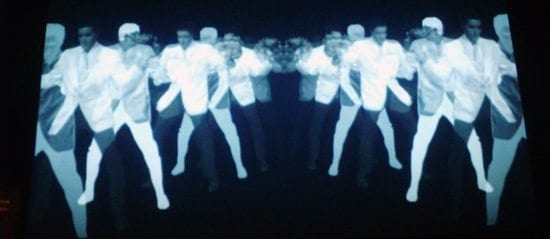 The Testing Ground is a programme of events which incorporate education and the arts, embodying the Zabuldowicz Collection's philanthropic mission statement. Part of the programme is the Zabuldowicz Collection Future Map Prize, a £3000 cheque as well as an opportunity to add to the Collection. Basically this is a giant helping hand holding loads of dough for the lucky winner. The prize was awarded by founder Anita Zabuldowicz, joined also by artist Toby Ziegler and designer Ron Arad. Those fortunate to be selected for Future Map 10 would continue to be displayed till February within the Zabuldowicz Collection Testing Ground exhibition.
On The Night
When entering this event, immediately I could see the popularity of such pieces as 'The Cloakroom', 'The Toilet' and 'The Bar'. I'm being obtuse of course, but still the gathered preoccupation with these facilities meant I didn't get to the art work as soon as I would have liked. Or so I thought. On closer inspection, yes that bald security guard holding a bird is a waxwork.
This became a bit of a theme for the evening, people guessing which pieces were actually art or not. Some attempts were mildly desperate and clearly demonstrated an ignorance of what the evening was about. A couple discussed the tragic solemnity of two unplugged hairdryers hanging from a ceiling, only to find out that they would be plugged in every half hour for their "scheduled performance". Then there was the elderly chap sitting within a wooden, slatted structure, believing it to be a more comfortable rest stop than the balcony pews.
Future Maps 10 was one of those events where art is involved, interactive and questioning. Despite this many of the audience didn't dare touch any of it. Possibly due to the spotlight affect of an increased celebrity presence, the audience cowed in the face of such abasing behaviours. Additionally, the large numbers of potential indie art rulers of the universe meant few could face knocking off their large floppy hats or get tangled in giant knit cardigans. Even so this meant that when a brave soul did engage with the art, it made all the difference. I fondly recall a woman walking round with a chilled concrete block she had acquired from Jess Blackstone's piece, 1000pcs x 100mm cubes (+/- 20mm tolerance). A fairly catchy title for two fridges and shit loads of bricks.
Certain pieces were determined to have their way with you though, such as Hannas, Peter and Anna Maria by Janina Lang. These were wooden polyliths in which a person has to hide or crawl in order to experience a moving image within. On the other hand some works seemed cruelly distant from the audience, like Strang Macfarlane's 1 to 10 (Want to be More Attractive?). The frame accuses you of caring too much about your looks whilst holding a black moor goldfish captive within. Supposedly it encourages you to question pre-conceived values of beauty. The audience however was not fixated on their shaken aesthetic principles, but on the poor goldfish inside as it died in front of our eyes. Evidently Fish Needs Oxygen will be his next work.
All these 'challenges to the sense' were in the giant white space of the main hall. Naturally then I found my favourite works within the dark and much more esoteric middle room. Here were steampunk timepieces, torturous jewellery and poorly lit photographs. This felt like the room of the forgotten, the outcast and controversial. I loved this room. During your visit Youn Joo (Dari) Bae's overwhelming sculpture lit the room with strange strands of colour, (Chandelier: Hair Filament).
An elaborate selection panel were responsible for selecting which graduating artists or designers were displayed. This included Judith Greer (Associate Director of International Programmes for the Emirates Sharjah Art Foundation), Alexander Dellal (20 Hoxton Square Projects founder), Ossian Ward (Time Out London Visual Arts Editor) and Paula Reed (Grazia Style Director). Yes that last one does work for Grazia, lord save us all. The chosen few were taken from 17 different art disciplines, though sculpture and instillation were the most commonplace from what I could see.
And The Winner Is…
The winning artist was Josh Baum for his work which focused on the measurement of the physical behaviour of water. Instrument for reading Heraclitus and Instrument for observing water bounce were delightfully juvenile and horrendously complex. The bounce of water from a raised vessel into a tea cup on the floor was cute but also dreadfully precise. Even a drip of water moving slowly across a surface was of exacting standards. I discussed Baum's work with him after he had accepted his award.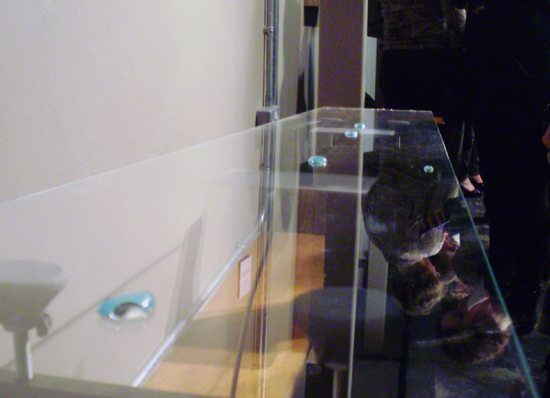 Trebuchet: Congratulations on winning the award… could I ask you why you chose to work with water or fluids?

Baum: I wanted a method to curate the water… make it speak on its own.

Trebuchet: The instrument with the sliding drop of water, what inspired that piece?

Baum: It's an instrument for reading a tide, based on a species of litus (a marine snail) and their movements. These pieces are for close reading, reading the instrument then becomes reading the art.

Trebuchet: How did you get the physics right with the pieces, the mechanics of them?

Baum: It was trial and error. It took a long time to achieve but I discussed it with friends, they helped me along.

Trebuchet: How do you feel about winning the prize?

Baum: To be honest I don't know yet. I'll have to sleep on it. There are lots more conversations I have to have… before I can instigate anything with it.
Art's Future at a Glance
I want to be very cultured, understanding and cerebral here. But I have failed. It was just a drip on a plane of glass! He gets £3000 and an amazing career stepping stone surpassed for that.
Venturing into this process of perspicacity I found myself angered and a bit offended. It promotes the notion of art as retail space, advertising wares and tricking possible purchasers. The students have sold themselves out as well as their future work, manufacturing facile and ephemeral products. Trebuchet editor Kailas Elmer, fumed that the worst thing was how the audience is complicit due to the accessibility of this art.
What I want to see is art produced without the price tag so firmly stamped on the artist's faces. Then again I'd also like to be the Queen of all Londinium and have these arseholes answer to me. That alas will never be so. One can at least hope however that out there in the world, artists are working together instead of against one another. That some of them may even orchestrate exhibits on a low budget but with meaning and heartfelt intent. Especially when compared to Future Map 10's grandiose exhibiting of Ikea-like sculptures and technical frippery, having all the meaning of a dead goldfish.
(Zabuldowicz Collection, Prince of Wales Road, 12th Jan – 6th Feb 2011)

Ruth currently works as a creative administrator within the arts sector and writes an interactive e-novel called Beyond Pages. Her illicit and dangerous affair with London involves white cubes, free bars, site specific cabaret and experimental performance art. Ruth's main academic and journalistic interest is festivals, having worked at Glastonbury, Reading, Latitude and Canterbury Fringe.
A burner with an eclectic taste in music, Ruth Carlisle was recruited to write music reviews for Trebuchet based on her grudging respect for doom metal and deep love for progressive art punk.
Follow her on twitter – @ruthieless_c