[dropcap style="font-size:100px; color:#992211;"]P[/dropcap]olar Bear have garnered a lot of critical acclaim over the past decade with their distinctly 21st Century take on jazz with considerable crossover appeal.
Their appearance at XOYO in north London attracted a big and varied crowd, with older bearded real ale drinkers rubbing shoulders with the younger and more fashionable.
Support act Shiver were an electric power-trio, with an energetic rhythm section and effects-laden guitar. There was even a guitar passage recalling Rush's "By-Tor and the Snow Dog" at one point. There was a moment where the whole thing sounded like electronic dance music; the drummer playing electronic drums, the bassist using effects that made his playing sound like an electronic rhythms, and the guitar swamped in effects.
They are a band which wouldn't have seemed out of place on a more experimental progressive rock bill, but nevertheless made an interesting and entertaining sound.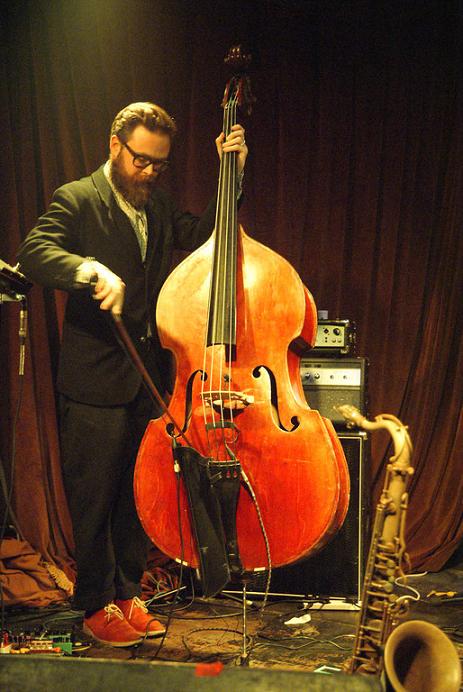 Polar Bear aren't quite your traditional jazz combo either. They have a frontline of two tenor saxes, and a rhythm section that includes not just bandleader Sebastian Roachford's drums and Tom Herbert's upright double bass, but the fifth member of the band, Leafcutter John, producing beats and effects from a laptop and an array of electronics.
Not only that, Tom Herbert played his acoustic bass through the sort of pedal board you normally associate with prog-rock guitarists, and saxophonist Pete Wareham also treated his sound with a battery of electronic effects.
The bulk of the set came from their new album In Each And Every One, the opening number with its mournful sax melody set against a synthesiser backwash recalled none other than the opening section of Pink Floyd's "Shine on You Crazy Diamond". From then on things built in intensity. The blending of electronic beats and live percussion worked remarkably well, and the Latin rhythms late in the set got parts of the audience dancing.
Abrasive saxophone and electronic effects
Their kaleidoscopic set shifted through many musical moods. There were moments where the combination of abrasive saxophone and electronic effects recalled early Hawkwind. There were eerie sonic soundscapes with bowed bass through lots of effects, producing sounds that resembled whale songs. There were classical sounding melodic sections with intertwining sax lines, where the contrasting styles of Pete Wareham and Mark Lockheart's tenor saxes complemented one another in the same manner as the twin guitars of a classic rock band.
Then there were passages of atonal avant-garde noise with squalling sax and storms of percussion, the whole thing finally ending with howls of feedback from a sax against the monitor.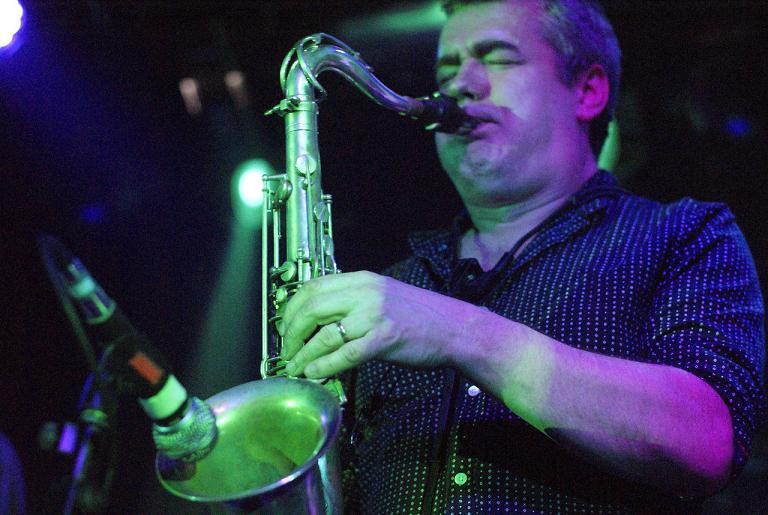 Polar Bear are billed as a crossover act with rock and electronic dance influences rather than a traditional jazz band, and what the packed XOYO saw was a performance that lived up to that billing. This was jazz, but it was jazz with the raw energy and ferocious intensity of a rock show.