[dropcap style="font-size:100px; color:#992211;"]A[/dropcap] frisson of unease permeates a compact selection from Milan's Pinacoteca di Brera.
The Enchanted Room at the Estorick Collection speaks to the modern soul, through works that suggest urban alienation, the splintering of self-identities and a desire to simplify our lives. The show, held in two galleries, comprises a selection of mainly early 20th century paintings by 14 Italian artists taken from the prestigious Pinacoteca di Brera in Milan, Italy. These works, which are part of the Jesi collection from the Brera, are being shown in London to commemorate two decades of the Estorick.
[quote]faceless mannequins and simple, geometric forms both
alienate and tap into our inner dream worlds[/quote]
Star pieces include two portraits by Amedeo Modigliani, which form a delightful intimate counterpoint to a major retrospective currently on at Tate Modern. There are also several examples of the short-lived but impactful Metaphysical Art genre (known in Italian as Pittura Metafisica), popularised by Carlo Carrà and Giorgio de Chirico. Their iconography of faceless mannequins and simple, geometric forms both alienate and tap into our inner dream worlds, and helped pave the way for surrealism.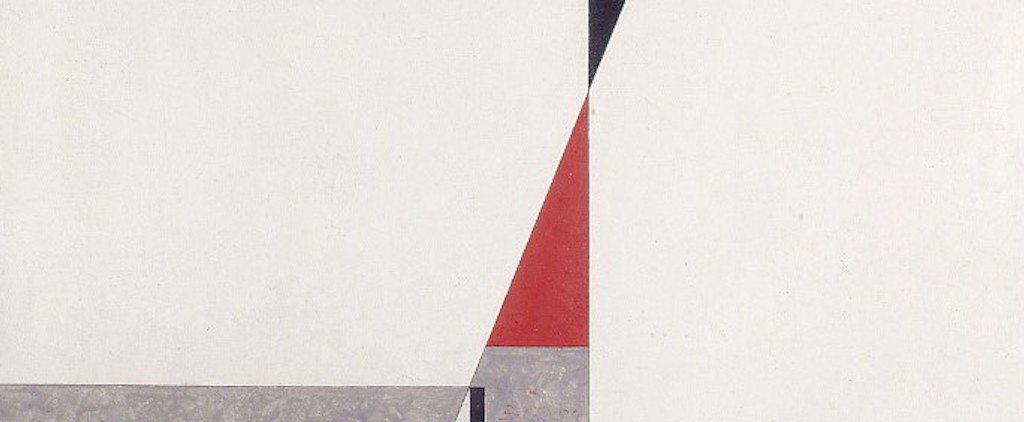 Il Bilico (detail), Osvaldo Licini
Less obvious gems are two artworks that stand out in their own subtle ways. Abstract painting Equilibrium (1934) by Osvaldo Licini conveys rich emotion that belies its devastating minimalism – multiple triangles suggesting in/exclusion and hidden tensions within. Still Life (1929) by Giorgio Morandi subverts the typical representation of real objects by capturing "the ghosts of things" instead, its muted colours signalling a kind of beauty that does not call attention to itself.
[quote]secret desires and unsettling forms
make this tautly curated show worth visiting[/quote]
Futurism, too, is well-represented. Prominent Italian Futurists such as Umberto Boccioni and Gino Severini were amongst the forerunners of this avant garde movement that celebrated technological and industrial development. There is an enjoyable thrum of early Cubist techniques on show, such as the use of collage in Ardengo Soffici's Watermelon and Liqueurs (1914) and the deconstructed form of a train station in Severini's Le Nord-Sud (1912).
Secret desires and unsettling forms make this tautly curated show worth visiting. This is best encapsulated by a dual self-portrait by Boccioni that dominates the first gallery – on the front, we see a strident young man; on the reverse is a tentative one, revealed only after years of being hidden away.
The Enchanted Room: Modern Works from the Pinacoteca di Brera at the Estorick Collection until 8 April 2018.

Nabilah Said ​is a Singaporean playwright, arts writer and poet. She has written eight plays which have been staged by Singapore companies, Teater Ekamatra and The Necessary Stage. A short play, yesterday it rained salt, was presented at London's Bunker Theatre in 2017. She is the founder of Main Tulis Group, a Singapore- and London-based collective of playwrights writing in Malay and English. Nabilah is currently doing her Masters in Writing for Performance at Goldsmiths, University of London.