[dropcap style="font-size:100px;color:#992211;"]O[/dropcap]
n 1 January,

electronic musician, engineer, producer, and professor
Phil Moffa of

Lost Souls of Saturn

will launch Butcha Sound Records with two albums totalling five hours of ambient, abstract, and noise tracks. Tape experiments, keyboard improvisations, and forgotten studio dream moments comprise the collections.
The first, Meditations for Peace, consists of 2.5 hours of ambient pieces intended to manifest peace in your life and the world around you, the tracks serving as a focal point for meditation practice or drifting off into the greater subconscious. The second album, Pieces for Painting, a noise-based head trip that is more rough around the edges, was designed for artists to listen to while working in their studios. This includes 2.5 hours of equipment abuse and misuse, late-night journeys into the abyss, and the audio component of several art installations. These tracks are more atonal, weird and dissonant in comparison to those found on their companion album. 
The covers were conceived by Moffa's longtime friend and collaborator Greg MacAvoy, who created the watercolour, gouache, and ink paintings. Future releases in 2020 include several EPs by Moffa featuring his own collage art. Visit the Butcha Sounds Bandcamp here for limited edition 12" x 12" photographic prints and 2 x CD for each album.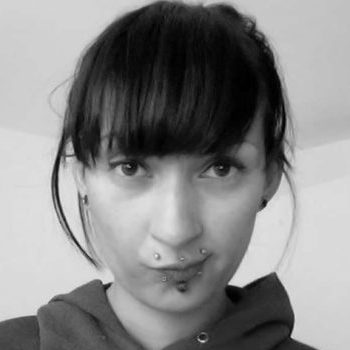 Naila Scargill is the publisher and editor of horror journal Exquisite Terror. Holding a broad editorial background, she has worked with an eclectic variety of content, ranging from film and the counterculture, to political news and finance.