[dropcap style="font-size:100px; color:#992211;"]I[/dropcap]sraeli-born Malka Nedivi's large looming figures and collage paintings are truly stunning.
Seemingly stoic, they also read playful and assume an almost theatrical quality, which makes sense given Nedivi's educational background in drama. After graduating from the Hebrew University in Jerusalem, Nedivi started directing plays and teaching theater. Eventually, she made the move to Los Angeles to study film at UCLA after which she secured a career in the film industry.
Somewhere along the way, Nedivi developed an interest in fine art and thus started to experiment. At first, she worked in ceramics yet soon began exploring with a variety of materials that provided her with the capacity to work at a much larger scale.
When her parents later became less equipped to care for themselves, she returned to Israel and saw to their wellbeing. During this period, Nedivi found herself flooded with memories from her childhood.
Both of Nedivi's parents were Holocaust survivors. Yet throughout Nedivi's youth, neither spoke of their experiences.
A seamstress by trade, Nedivi's mother had always had a supply of material and notions on hand. Over the decades, and after Nedivi had left for the US, her collection began to accumulate as had her inability to part with material possessions.
When she first returned home, Nedivi was faced with the fact that her mother had become a hoarder. In such, it was this recognition that prompted Nedivi to actualize how formative the holocaust had been upon her parents and the ways in which they chose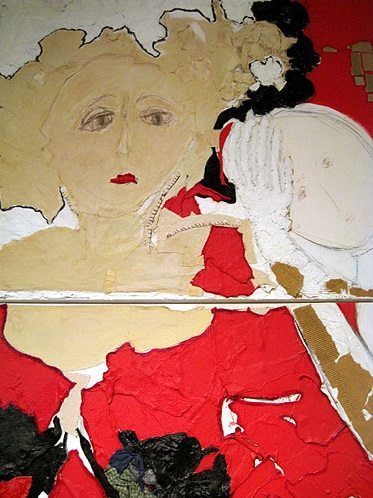 to interact with the world.
While sorting through her mother's possessions, Nedivi began to unearth various remnants from her childhood. Although a heart-wrenching task, the process didn't only push her to produce a cathartic body of work, but it afforded her the rare opportunity to renew her relationship with both of her parents and particularly her mother.
The works on view in Nedivi's solo exhibition, MOTHER and DAUGHTER, reflect the mending of Nedivi's past and her reconciliation with her parents as survivors. Many of her pieces feature fabric, paper, and other mixed media that she discovered during the clearing of her parents' house.
In addition to her innovative approach to painting and sculpture, it is the delicate application of the various remnants that she was fortunate to gather from her childhood home which emotionally charges her work with a sensation of true compassion.