[dropcap style="font-size:100px; color:#992211;"]W[/dropcap]ith the promise of a chocolate box assortment of universal delights we ambled on down to one of our favourite venues, The Garage in Islington, leaving the rest of the zombie nation to stare slack jawed at their football-infused flatscreen TVs yet again.
On the bill: Othon.
Othon Mataragas has been variously described as a pianist, songwriter and composer but there is far more to the man than this, and this was to be far more than a one-man show. Launching his album, Pineal (which includes a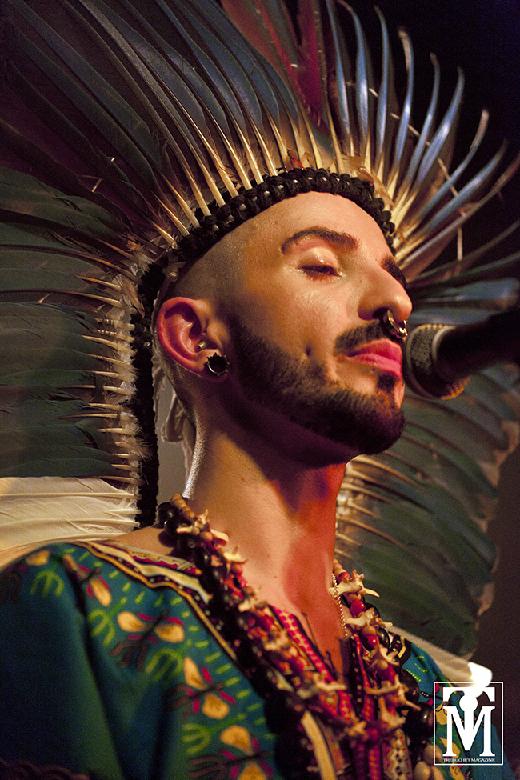 collaboration with a certain Marc Almond) you could bet your last pink pound this was going to be a rare, exciting and colourful explosion of thought-provoking musical wonder.
Things smelled good from the very start and with a large proportion of the audience made up from the LGBT community, it was bound to. There was also the pleasant surprise of genuine courtesy at the bar and even some admiration for my Bruce Willis/Die Hard white vest and open shirt combo.
Ernesto Tomasini, Martin Hall and Bird Radio also guest on the album and were out in force as part of the stage show, along with the aforementioned former Soft Cell front man.
Impossible to pigeonhole, the gig showcased Othon's considerable musical talents – from his classical roots via trancey electronica through to the shamanic influences of this new album.  Indeed the diverse vocal styles of his guest artists and band were testament to his own versatility.
It was mesmerizing, scary in parts and often hypnotic, but above all a joyous celebration with a meze of cultural references.  From the mournful violin and intense flute to the tribal drums and soaring falsetto of Tomasini, this was the musical equivalent of opening a fairy tale pop-up book and watching the characters jump out and dance around your head.  Like the rest of the audience, I was swept up in the magic and looked on with child-like eyes.
Photos and text by Carl Byron Batson (gay icon)

Photographer, published poet, former party animal, body builder, grave robber
to the stars and renowned chainsaw juggler, Carl can often be spotted on his
Harley Davidson pretending to be in Terminator 2. He is also frequently seen in
the press pits of old London town, camera in hand, avoiding being hit by bottles
of wee and crippling his opposition with secret Kung Fu moves.