[dropcap style="font-size:100px; color:#992211;"]P[/dropcap]rior to my first listen, I wasn't sure what sort of an effort I expected from Oceano's third full-length, Incisions.
Three years in the making following 2010's lacklustre Contagion (and 2009's convincing debut Depths), it was definitely interesting to see how the band used that time to progress – especially considering last year's deformation-well-actually-just-a-short-hiatus debacle. I say this as the biggest problem with Contagion was that it was a tad formulaic, especially considering the band's evident ability. It's kind of hard to ignore a band with a vocalist who sounds like a 15-foot armour-plated Lion being unceremoniously shoved into a jet engine (in a good way), but an alternating chug/drum battery gets a bit tiresome after you've heard it a few times in a row on different tracks.
[quote]bending guitar- and bass-lines
building into a feverish chug-lick
(I swear I'm not just putting
random verbs together)[/quote]
The first thing that is immediately noticeable about Incisions is the sound design. From the first discordant riff and throat-wrenching roar of opening track 'Eternal Wasteland', it's proven a quality record – with frontman Adam Warren's wrathful input particularly well-produced and -performed. This is further confirmed by the following track 'Slow Murder', a frenetic effort with a bit of a Slipknot vibe (particularly in the vocals department) and the ominous clicking of a reloading gun. Heavy metal.
From this promising opening, things take a more Death metal-influenced turn as the Chicago 5-piece lay out a double-kick spread with 'Slave of Corporotocracy'. Again, it's well executed – and the METAL factor is walloped up a notch by the sound of a smith hammering away. This is juxtaposed to capital effect by the whispered, restrained opening to 'Internal War'; almost KoRn-like to begin with (mainly due to the eerie guitar line), then exploding with a 'core-ish spatter of riffery, before a return to chugging dischord with 'Self-Exploited Whore' – which isn't to say that 'Internal War' had absolutely no chugging dischord, more that Oceano are serving up the goods from the hatch 'District of Misery' exploded from, while simultaneously demonstrating a heightened diversity in writing (read: learning not everything has to be discordant).
[quote]a heightened diversity in
writing (read: learning not
everything has to be
discordant)[/quote]
Regardless, 'Self-Exploited Whore' boasts some neat vocal work (think the harsh vocal equivalent of harmonising) and some explosive stuff from drummer Daniel Terchin. With 'New Age Apophis' comes the sense that we've heard this before. 'Embrace Nothing', on the other hand, vaunts impressive depth of atmosphere and emphasis on its macabre lyrics. Again, the boundaries of Incisions are pushed a little further with the introduction of different guitar tones (which, despite sounding tonally closer to post-hardcore or hard rock, mesh well with the piece as a whole).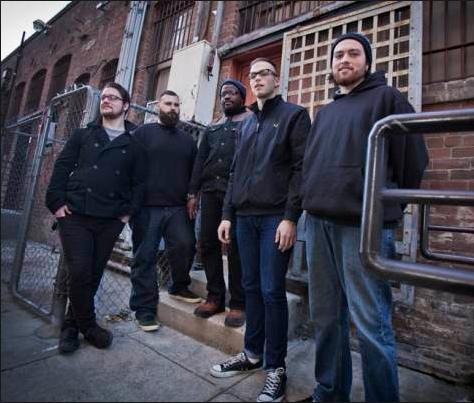 Title track 'Incisions' builds on this, combining a Deathcore-ish speed/breakdown approach with a more paced, melodic ending. Wild clean vocals appear, giving the closing minute an almost Devil sold His Soul-esque vibe.
'Blasphemous Mask' is next up, and once more showcases a Slipknot-reminiscent zeal, complete with high-pitched guitar wails and some scarily Corey Taylor-sounding spoken bits. 'Severed Appendages', as the name might suggest (maybe I'm just tired) belongs more to the Death/Thrash metal domain with its hastily crunching guitar lines and relentless drum pounding.
In another neatly written juxtaposition, 'Disseverance' counters this with a more patient, thoughtful intro, joined later by more genially-executed drum work. It's not a bad instrumental, and tees up the final track nicely. 'The Reclaimation' is a slow (by Oceano standards), grooving affair with thick, bending guitar- and bass-lines building into a feverish chug-lick (I swear I'm not just putting random verbs together), before fading out. Verdict? Incisions is quite possibly my favourite Oceano album.
A properly mature effort from the Chicago lads!
Out on [Good question. Originally scheduled for a mid-October release date, it seems the album was leaked and has had an early release. Check the band's FaceBook page for current status. – Ed.]
[button link="https://www.facebook.com/OceanoMetal " newwindow="yes"] Oceano On FaceBook[/button]

Jed the Music Ed. is a Music Promoter/Booking Agent and general fixer with Rawkus Events. Jed's interests include a constant and reckless over-caffeination, irrationally spontaneous travel plans and maintaining an over-expensive (borderline hoarder) PC/retro gaming habit.