[dropcap style="font-size:100px; color:#992211;"]A[/dropcap]rtist Nick Lord, currently showing at DegreeArt in conjunction with Contemporary Collective, talks to Trebuchet.
The Welsh artist combines his own unique painterly style, infused with influences of classical art history, 90s Hip Hop culture, and present day contemporary life in all its forms, to create cutting edge portraiture.
"I've always had a fascination and admiration of drawings of people and of paintings. Ever since my GCSE's I've just wanted to do it! It was one of those lessons that didn't feel like a lesson, I looked forward to it and enjoyed it! I became more and more interested in painting and just wanted to develop it further. I've always liked being hands on and creative, and I suppose this career is the best of both worlds!"
says Lord.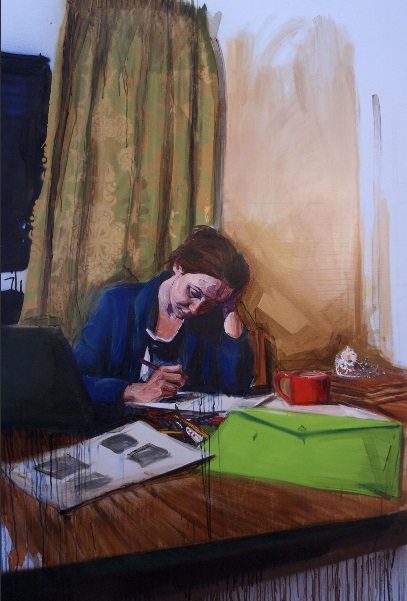 Nick Lord: 'Danielle, Mummy and Mrs'
Having developed his unique style, Lord explains his unique take on portraiture,
"I suppose the fact that I use spray paint and acrylic paint are the main ways I try and mix it up!  The way I apply the paint seems to be quite an unusual process! I've never really thought about it to be honest with you, it's a style that I've just developed and now has become the norm!"
Continuing on the ideology of his works, Lord muses,
"My compositions could be considered untraditional! It's never anything intentional – I just want to paint something that interests me! I've always enjoyed playing around with compositions and drawing faces from different angles and perspectives, it's just a follow on from that!"
For Lord, winning the prestigious Sky Arts Portrait Artist of the Year award in 2013 has been completely life-changing, and has seen him paint some impressive names from Sophie Dahl to Hilary Mantel, whose portrait hangs in the British Library. Of the award, Lord acknowledges its influence:
"Winning Sky Arts Portrait Artist of The Year 2013 has kick started my artist career! I'm now working full time as an artist, which is what I've always wanted. It's been fantastic. I've also been doing some teaching and running workshops in schools, which has been brilliant. It's something that I wasn't doing before the show, and is something I love doing. It's a really rewarding experience, and humbling to think that I could potentially inspire a future artist!"
His debut show Realising The Truth focuses on the portraiture of real people, but also showcases some important moments of 2014. From the return of soldiers from Afghanistan, to gay marriage, and to employment issues, various topics are addressed through the subjects that Lord has chosen to paint.
"The paintings in Realising The Truth, all stem from the same idea and thought process. They're all focused on a central theme of capturing the 'now'. They're paintings inspired by the French Realists of the 19th Century – they're my modern day equivalent! I already had an idea of what I wanted to paint, I try and link the work to scenarios or themes that I can relate too. I want to have a connection to what, and whom I'm painting. I get a lot of my inspiration from the media, family, artists (old masters and present), and from situations that unfold around me. I try and find a link between these factors, and try and get that across in my work!"
Lord has certainly developed a unique, painterly style when it comes to his portraits, and explains how he came to create this signature method,
"I first noticed my style of working when I was learning to paint on my foundation course. It was one of those things that just happened, I was constantly drawing and painting in my sketchbooks and it just seemed to develop naturally! I've always wanted to push the boundaries of the norm and work or draw in a different way. When I first started to draw, I was massively influenced by the expressionists. Egon Schiele in particular. From them I learned the importance of breaking away from tradition and developing your own style of working. It was such a refreshing period and discovery for me!"
Nick Lord's 'Realising The Truth' is on at DegreeArt.com until 12th January 2015. Visit www.degreeart.com for more information.