On a day when many were marking the anniversary of the death of Elvis or planning their next summer festival excursion, I found myself crossing the river to attend a gig at a venue in South London which has spawned many successful folk and blues musicians.
As I entered the back room of The Half Moon in Putney, Billy Irvine's set was already in progress and the audience were either leaning against the walls or sitting on the floor, as if watching a gig in a large tent at a festival rather than in a London venue. He played bluesy, slidey guitar with earnest vocals.  His impressive collection of guitar pedals colonised the stage, together with an electronic drum pedal which he tapped with his foot to give some rhythm to his blues.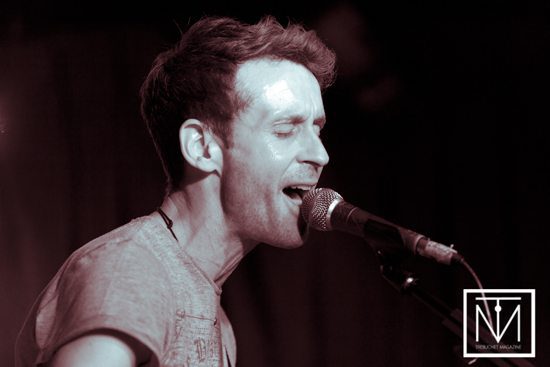 Apparently he also plays didgeridoo too, which would have added to that festival vibe, man.  It was all very enjoyable, but not enough to get the listeners to their feet, except for the occasional bar trip.
He was followed by a solo set from David Goo, which involved as much between song banter as actual music.  Relying on his personality to sell the tunes, he entertained us with a number of comedy songs relaying topics from the difficulties of being a in a band when nobody buys your record to his changing and ever-more-sordid intentions towards women, from wanting to hold their hand during his early teens to, well I'll leave it to your imagination as to his desires as a thirty-something.
The lyrics didn't have the mellow onlookers in hysterics, but they certainly raised a chuckle.  There was one slightly more serious song about how women shouldn't feel under pressure to wear make-up, which, although no doubt genuine, did come across as a tad condescending.
By the last few songs, the crowd seemed slightly restless, it was the sort of humour that would probably be appreciated by thirty-something Guardian Weekend readers – very amusing, but I'm not sure I'd want to hear those songs again now that I know the punchlines, in the same way that I wouldn't want to see a comedian do the same set twice.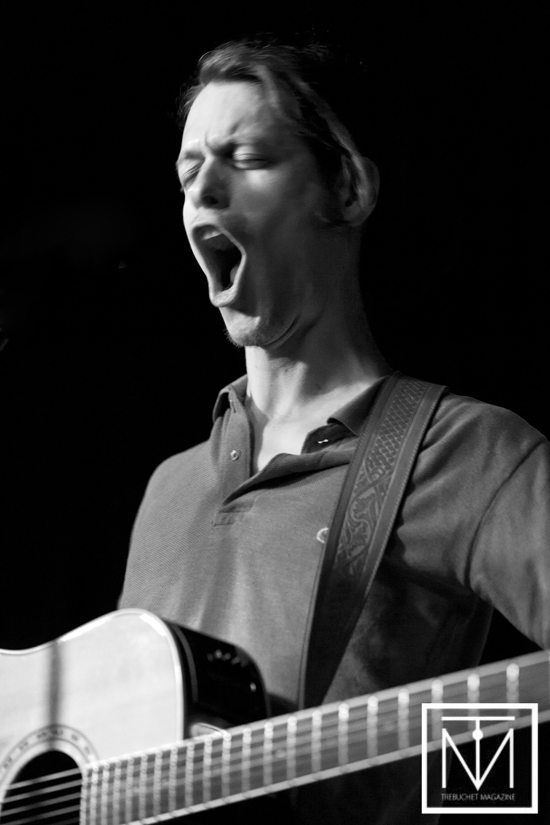 It was something that had not escaped his attention as he ended on a song about someone going to see him once, raving about him to their friends and then being disappointed and feeling deflated at his next gig.  Maybe he should have kept quiet about that one.
I'm constantly complaining about all-male line-ups at gigs, so I was encouraged when singer-songwriter Jasmine Rodgers took the stage.  At ease in front of an audience, in addition to her solo work she is the lead singer of Boa and is the daughter of rock singer Paul Rodgers.  Her clear and passionate vocals were accompanied by guitar on some songs and ukulele on others.
Unfortunately the ukulele is an instrument that has been a victim of its own popularity in recent years.  Due to its low price tag and coolness amongst East End hipsters, there is barely a venue in Shoreditch that hasn't suffered from badly played renditions of popular hits on ukes by blokes with dodgy beards, fake specs and low-slung jeans – a far cry from Marilyn Monroe's Sugar Kane, the glamorous ukulele player in Some Like It Hot.
Jasmine Rodgers, however, is anything but a ukulele tourist and demonstrated an impressive command of the instrument, delicately picking rather than strumming. She told us that she was playing a 1920s model, clearly much cherished.
When she spoke between songs, she displayed a self-deprecating sense of humour and understated wit. Some of her lyrics were too predictable for my taste with overused metaphors, such as rain for tears, but when a singer conveys such tone and emotion in her voice, she could captivate a room with a nursery rhyme.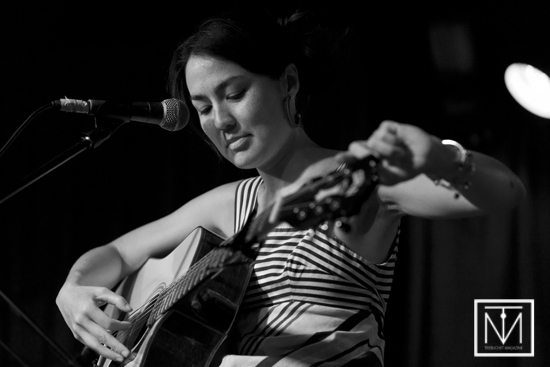 Remarkably for a music venue such as this, during her songs the audience become so quiet and transfixed that you could have heard a guitar pick drop, never mind a pin.  One of the most charismatic performers I have seen for some time – you should catch her at small venues while you still have the chance.
[box] They looked like they would be good at juggling and hair braiding[/box]
The headline act, Newrising, consisting of three hippy types playing guitar, bass guitar and stripped down percussion, brought the gig back to the earlier festival atmosphere. These were not old Donovan-style hippies with slouchy clothes and ponytails, but young hippies, with slouchy clothes, white dreadlocks and ponytails.  They looked like they would be good at juggling and hair braiding, which to my mind deserves a trip to the gulag at the very least.
Now call me old-fashioned but I do believe that some musical styles should not be combined.  Reggae, funk and folk are all great genres of music, but like tequila, bourbon and cherry cola, some things just don't go together.  Rather than the outcome being greater than the sum of its parts, to my mind it only diluted the best aspects of each style.
To be fair, there were some very pleasant and pitch perfect vocal harmonies, it was all very groovy and I'm sure they would go down well on a small festival stage on a sunny day in front of a stoned crowd. Indeed, they did go down well at The Half Moon.  The band have been much-hyped and their website is full of glowing quotes from reviews, but it felt more like a student union gig circa 1991 than the future of popular music.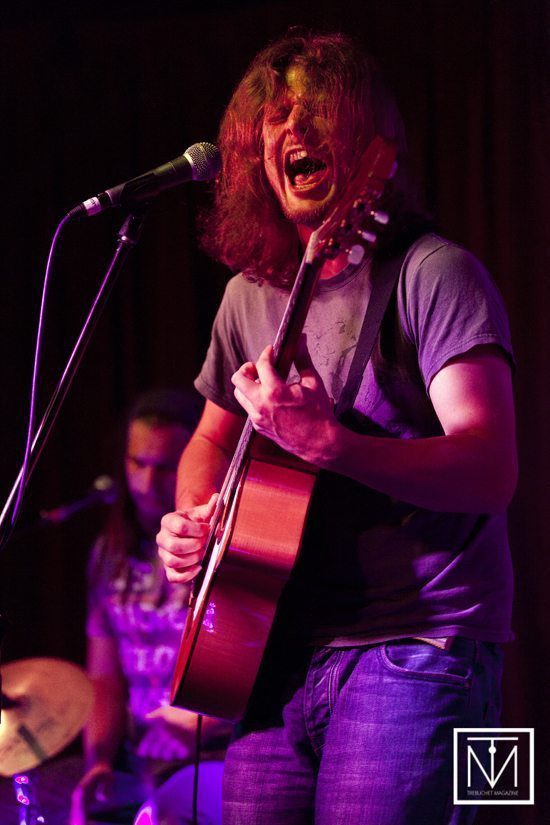 I could say that they were very tight musically, but I've always considered that comment to be more of an insult than a compliment. In keeping with the festival spirit, I decided to escape outside and seek refuge in the beer garden.
Don't believe the hype and never trust a hippy.
Images: Carl Byron Batson