[dropcap style="font-size:100px; color:#992211;"]I[/dropcap]t's funny how sometimes an evening can start worryingly, then evolve into a unique and intoxicating experience.
Tonight began with my limited (read: zero) skill with the German language meaning a missed train connection and a later than intended arrival into Osbahnhof station. From there, a 10-minute walk through a dodgy-looking estate. You know the type – high-rise flats, chain link fencing, unlit passageways and a nagging suspicion that there is no show, only a well-orchestrated plot to lure me in and liberate a few choice organs from where I usually like to keep them.
Well, dear reader, it seems as though I have done the fine folks at Kantine AM Berhain a great disservice. I finally arrived at a building set back from the street (down one of the aforementioned passageways) by virtue of triangulating a loosely approximated google maps location with the muffled tones of live music in close proximity. The entryway of the venue was empty, beyond the ListenBerlin staff manning the doors. I was apprehensive – it looked like we were in for a very intimate show indeed, especially considering the niche value of tonight's co-headliners Mouse On The Keys and Mutiny On The Bounty.
Any apprehension fell away as I stepped through the doors of the venue proper… into a packed house. I'd estimate the space to hold around 250-300 people, and here was a number nearing that figure getting stuck into the opening number of a lightning Mouse On The Keys performance.
While I was well familiar with tonight's closers Mutiny On The Bounty, having previously reviewed their album Trials and kept tentatively up to date via their most recent full-length effort Digital Tropics, Mouse On The Keys had managed to elude me until now (like the mouse in my living room, but that's a story for another time). A brief YouTube session and a quick fact-finding mission on painfully limited hotel WiFi was as much as I could do, so here was a fully-cleansed palate primed for a first impression. And didn't they just give one.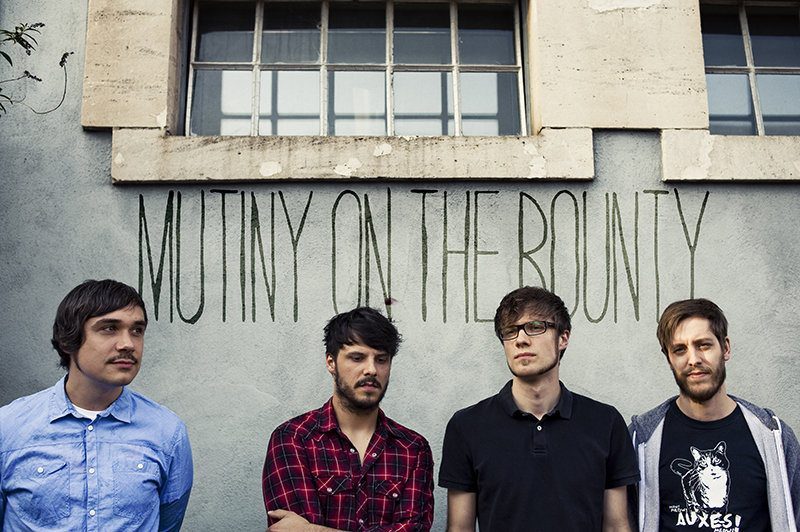 Mouse On The Keys' music is primarily formed of synth keys, piano and drums, with occasional saxophone intervention, and they use this setup to produce some truly unique and passionate material. On the night they pair this with projection on the walls and ceiling of the venue – urban landscapes and other imagery serving to add depth to the audience's experiential journey. Not to distract from the standard of musicianship on display, as this is a completely captivating experience for the discerning audiophile, with impeccably honed individual performances matched by the hive-mindedness of the whole. Across their set, there's ample room for showing off in a manner I suppose you could call soloing, should their music be bound by more traditional genre constraints, yet the use of complexity doesn't even come close to feeling bourgeois or self-indulgent as the drums and keys meld timings and shift focus in a manner both barely noticeable and completely mesmerising.
Think the exploration of freeform jazz held in check by a very deliberate precision, resulting in intensity to match near enough any hardcore punk performance (not that I'm suggesting for a second that Dillinger Escape Plan should chuck a couple of pianos in the mix) to leave the impression of being harnessed at the brink of chaos. It's worth noting that Mouse On The Keys were due to headline the show tonight, with the switch in stage time down to an unfortunate flat tyre en-route from last night's Prague date.
They get an encore, of course, before I grab a copy of their latest release Out Of Body from the merch table.
Next up on this international symposium of loosely-defined post-rock is Luxembourg's Mutiny On The Bounty. The 4-piece enjoy a more recognisable band setup, with two guitars, bass and drums. I wonder whether they will be furnishing us with live vocals, or whether their energies are to be channelled in a purely instrumental direction. As it turns out, it's the latter.
Tonight's crowd are a very mixed bunch, representing the breadth of stylistic convergence on display, and there's a bit of a festival feel to proceedings as we see the hipster lie down with the beardy metal bloke and jazz chick (not literally, that would be weird… or WOULD it?). It's refreshing to see a group transgressing the genre-specific 'scene' niches our contemporary music community tends to enforce, anyway (says the writer who's just slapped labels on the crowd willy-nilly). I digress.
Mutiny On The Bounty break out into a set resplendent with material from their previous few releases, and heads start nodding all round. One thing I'll say about both bands tonight (since I've now had a closer look at Mouse On The Keys' back catalogue) is that while their work on record is well-produced and carries its own impact, their live performances are on a completely different level.
Mutiny On The Bounty's form tonight was excellent – showcasing their math rock influences and prowess at time-shifting, whilst also maintaining the progressive feel resonant throughout their recorded work. It really piqued my interest to identify and pick apart how each piece of music was constructed in a live setting, with an impressive array of guitar tones and effects used to generate their signature treble-heavy, almost organ-esque sound before moving into heavier, post-hardcore influenced sections.
I recognised tracks like 'North Korea' from 2012's Trials album accomplishing this dynamic brilliantly.
It's obvious the crowd are appreciating this too, following the band's movements with a rapturous attention. The set feels like it's over all too soon, though. A brilliant display, yet perhaps a shame that they didn't chuck in a few numbers with vocals for good measure as I'd have definitely been game for a sing along to 'Artifacts'. Back to the merchandise table for some new threads and a chat.
Shows on the continent at this level always come across as strikingly different from UK dates. Not merely in terms of the increased volume of merchandise sold by artists (as was happening in front of me at this point) but in much more general terms. As an independent promoter myself with Rawkus Events, I can't help but feel how much more difficult this kind of tour could be to sell to a British audience (particularly in areas like the suburb tonight's venue is located in). Yesterday evening, I headed out to see Darkest Hour/Venom Prison at Cassiopeia Berlin and had a similarly stellar encounter – with Periphery playing five minutes up the road, you'd have expected both shows to suffer as a result. Did they? No, both events sold out.
I'd like to take this opportunity to ignite a dialogue. In my experience, local cultures across Europe seem more geared towards a willingness to experience bands they might not be particularly familiar with (yet), a heightened regard for international artists, and a general respect for the arts and their need to be supported financially at a personal level. I'd love to hear some opinions on why this seems to be the case – there's patently a complex web of reasons, both cultural and financial.
Take the higher pricing of (often poor quality options) transport and drinks in general, with gouging culture at larger/chain-operated UK venues and events in full effect to effectively price many punters out at the bar. Couple that with appearance, at least, of a stronger and broader sense of musical community.
Evidently, the UK still has a lot of capable and passionate backers of performance arts, yet we're amidst a cultural shift towards an unwillingness to put one's hand in one's pocket to validate music as a profession. This then has a knock-on effect towards event managers' budgeting, impacting hospitality for performers and ultimately the promoters' willingness to bother with smaller international acts or artists' willingness to bother with extended UK tours/UK dates at all. And with Brexit leading our cultural economy into uncertainty, the potential requirement for additional working visas just around the corner, it's a troubling time for all supporters of the grassroots, the niche and the independent.
I'd very much like to hear your take on this if you've made it this far – please leave a comment with your experiences, or drop me an email on jedmsaint@hotmail.co.uk

Jed the Music Ed. is a Music Promoter/Booking Agent and general fixer with Rawkus Events. Jed's interests include a constant and reckless over-caffeination, irrationally spontaneous travel plans and maintaining an over-expensive (borderline hoarder) PC/retro gaming habit.