[dropcap style="font-size:100px; color:#992211;"]B[/dropcap]ringing contemporary art to the surrounds of Brick Lane, Base Gallery's First Thursdays series extends the Vyner Street tradition to an area better known for beards and biryani.
---
Artists Sezan Mourat-Sansom and Karen Piddington present Muses, monsters and mannequins, an exhibition that explores what it means to be human.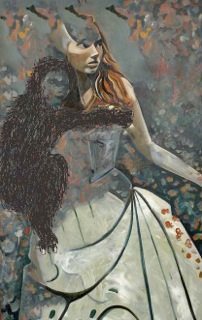 A collection of eclectic contemporary artworks in various media created specifically for this exhibition.
The artwork uncovers a radical otherness and explores a continuum between two states, with humans at one end and animals at the other.  In the middle is a place where existence becomes entwined and indistinguishable. Through painting, drawing, sculpture and film the artists consider the construction of identity and external social pressures in shaping perceptions.
The artists, Central St Martins graduates, first collaborated in 2010 and have since established an evolving visual language that manipulates and distorts to represent perceptions.  For further insight into their practices see:   www.sezan.co.uk  and  www.karenpiddington.co.uk
Admission to the exhibition is free and there is an open invitation to meet the artists at a private view, First Thursdays on 5 February from 6.30pm – 9pm.
Date:  5 to 11 February 2015
Venue:  5th Base Gallery, 23 Heneage Street, London E1 5LJ
The aim of art is to represent not the outward appearance of things, but their inward significance. – Aristotle